Occasions

Funeral & Sympathy

Flowers

International

Same Day

Christmas

13 of the best real flower Christmas wreaths
27th October, 2020
Decorating your front door with a Christmas wreath is an essential Christmas ritual – on par with open air ice skating and sharpening your elbows for the Boxing Day sales. Need some festive inspiration? Take a look at some of these fabulous Christmas wreath ideas and give your neighbours front door envy.
#1 Bauble Christmas Wreath
Flowers and baubles, a match made in Christmas heaven, right? We certainly think so! Not only does this striking wreath include some of our favourite Christmas flowers (how beautiful are those burgundy hellebores?), the rich jewel tones and shimmery baubles help create a look that's both Christmassy and glamourous all at once. A real show stopper!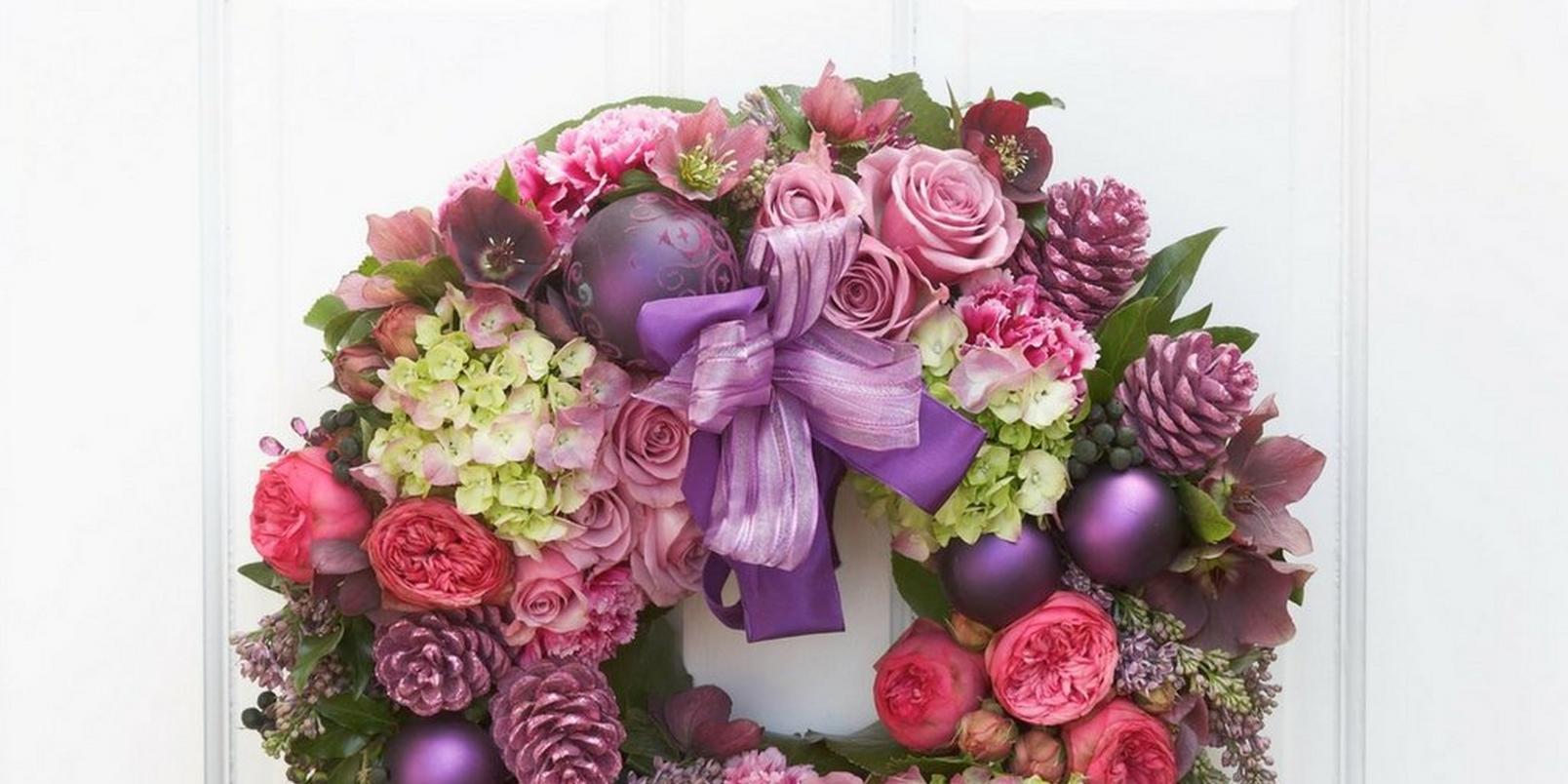 #2 Oversized Christmas Wreath
This year, think BIG! Over-sized wreaths are (quite literally) huge right now and are guaranteed to command attention. Less is more with this trend, so keep it simple – use gorgeous greenery and seasonable berries to create the look or even pare it right back to a simple moss wreath. Due to its sheer size this is one wreath that you might have trouble hanging on your front door so why not make a real feature of it inside the home instead?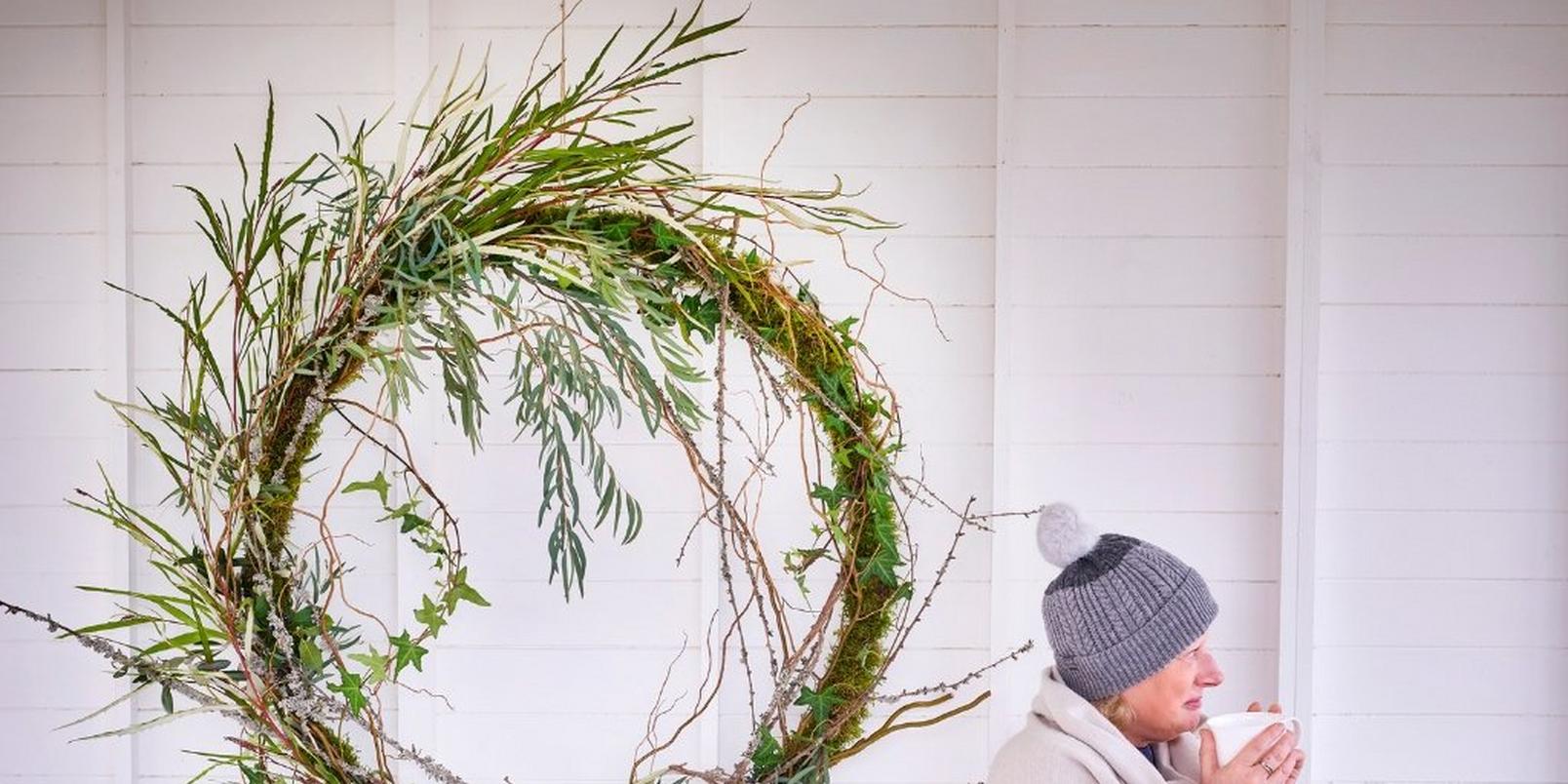 #3 White Christmas Wreath
Don't dream of a white Christmas, create one! This magical gypsophila wreath conjures up a winter wonderland. This stunning array of tiny white gypsophila flowers arranged en masse create a shimmering display that captures the magical mood of Christmas in a unique contemporary style.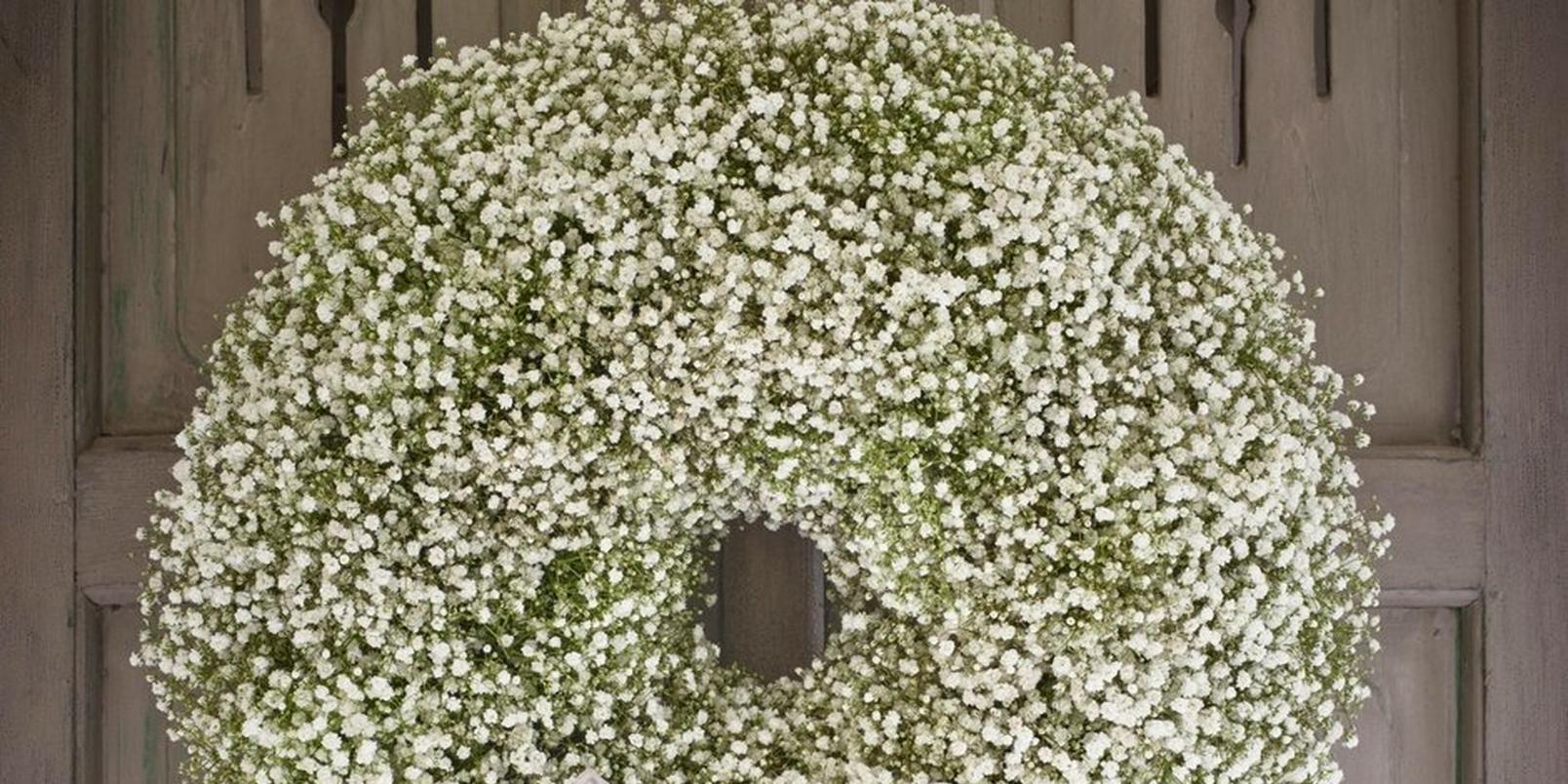 #4 Asymmetrical Christmas Wreath
Asymmetrical Christmas wreaths are trending on Instagram right now and it's fair to say we're a little bit in love. Modern and merry, a one-sided design will bring more than just a little festive cheer to the neighbourhood. Choose one with flowers that look as good dried as they do fresh (hello hydrangeas!) and it'll see you through until the new year too.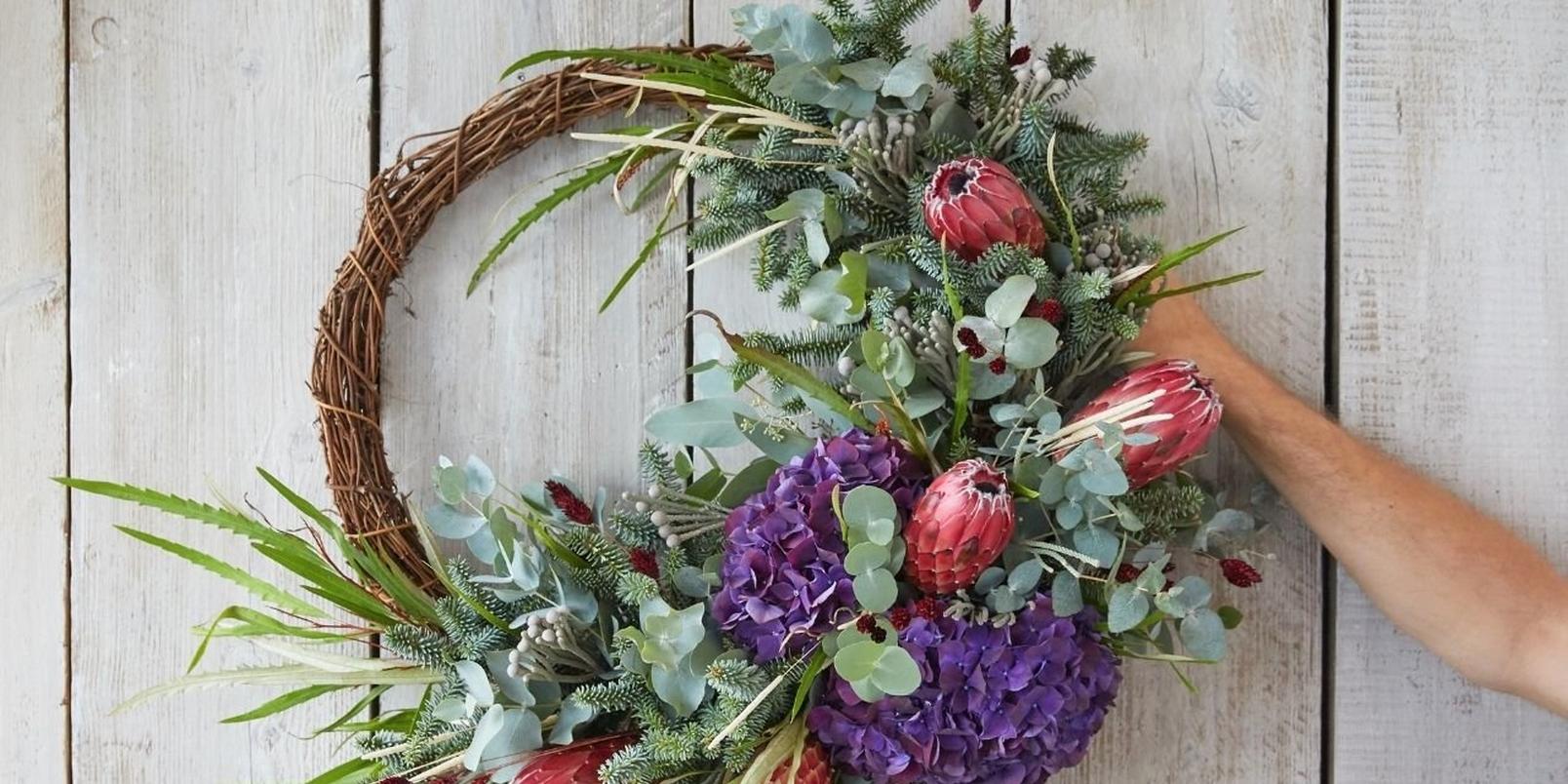 #5 Dried Fruit Christmas Wreath
Simple by design but eye-catching all the same, this dried fruit wreath is sure to receive plenty of compliments over the festive season. Because fewer fresh flowers are included, this wreath is wonderfully long-lasting and the abundance of cinnamon, dried orange slices and clementines make it a treat for all the senses.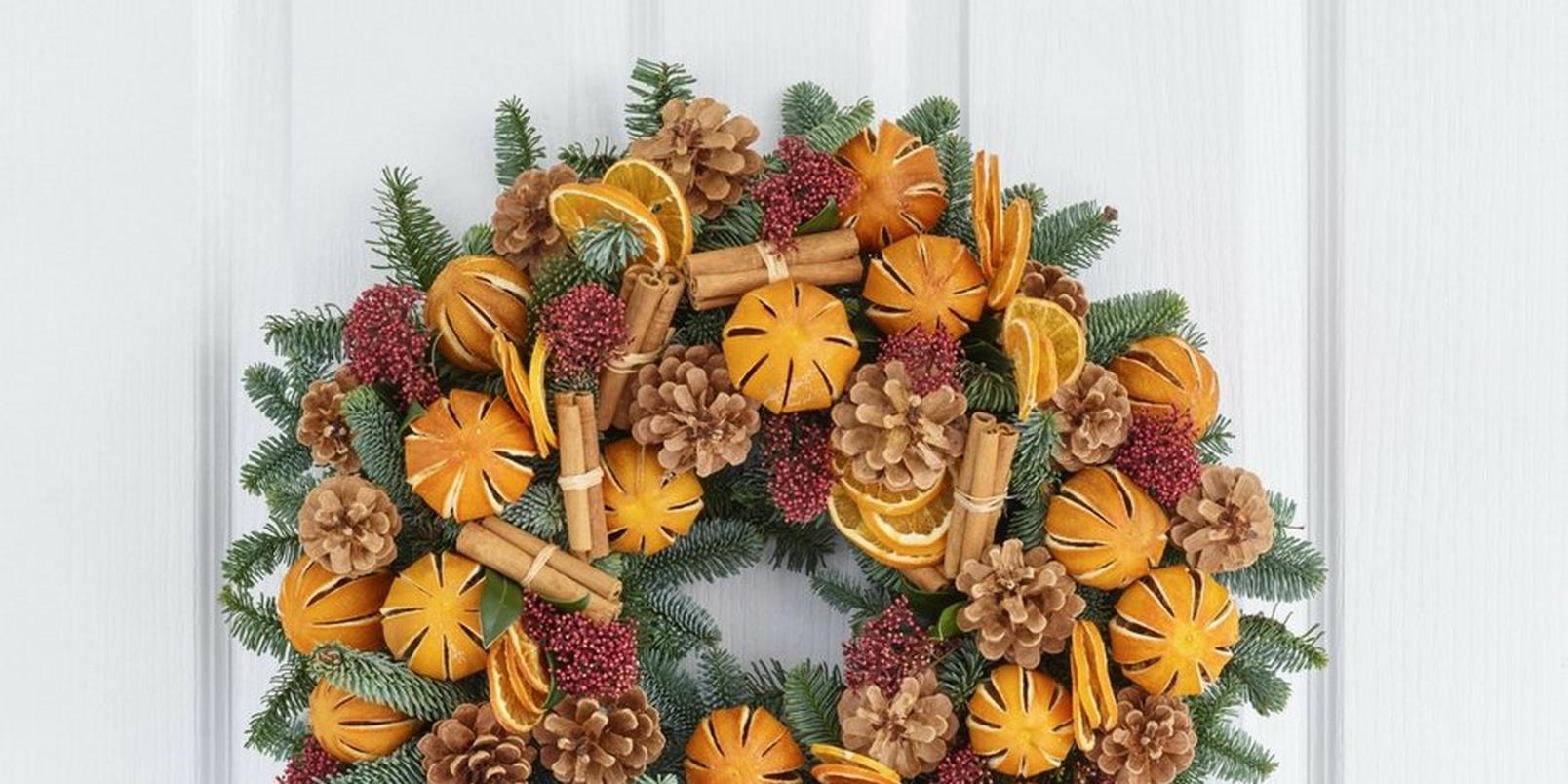 #6 Eco-friendly Christmas Wreath
For a greener Christmas, lay off the glitter and plastic bows and go au naturel. All the accessories on this eco-friendly wreath are 100% kind-to-the-planet. Feeling crafty? Why not go all Kirsty Allsopp and have a go at making one yourself? We've got some great tips on how to create a Christmas wreath.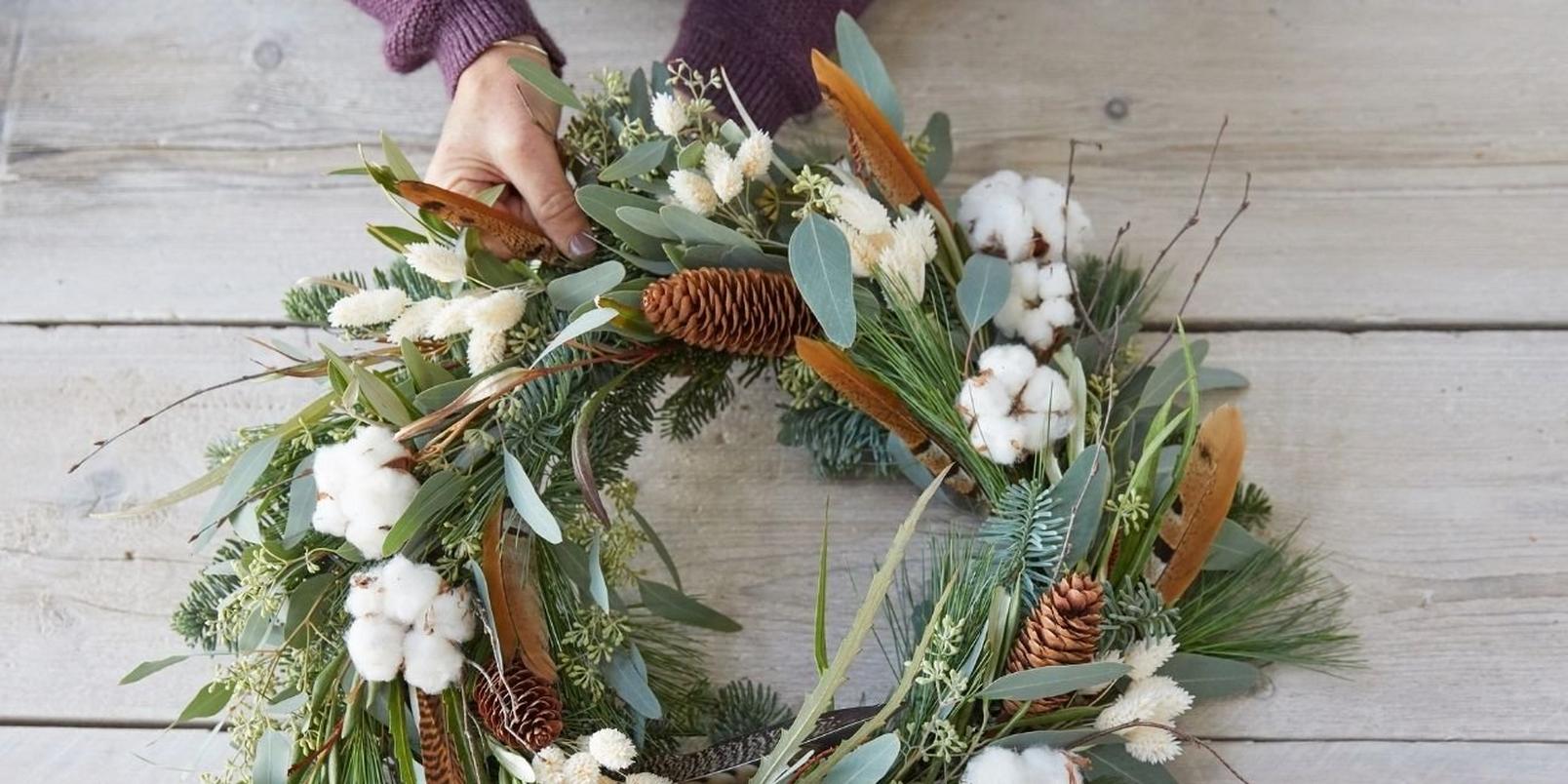 #7 Scented Christmas Wreath
With Mariah Carey belting out 'All I Want for Christmas' on the radio and festive films taking over Netflix, who could fail to get a little sentimental during the festive period? If nostalgia's what you're craving then here's the perfect wreath for you. With its Christmas tree foliage and red and green colour scheme, this beautiful design will bring back all those childhood memories (there's even a hint of cinnamon to remind you of mum's baking on Christmas Eve).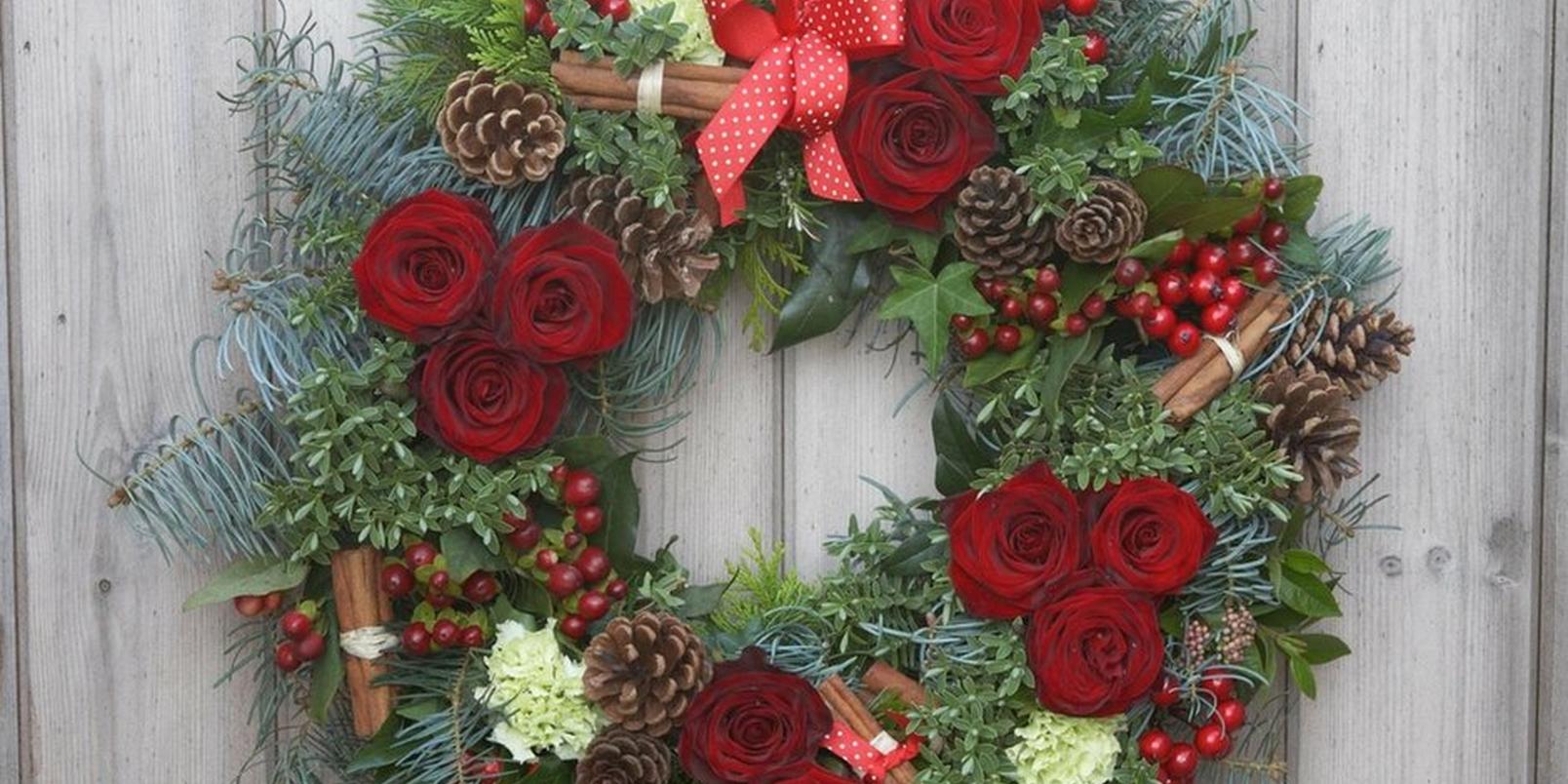 #8 Pretty Christmas Wreath
Going for full-on glamour this Christmas? Ask your florist to design you a real flower wreath packed full of sumptuous roses. This Insta-worthy design combines the most beautiful varieties in shades of pale pink and cream (it's not all about the reds and golds you know!) together with spruce and natural pine cones. Hints of blue create the feeling of a frozen winter's morning that wouldn't look out of place in Elsa's Arendelle.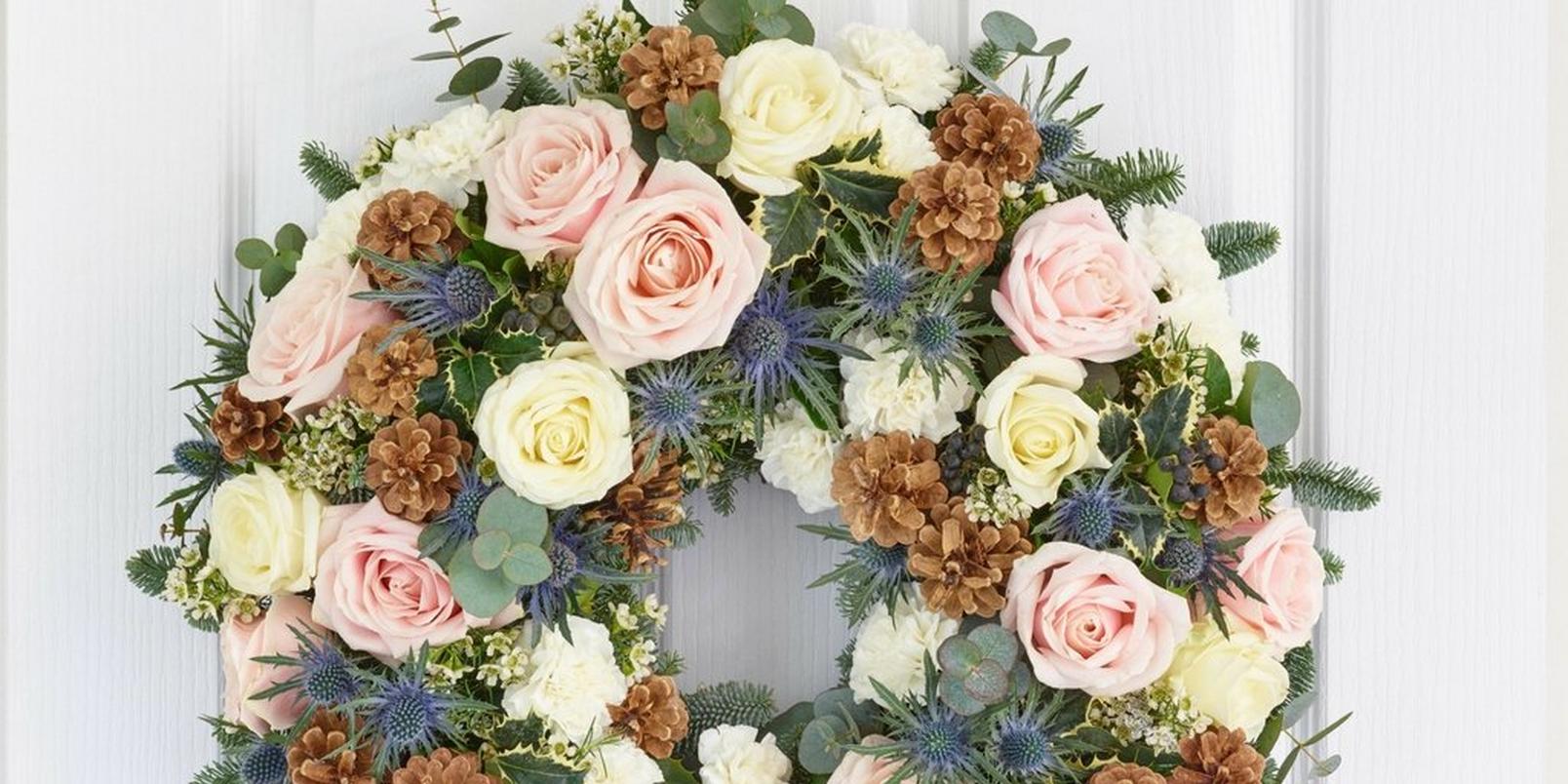 #9 Star Shaped Christmas Wreath
Looking for something a little bit different? Think outside the circle! Christmas wreaths don't have to be round, just look at this star shaped design. Decorated with scarlet red roses and orchids that look like they've been dipped in chocolate, it's a Christmas wreath that's anything but ordinary.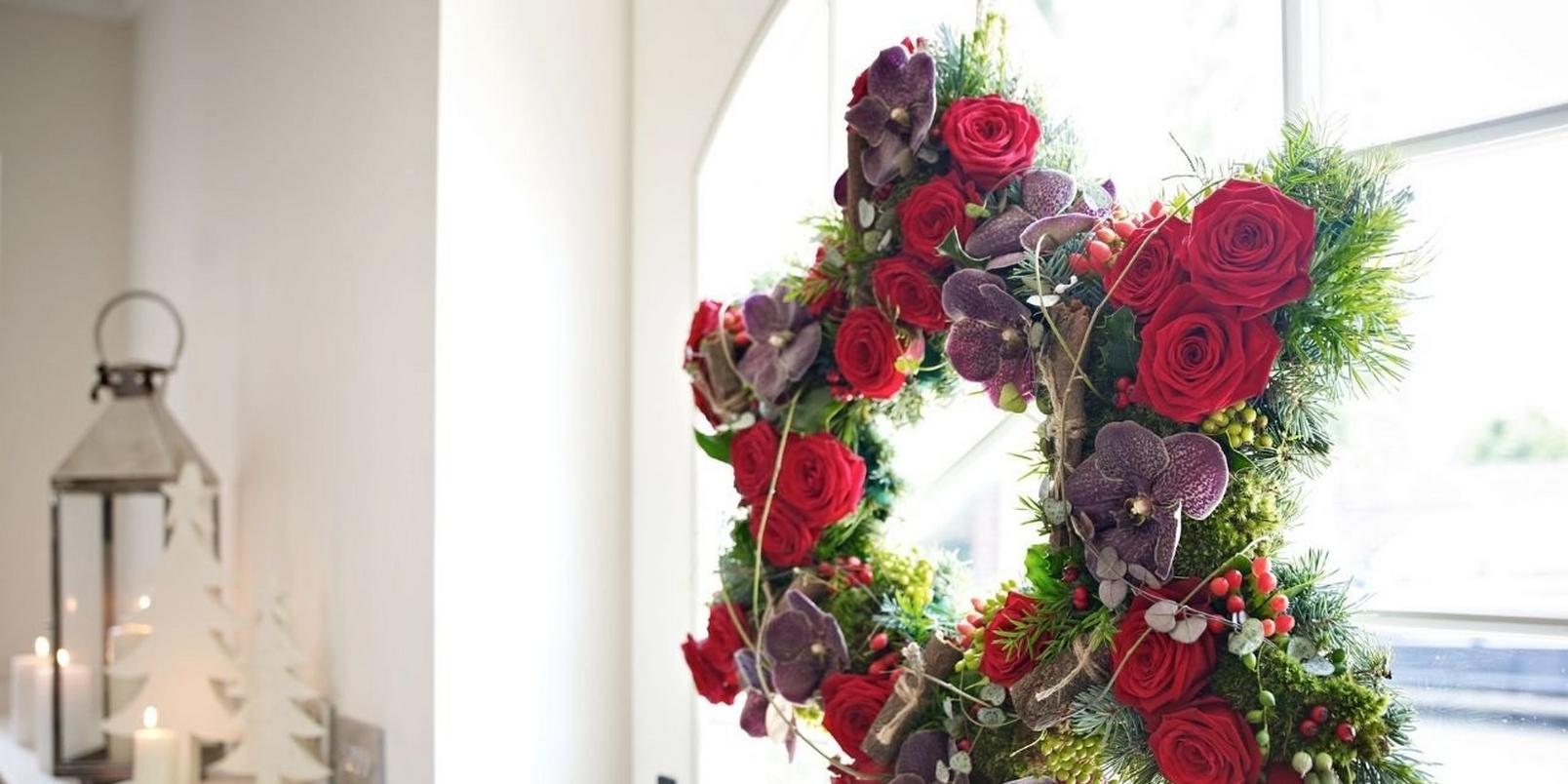 #10 Vintage Christmas Wreath
Styling a vintage Christmas? This pretty Christmas wreath will make a cheery sight for all your festive visitors. We love the little details like the pearl pins and lace ribbon which make this wreath oh-so-pretty and, with long lasting flowers such as frilly carnations and plenty of seasonal foliage, it's sure to bring joy for days and days and days.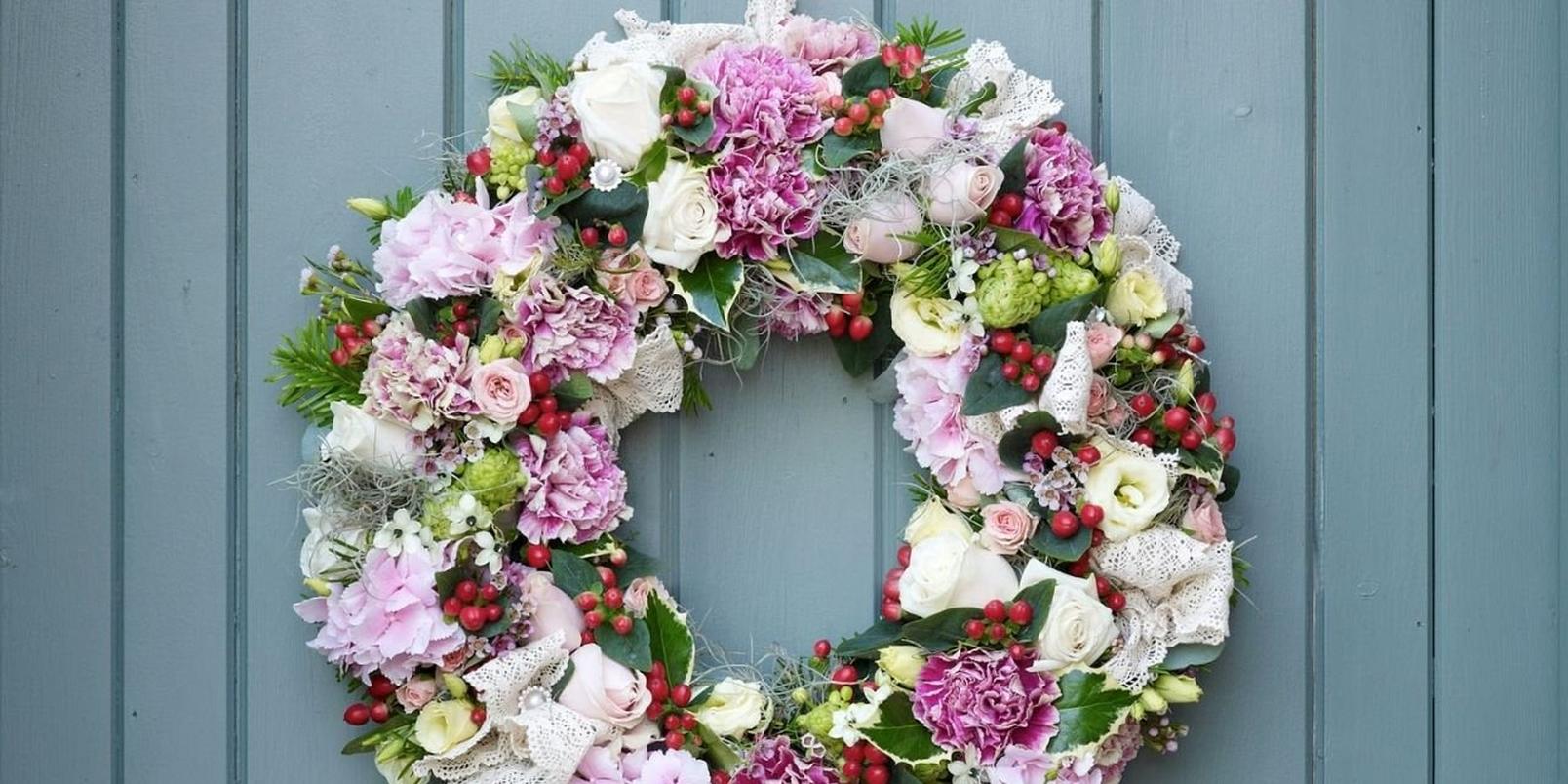 #11 Succulent Christmas Wreath
Succulents are having more than just a moment - they're proving to be one interior design trend with staying power. Super easy on the eye, this gorgeous design contrasts their sculptural beauty with blousy red and peach roses and fluffy hot pink carnations. The prettiest door wreath we ever did see.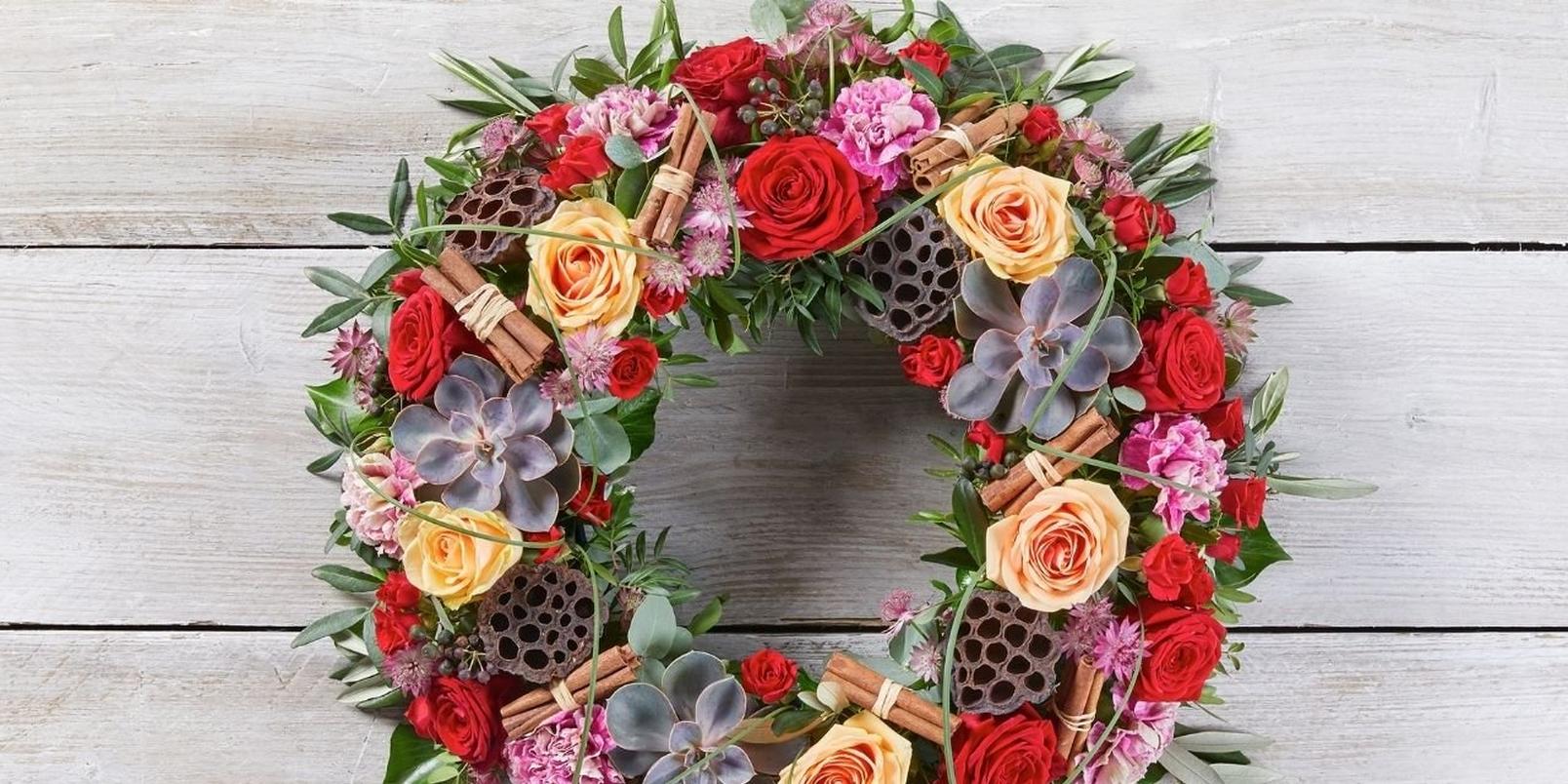 #12 Christmas Wreath With Roses
This ring a ring o' roses uses festive foliage foraged from a woodland walk. There's spruce, holly and pine cones to boot. Feeling inspired? Why not learn how to make a Christmas wreath? We can't think of a better way to spend a frosty winter's afternoon than getting all creative with the squad over a glass (or two) of mulled wine.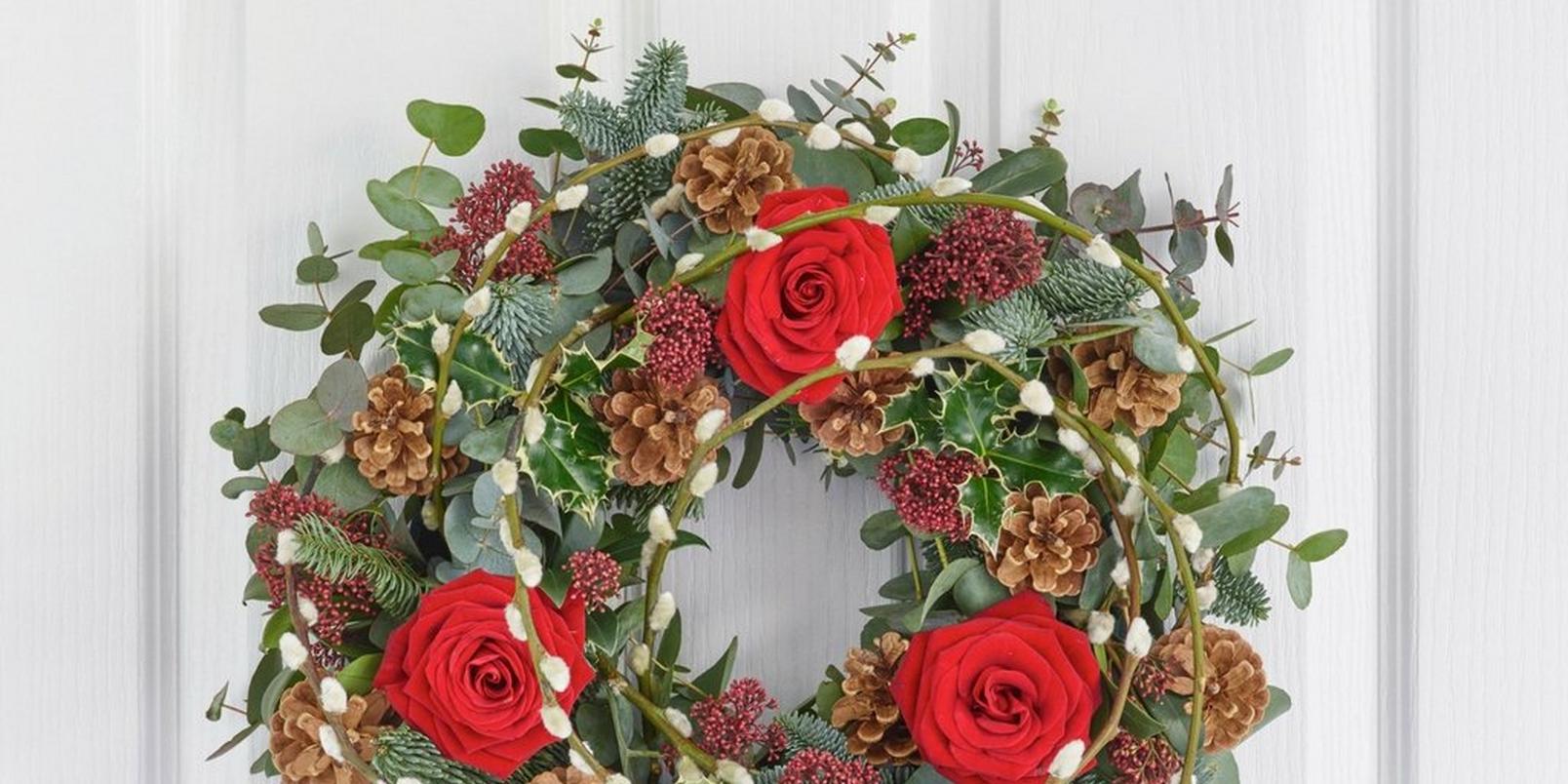 #13 Christmas Table Wreath
All things bright and beautiful, this striking wreath could easily double up as a Christmas table arrangement. Simply add a church candle to the centre and voila, you have the most amazing centerpiece. So, even if the turkey's not quite up to scratch, your Christmas table will look pretty darn spectacular!