Condolence Messages for a Sympathy Card
28th August, 2020
When someone close to you is grieving, it's only natural that you want to reach out and let them know you care. Sending a bouquet of flowers is a thoughtful way to show that they're in your thoughts but knowing what message to write can be a little daunting.
With this in mind, we've created this guide to condolence messages to help you understand what to write in a sympathy card so they know they're never far from your thoughts.
What to write in a sympathy card
A sympathy card doesn't need to feature an epic essay or profound messages about life and death. All it needs to convey is your warmth and love for the person it's being sent to.
First, let them know that you're thinking of them and that you're truly sorry for their loss. If you knew the person who has passed away, comment on them and how you'll miss them as well.
If you're willing and able, let them know that they can lean on you for support and help while they are dealing with their loss.
Finish with a warm closing message, filled with love and hope for the future.
Below, we've featured a range of condolence messages that you can take inspiration from or mix and match to suit your needs.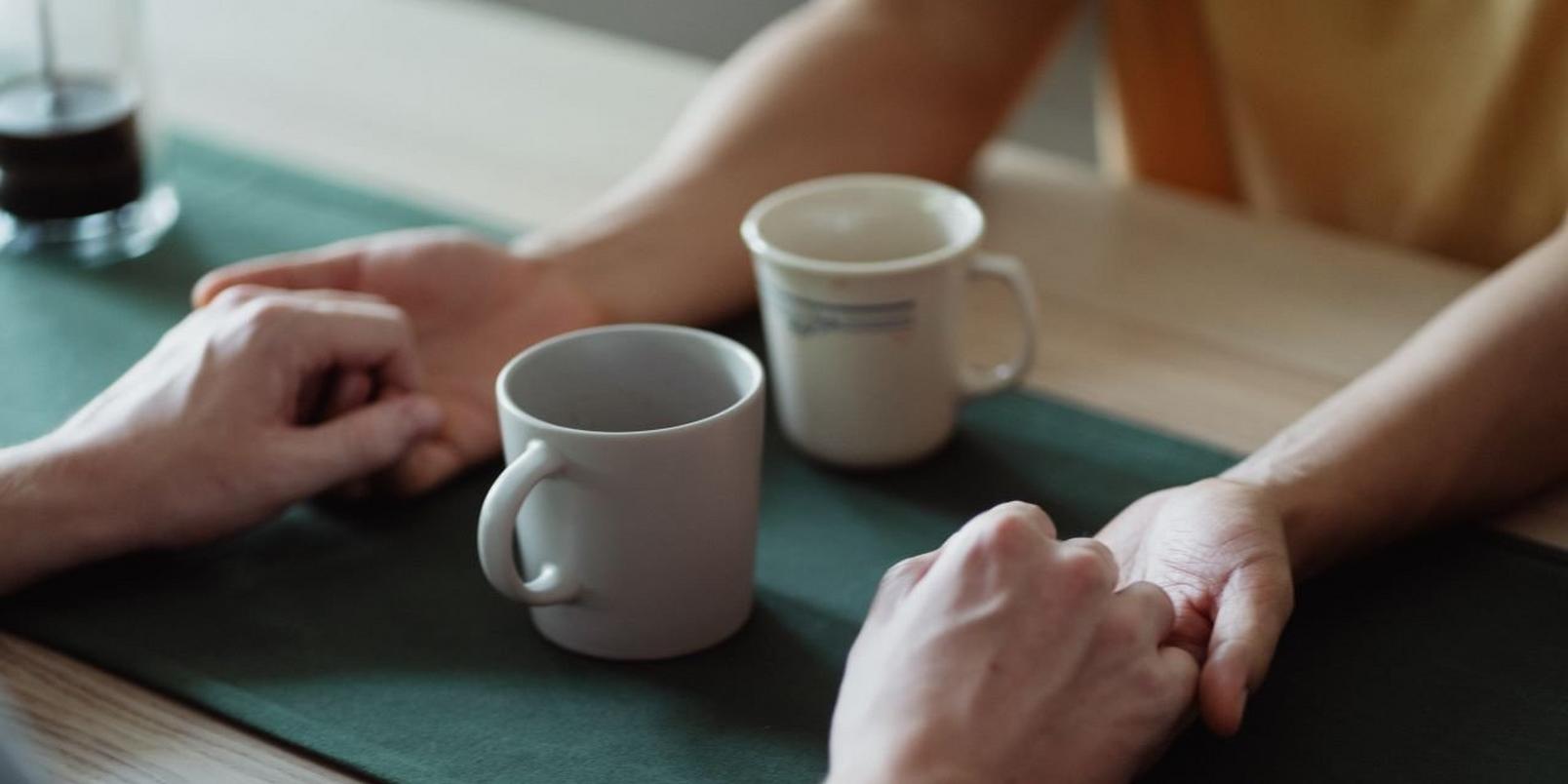 Condolence messages for someone who has lost a parent
Losing a parent is perhaps one of the toughest things a person can go through and so your sympathy card should offer support and strength to the recipient. Consider these condolence messages and choose one that best fits your situation:
I'm so sorry to hear about your Mum/Dad and hope that you and your family can come out stronger during this trying time.
There are no words to describe how sorry I am for your loss. I will miss your Mum/Dad too and remember those days spent in your home as kids and how wonderful they were.
I can't believe they've gone but I'll always remember what a wonderful Mum/Dad they were to you and how kind they always were to your friends.
Your Mum/Dad has made you a strong person and I know that they would want you to draw on this strength now that they're gone. They would be so proud of you and while it feels awful now, things will get better.
It helps to remember all the good that your Mum/Dad did while they were still with us and to take joy in those memories. I'm so sorry for your loss but I am thinking of you all during this time.
I know that there's nothing I can say that can take this pain away but know that I'm here if you need anything and we are all mourning the loss of such a wonderful person.
Condolence messages for someone who has lost a family member or friend
Perhaps your Mum has sadly lost her sister or a close friend is grieving for their grandmother; a sympathy card can offer words of support as they come to terms with their loss. Here are some messages of condolence to consider featuring:
[Insert name] was a good person and while it feels so hard now, things will get better and you'll look back on those happy memories with them.
I am terribly sorry for your loss and hope that you and your loved ones can come together to cherish those special memories of [insert name].
It is never easy losing someone, no matter the circumstances, but time will heal your pain and he/she will be looking down on you forevermore.
I'll remember [insert name] for their [insert memory] and hope that as time heals our pain, we can look back on the time we had with them fondly. Sending you love during this trying time.
I feel privileged to have known [insert name] and will always remember them fondly. I hope things get easier, please accept my condolences.
Condolence messages for someone who has lost a pet
Pets are like family for many of us. We treat dogs and cats like our children and we never feel like we're given enough time to enjoy their company.
In some cases, people on the outside don't understand why someone is so upset if their pet has died which can be frustrating and distressing for the grieving party. If someone you know is grieving from the loss of their pet, here are some messages that can be penned in a sympathy card to let them know that you care.
I know that [insert name] is running around in doggy heaven now, chasing all the balls and splashing in all the mud.
We're never given enough time with our pets, I'm so sorry [insert name] was taken from you.
Losing a pet is never easy but I know that [insert name] was more than a pet to you, they were a companion. Know that I'm here if you need anything.
When a pet moves on it can leave a hole in our heart, I hope over time you'll feel better soon.
Simple condolence messages
Sometimes you want to offer your love and support but don't feel it is appropriate to say too much. Here are some simple condolence messages that say plenty, in just a few words.
Incredibly sorry for your loss and thinking of you during this time.
I hope you and your loved ones are doing okay, thinking of you.
Sending love and deepest sympathies to you and your family.
We are so sorry for your loss.
Thinking of you during this time.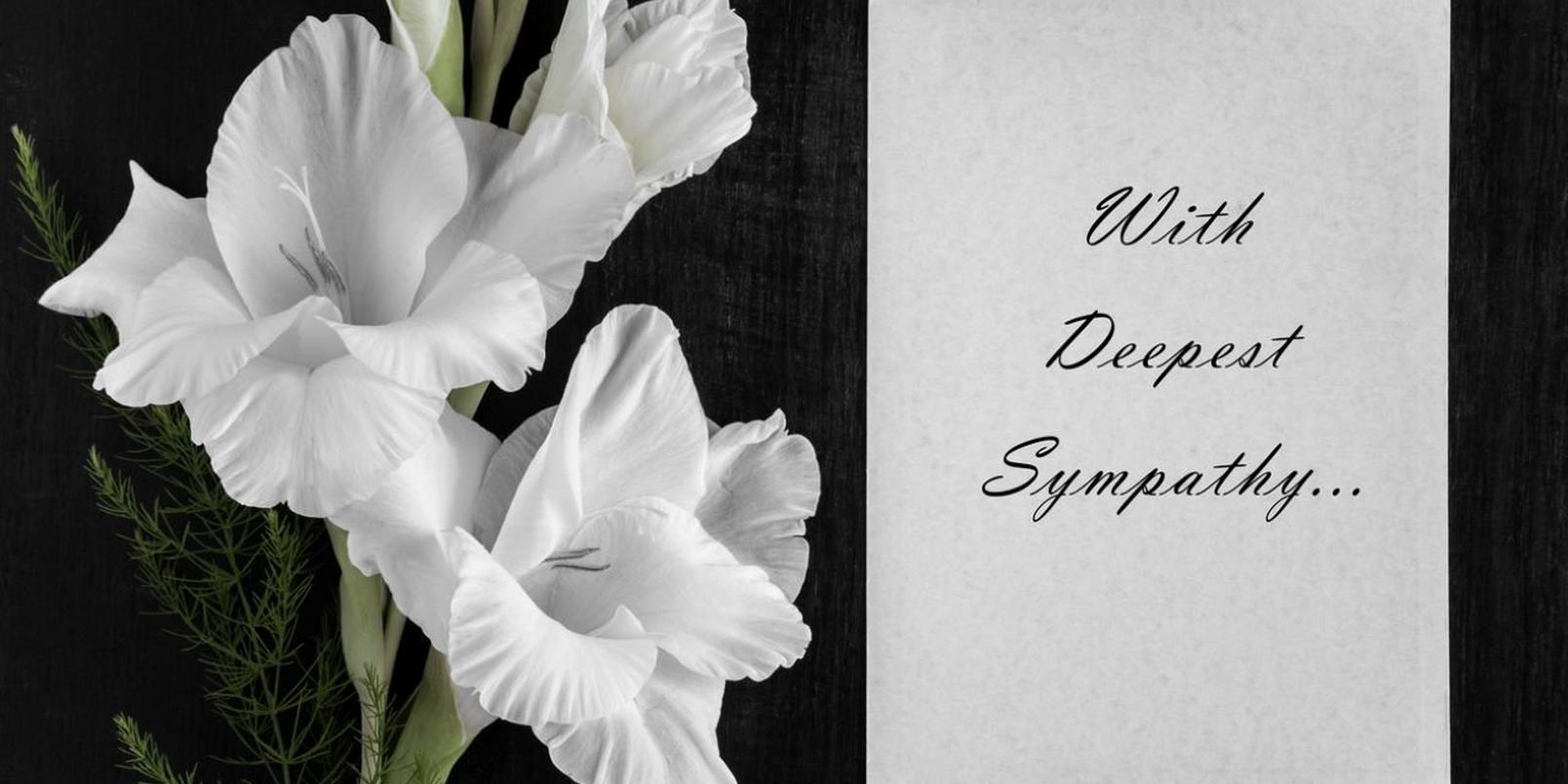 How to sign a sympathy card
Once you've written out those messages of condolence, you may be unsure how to sign off the card. Here are some examples you can use:
With love,
With our deepest sympathy,
Please accept our condolences,
Sincere condolences,
What not to write in a sympathy card
Writing out your condolences is no easy feat, you may even be grieving yourself. However, there are some choices of words and things that are best to avoid saying in a sympathy card to ensure you don't upset the person receiving it.
Try to avoid talking about how they died or how young they were if that applies. It's likely that the grieving party doesn't want to be reminded of these details. The phrase 'they're in a better place' can also be upsetting, as the grieving person may not feel this way.
Avoid using harsh words such as death or died. While we know these are the correct ways to describe what has happened, they can sound very raw to someone who is grieving. Moved on, passed away, no longer with us – these are all kinder phrases to consider.
When to send a sympathy card
It's best to send a sympathy card as soon as possible to offer your support and share your well wishes while they are initially dealing with their loss.
This ensures that those feelings aren't brought up again later when the person is starting to feel better. If you do send the card later, it's best to address this in your message.
Things you can do to support someone who is grieving
Everyone deals with the loss of a loved one differently. Some people quickly continue with their lives and normal routine while others find it hard to find the energy or motivation to carry out basic tasks. You can offer your support and love with some of the following gestures.
Check-in little and often – A simple text just to let them know you're there if they need to talk can really help, especially if you don't live close by.
Make them some home-cooked meals – Some people find it difficult to cook for themselves or take care of themselves while grieving. Cook them some simple meals that can be warmed up when they feel ready to eat, such as a lasagne or a cottage pie. If they don't eat it, then it can be popped in the freezer for later.
Offer to look after the kids – If they are parents, sometimes grieving while caring for little ones is particularly hard. Offer to take the kids out for the day or have them visit your home and give the parents time and space to process their feelings.
Pick up their shopping – Ask them if they need anything next time you're heading to the shop and drop it round. It's one less thing for them to worry about.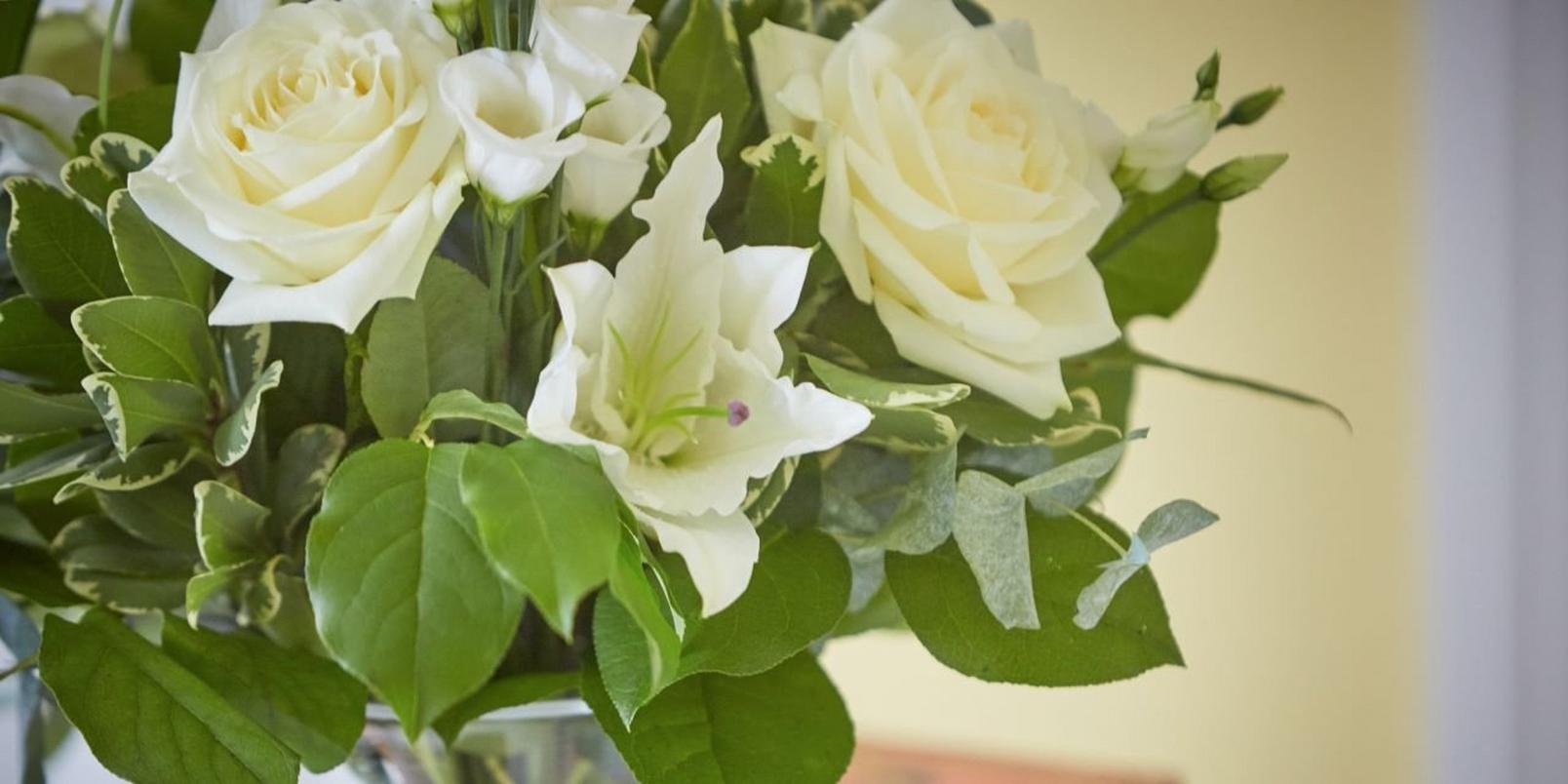 What kind of flowers to send with a sympathy card
Sometimes, you may wish to send a bunch of flowers to someone who is grieving. We recommend you check with a close family member or friend that they're happy to receive them. If they are, here are some of our recommended sympathy flowers:
White lilies
Considered to be the flower of choice for a sympathy bouquet, white lilies are elegant and always beautiful. White flowers are said to symbolise peace and love, making them the first option for many looking for flowers to feature in a sympathy bouquet.
Yellow roses
If the person grieving is a close friend, a bright bunch of yellow roses is a good choice to let them know you're thinking of them. Yellow roses are said to represent friendship and so by sending them as sympathy flowers, you're reminding that person you care about that you're there and brighter days will come.
Gladiolus
If they're in season – usually between June and November – a bright bunch of gladiolus will offer a pleasant alternative to the many bouquets they may be receiving. Gladiolus are referred to as 'sword lilies' and symbolise strength. Share this meaning with the recipient and encourage them to draw upon their inner strength to get through this tough situation.
Carnations
Carnations are said to represent pure love, so a bunch of these simple but elegant blooms is sure to be appreciated. Send a bunch of carnations in a pastel shade – such as yellow or pink – to provide a little colour in their life during this hard time.
Writing a sympathy card is no easy task but we hope that with this guidance you can create a message that offers support and love to someone who needs it. Take a look at our full guide here on sympathy messages that may offer some more help.