Search for flowers for my date and postcode

Hand-crafted by a local artisan florist in Dublin
Flower delivery for all occasions
Dublin Flower Delivery
Flower Delivery in Dublin
When it comes to sending a thoughtful and heartfelt gift in Dublin, trust our exceptional flower delivery service. Our talented Dublin florists meticulously craft stunning arrangements using fresh, locally sourced flowers, ensuring that your gift is both beautiful and long-lasting. Whether it's a birthday, anniversary, or a simple gesture of appreciation, our personalised bouquets are the perfect way to express your sentiments and bring joy to someone's day.
With Interflora's reliable delivery service, you can rest assured that your flowers will be delivered on time and in perfect condition, no matter where your loved ones are in Dublin.
About Dublin
Dublin, the capital city of Ireland, is a vibrant and bustling metropolis that seamlessly blends its rich history with a modern and cosmopolitan atmosphere. Nestled on the east coast of the country, Dublin offers a diverse range of attractions and experiences for visitors to enjoy.
Steeped in history, Dublin boasts a wealth of iconic landmarks and cultural treasures. Trinity College, founded in 1592, is home to the famous Book of Kells, a beautifully illuminated manuscript dating back to the 9th century. Dublin Castle, a magnificent structure dating back to the 13th century, showcases the city's medieval heritage. The Guinness Storehouse, located at the historic St. James's Gate Brewery, offers an immersive experience into Ireland's brewing tradition and a panoramic view of the city from its Gravity Bar.
The city's vibrant atmosphere is further enhanced by its lively neighborhoods. From the charming cobbled streets of Temple Bar, renowned for its lively pubs and traditional Irish music, to the trendy boutiques and eateries of Grafton Street and Powerscourt Centre, Dublin offers a delightful mix of old-world charm and contemporary flair.
Nature enthusiasts will appreciate Dublin's green spaces, such as St. Stephen's Green and Phoenix Park, one of the largest enclosed parks in Europe. These serene oases provide a tranquil escape from the urban buzz and offer opportunities for leisurely walks, picnics, and even deer spotting.
Dublin's rich cultural scene is celebrated through its numerous theaters, art galleries, and music venues. The Abbey Theatre, the National Gallery of Ireland, and the vibrant live music scene in venues like Whelan's and the Olympia Theatre contribute to the city's reputation as a hub of creativity and artistic expression.
Florists in Dublin
Interflora is delighted to partner with skilled florists in Dublin who expertly craft breathtaking floral arrangements. With our dependable flower delivery service covering all of Dublin, including vibrant neighborhoods like Temple Bar, Grafton Street, and St. Stephen's Green, we guarantee that your heartfelt sentiments will be beautifully expressed through stunning blooms, ensuring that every occasion in Dublin is truly exceptional.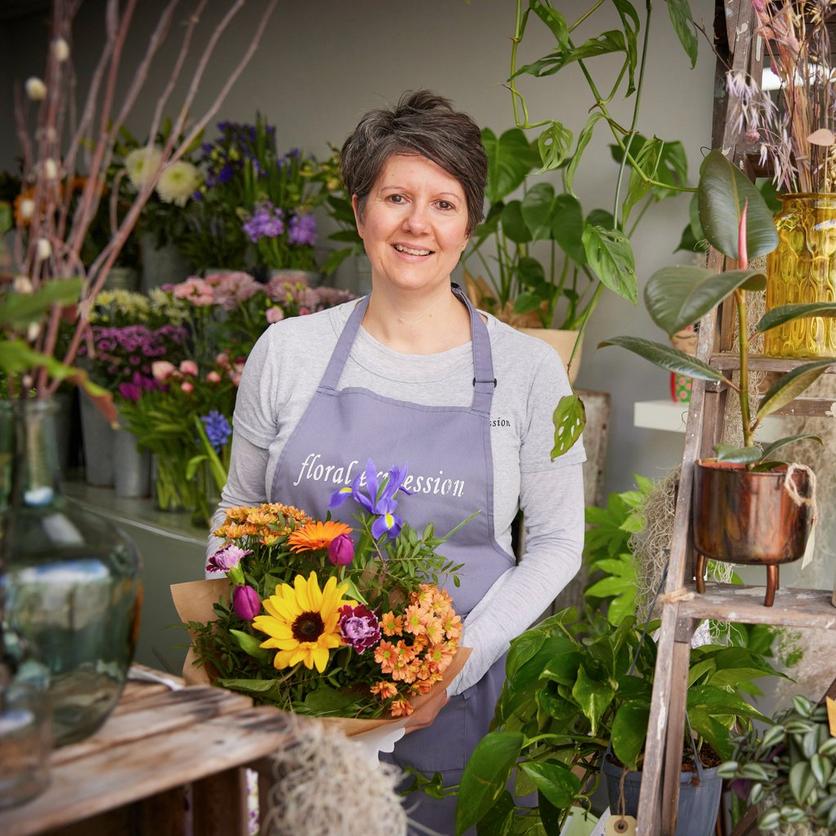 Find a local florist to craft your bouquet
Whatever the occasion, we're here to help. From birthdays to anniversaries or simply just because, we deliver flowers across the UK and even overseas.
Over 900 local florists nationwide
Every bouquet is created by an experienced artisan florist.
No lost bouquets here, these are made to wow them on the doorstep.
We guarantee all our flowers will be fresh for 7 days at least.
Our bouquets are created by local florists. Long live the high street!