For same day delivery order before 3pm.
Shop Now.
Kind-to-the-planet. Beautifully presented in eco-friendly gift wrap.
Eco-friendly
Occasions

Funeral & Sympathy

Flowers

International

Same Day

The recipe for long-lasting friendship
5th October, 2020
With social distancing still "the new norm" (sigh), and many of us unsure of the last time we hugged any of our friends, we've carried out some research to discover the recipe for long-lasting friendship – and guess what – being apart for most of the year, is actually a good thing! Read on to find out more...
Two separate groups and five personalities
We spoke to 2,000 Brits and discovered that one of the secrets to long-lasting friendship is to have two separate groups made up of just five friends (so good news for everyone currently under the Government's 'rule of six' measures!).
But, what's also key is that a friendship group should be made-up of five different personalities including 'the sensible one' (think Miranda from SATC) , 'the organiser' (we're looking at you Monica Geller-Bing), 'the joker' (Annie from Bridesmaids), 'the party animal' (who else but Gossip Girl's Serena van der Woodesen?) and 'the dramatic one' (Glee's Rachel springs to mind!). We'll let you decide who's who in your friendship group!
We should also be catching up 73 times a year, showing vulnerability 100 times a year – and only having a face-to-face catch-up six times a year.
Celebrating those friendship milestones
Our 'Recipe for Long-Lasting Friendship' also reveals that CELEBRATING those all-important friendship milestones is also key.
On average, Brits have known their best friend for over 23 years, which is probably longer than most romantic relationships! And this got us thinking – why are there no official friendship milestones that we're all celebrating? Why should loved up couples in romantic relationships get all the glory?
In fact, our survey found that 1 in 3 people have never told their best friend just how much they mean to them. It's time to change all that.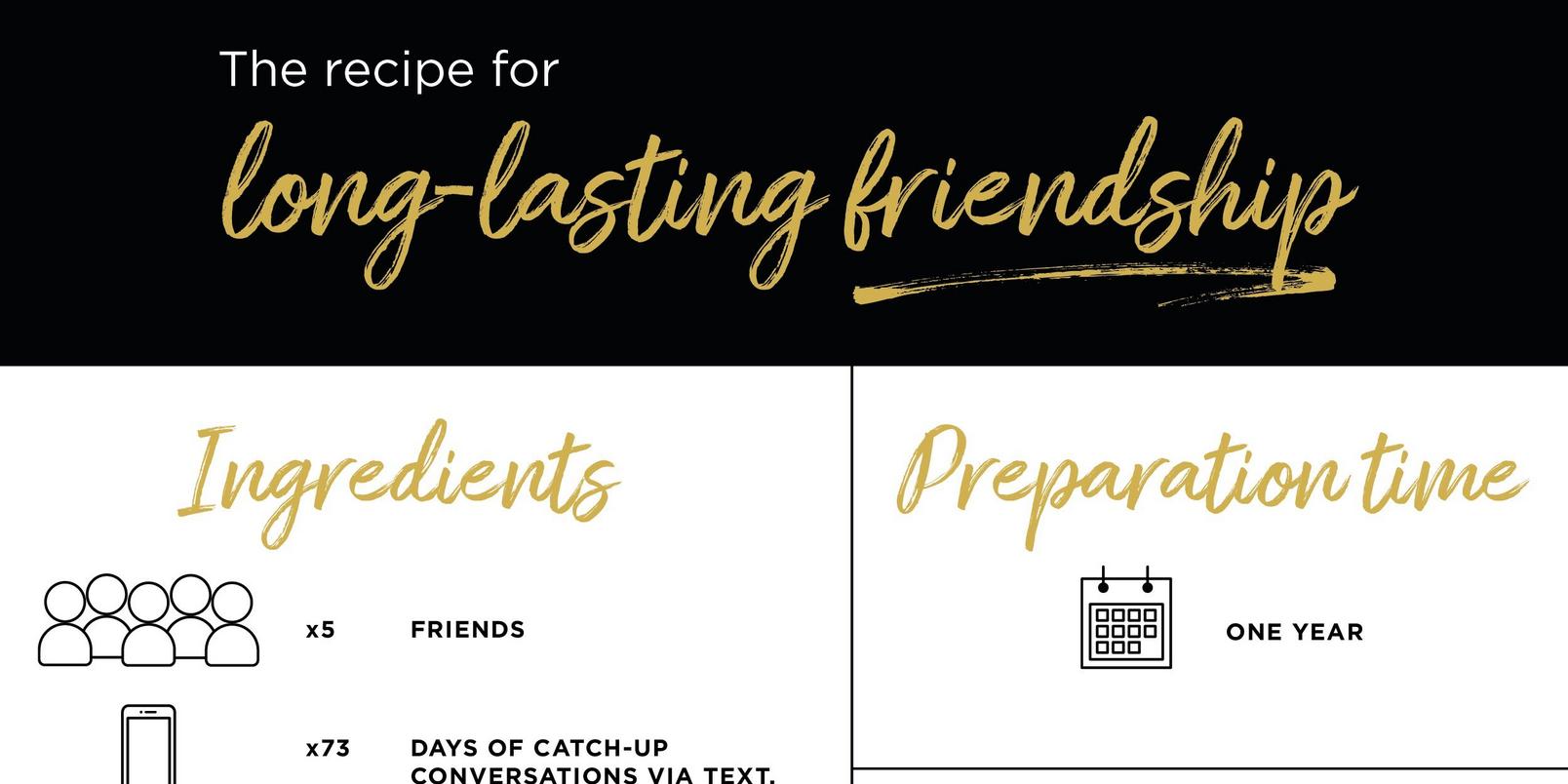 We spoke to Kate Leaver, an expert on friendship and author of the award-winning book The Friendship Cure, who explained why we should be celebrating our friendships, she said: "We do have Galentine's Day every February 13th – a day to eat waffles and proclaim love for our girlfriends. International Friendship Day is the 30th July. But other than that, we don't have any regular festivities in the calendar specifically for friendship. Don't wait until Facebook presents you with one of those little slideshows telling you how long you've been friends with someone; do it yourself. Get nostalgic, explain what you love about someone, write cards, share food, bake, sing, cuddle, drink, dance, send flowers that mean something. Do it your way – just do it!"
The ingredients you need for long-lasting friendship
So what's the secret? Take a look through our recipe for achieving long-lasting friendship below.
But don't worry if you don't have all of the ingredients though, what we really want, is to encourage people to let their friends know just how much they mean to them - and what better way to do it than with a truly one-of-a-kind bouquet of flowers expertly hand-crafted by a local artisan florist?