Peonies: the perfect wedding flower
13th May, 2019
Oh how we love peonies. The perfect puffballs win us over every time. Here for a good time, not a long time, they're the drama queens of the flower world and we're here for it.
They also make a brilliant wedding blooms too. For starters they're gorgeously romantic looking with all those fluffy petals (great in pictures). Then there's the fact that they come in all sorts of colours, shapes and sizes, helpful for matching a wedding scheme. And in case that wasn't enough they also signify prosperity, good fortune, riches, honour, and compassion – just what you need for the start of a marriage.
Now we're all agreed peonies are a wedding winner, let's talk practicalities.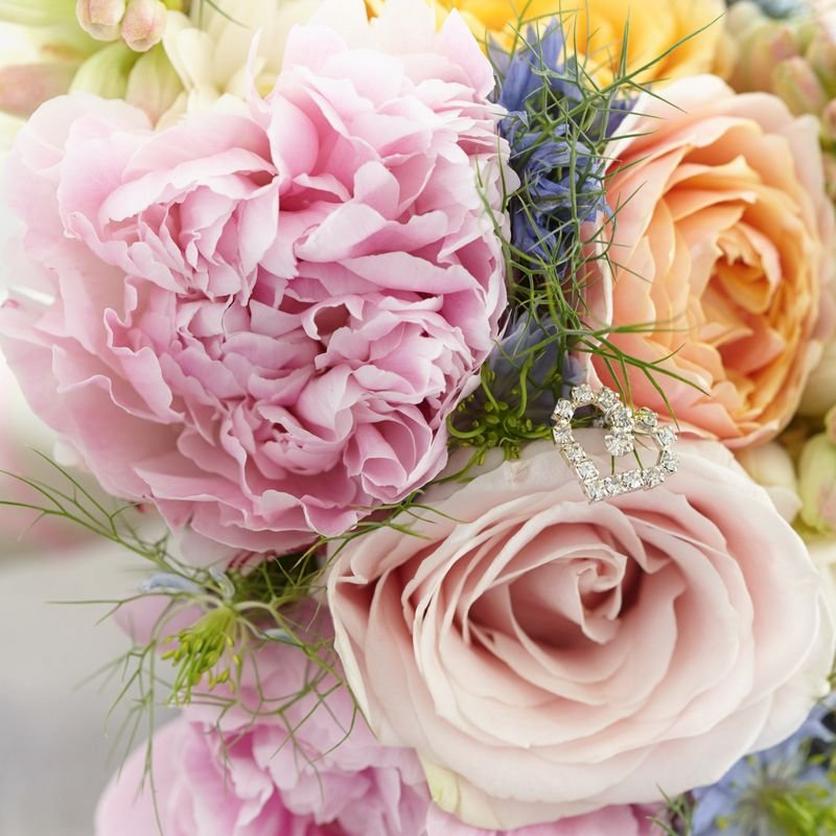 How much do wedding peonies cost?
This is a 'how long is a piece of string' answer we're afraid. The prices of all wedding flowers can vary hugely according to what's in season and other factors that might affect prices or availability. Your best bet is to chat to a few florists and get some quotes. We also like this article from Hitched which really gets into the detail of all things wedding flowers.
When can I have wedding peonies?
The peony season is seriously short and sweet. Our florists tend to start getting them in stock from the end of April, and they start to disappear in June. We're not saying plan your wedding entirely around peony season, but hey, they are pretty special flowers...
How do I feature peonies at my wedding?
So the stars have aligned and peonies will be around for the big day – how exciting! Now the question is how to make the most of them. We had a chat with our florists who've suggested a few ways to incorporate this gorgeous bloom.

Peony wedding bouquets
Peonies come in all shapes and sizes so your florist should be able to find ones to suit your wedding theme and colour palette. As they're usually very delicate and romantic looking they're a great choice for bouquets – especially bridal bouquets.
If you are after a more traditional look, peonies are ideal for the classic posy. Pair them with roses for a traditional look or add accents of your favourite bloom for a more personal touch. Don't forget you can also incorporate peonies into the bridesmaids bouquets and the groom's boutonnière.
Table decorations
The peony's versatility and symbolism make it a favourite choice for any centrepiece. Show your guests how special and precious they are to you by choosing a floral focal point for their tables. Use quirky bottles, jars and mismatched china to display your peonies.
Peony wedding cake decoration
A selection of peonies can help you to transform your wedding cake into a romantic floral masterpiece. Declare your love for another by decorating your wedding cake with this precious bloom.
Flower walls
A peony flower wall adds an understated touch of elegance and is the perfect backdrop for your big day. It complements all wedding themes and is equally suited to an English country garden wedding as it is to a vintage or a festival-inspired one.
You can task a professional to make it for you or use it as opportunity to showcase your DIY skills. Have fun making it and when finished, don't forget to experiment with different poses and up your selfie game in front of your creation.