Autumn Wedding Trends
23rd August, 2021
Away from the busy holiday season but before the chill of winter sets in, autumn has become an increasingly popular time of year to tie the knot. With an insider's perspective on all things wedding flowers, we share our expert insight into the colours, trends, and styles emerging this season.
Autumn Glory
Taking inspiration from Pantone's Fall Colour Report for 2017, this wedding theme is right on trend for autumn. Flame red, tawny orange and golden lime are the go to colours of the season, giving florists plenty of creative license to create un-ashamedly autumnal wedding designs. In these stunning examples the theme has been brought to life through a combination of velvety red roses, fiery leucospermum and golden Calla lilies. There's even a subtle hint of Ballet Slipper and Marina blue – two of Pantone's accent colours for Autumn 2017. Complete the look by introducing miniature squashes and rustic fabrics like hessian.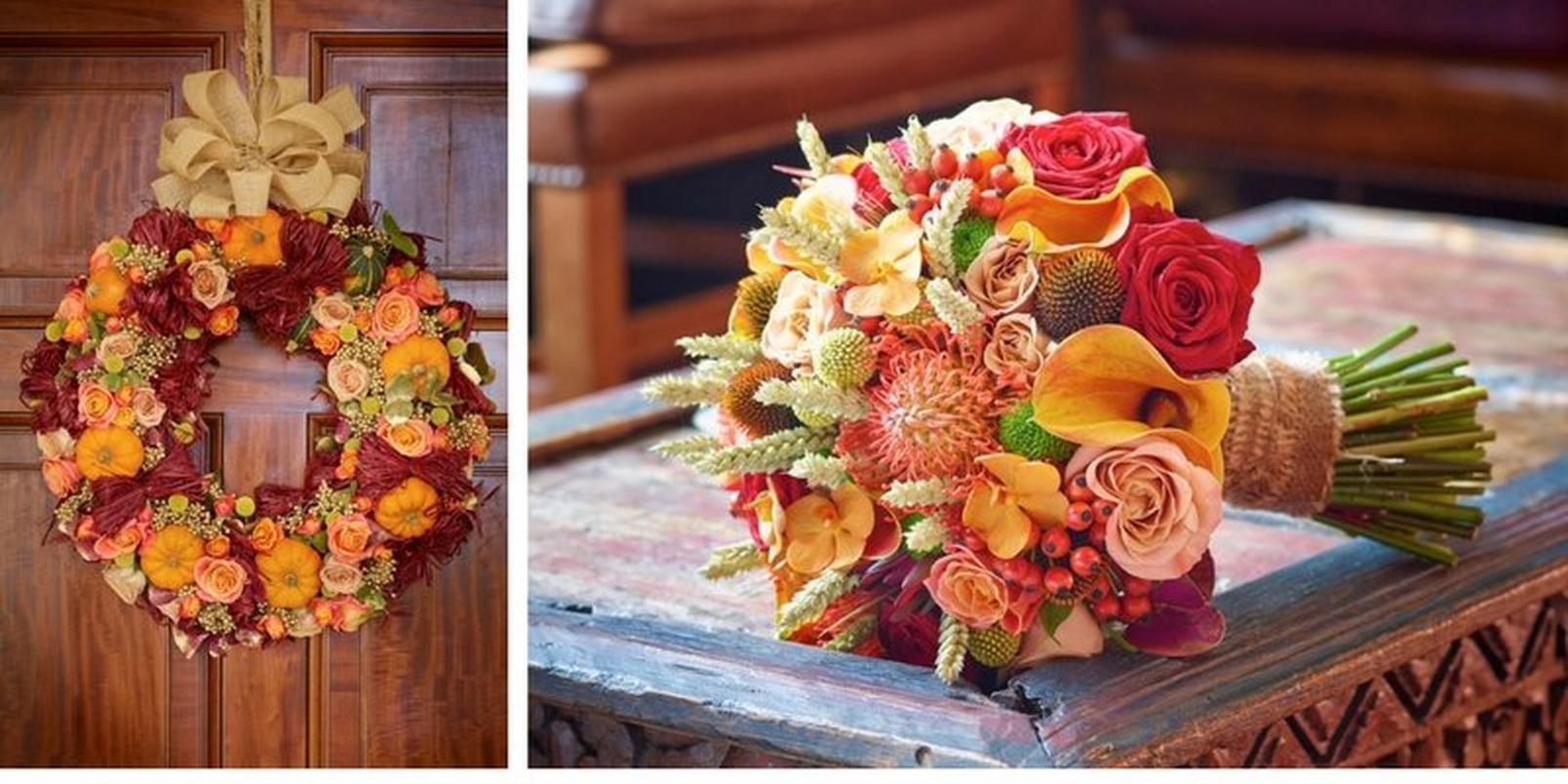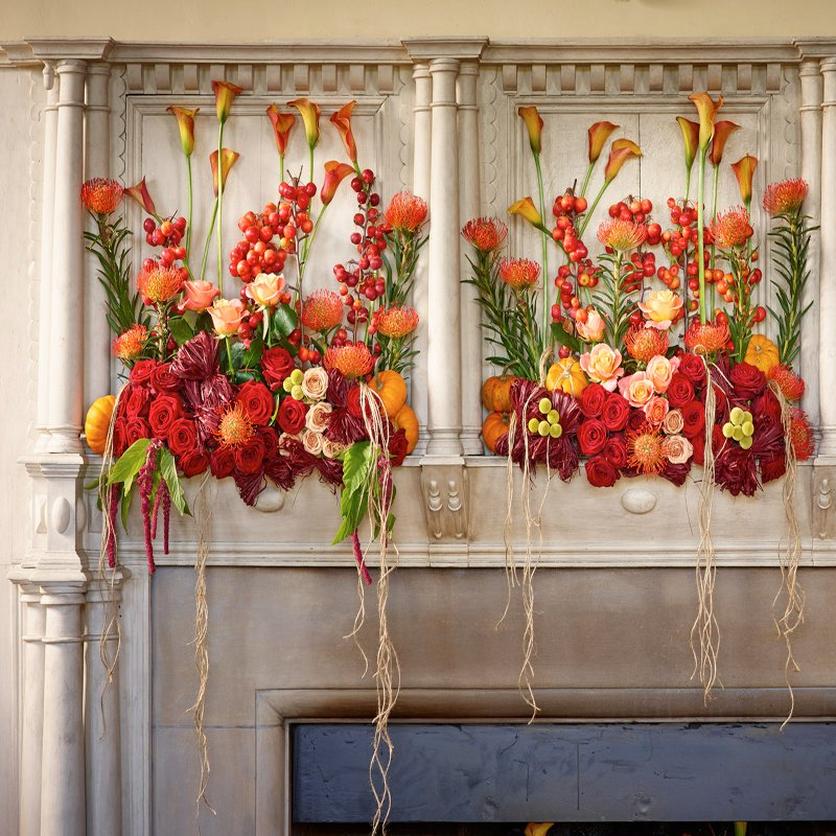 The cooler autumnal weather
will prompt more creative floral styling as flowers are less affected by the heat, meaning bouquets and decorations can be heartily accessorised with woodland favourites like pinecones and bare twigs to give a seasonal vibe
Kate Ward, Louise Florist
Enchanted Forest
For fashion forward brides, autumn's traditional earthy colour palette is sure to be overlooked in favour of more opulent shades. Dove greys and dusty pinks combined with rich reds and purple create this glamourous look. Flower choices are luxurious too – think lots of sumptuous roses and blousy hydrangeas, both of which will last longer now that the temperature is cooler. Don't neglect the little details either – a flourish of fresh (or faux) fruit like seasonal berries is a great way to create designs that are as unique as they are stylish. Another top tip for autumn brides is to use tea lights and candles in your flower arrangements. As the evenings start to pull this will create a beautiful ambience and set the tone perfectly for your celebrations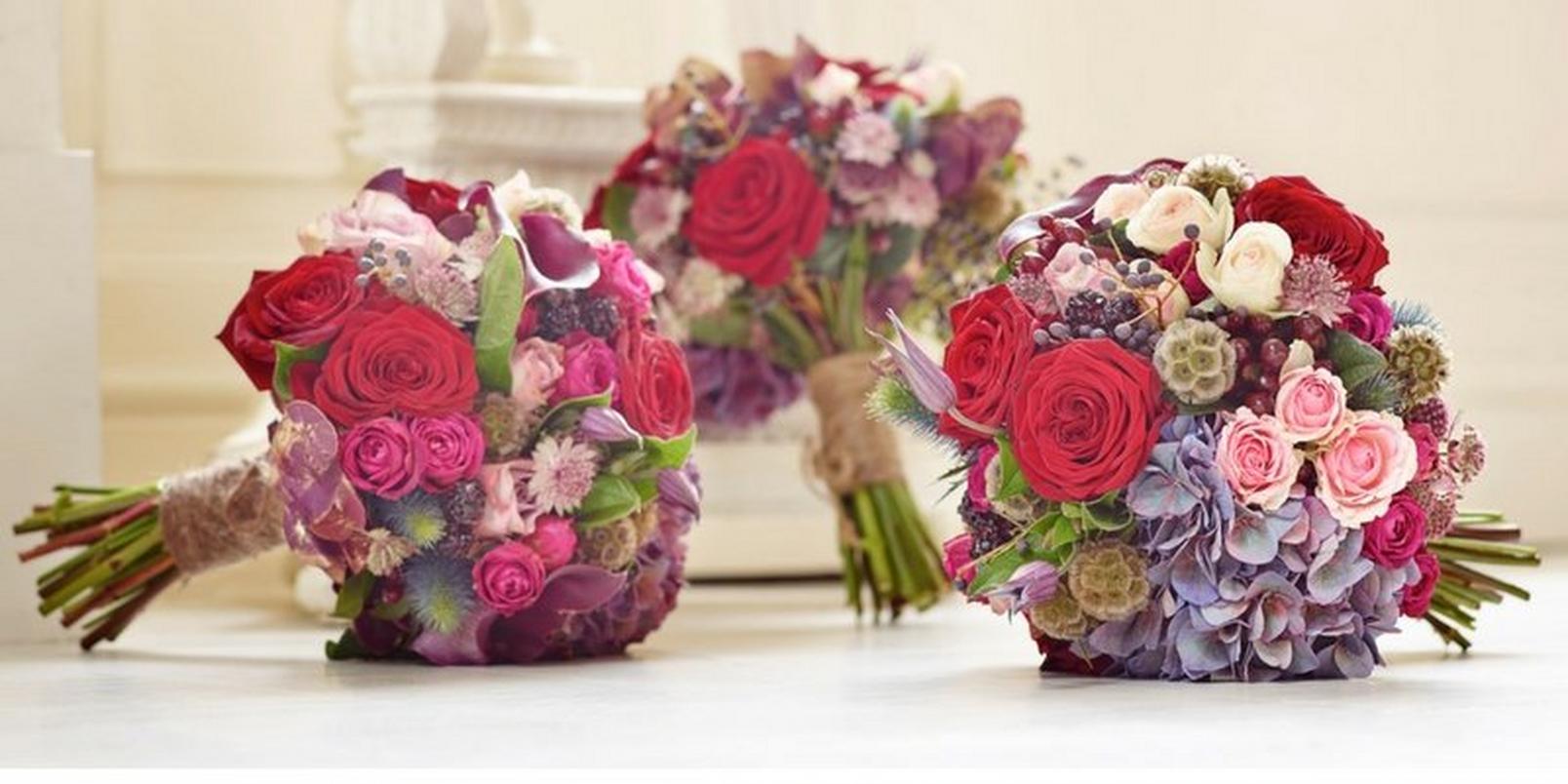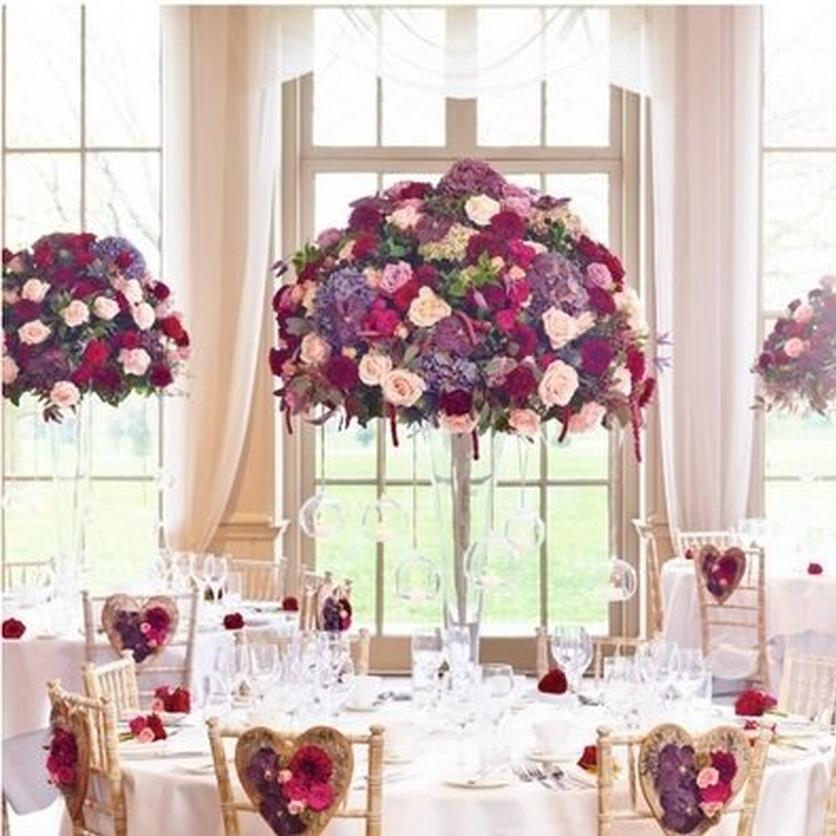 For fashion forward brides
autumn's classic colour palettes of orange and red are set to fall off must-have lists and will be replaced by softer pastel shades of dove greys and dusty pinks combined with rich reds and purple.
Erica Tippet, Bleujen Florist
Wonderfully White
For brides looking to keep it chic and classic, a pure white theme works really well for autumn weddings. In terms of flower choices, lilies and roses are the perfect pairing and, when teamed with grey-green foliage, create a look that manages to be timeless yet of the moment all at the same time. All year we've seen a fashion for larger bouquets, both loose and contrived, and autumn is no exception. Structural stems like Calla lilies work really well in cascade bouquets and an all-white version is particularly show stopping.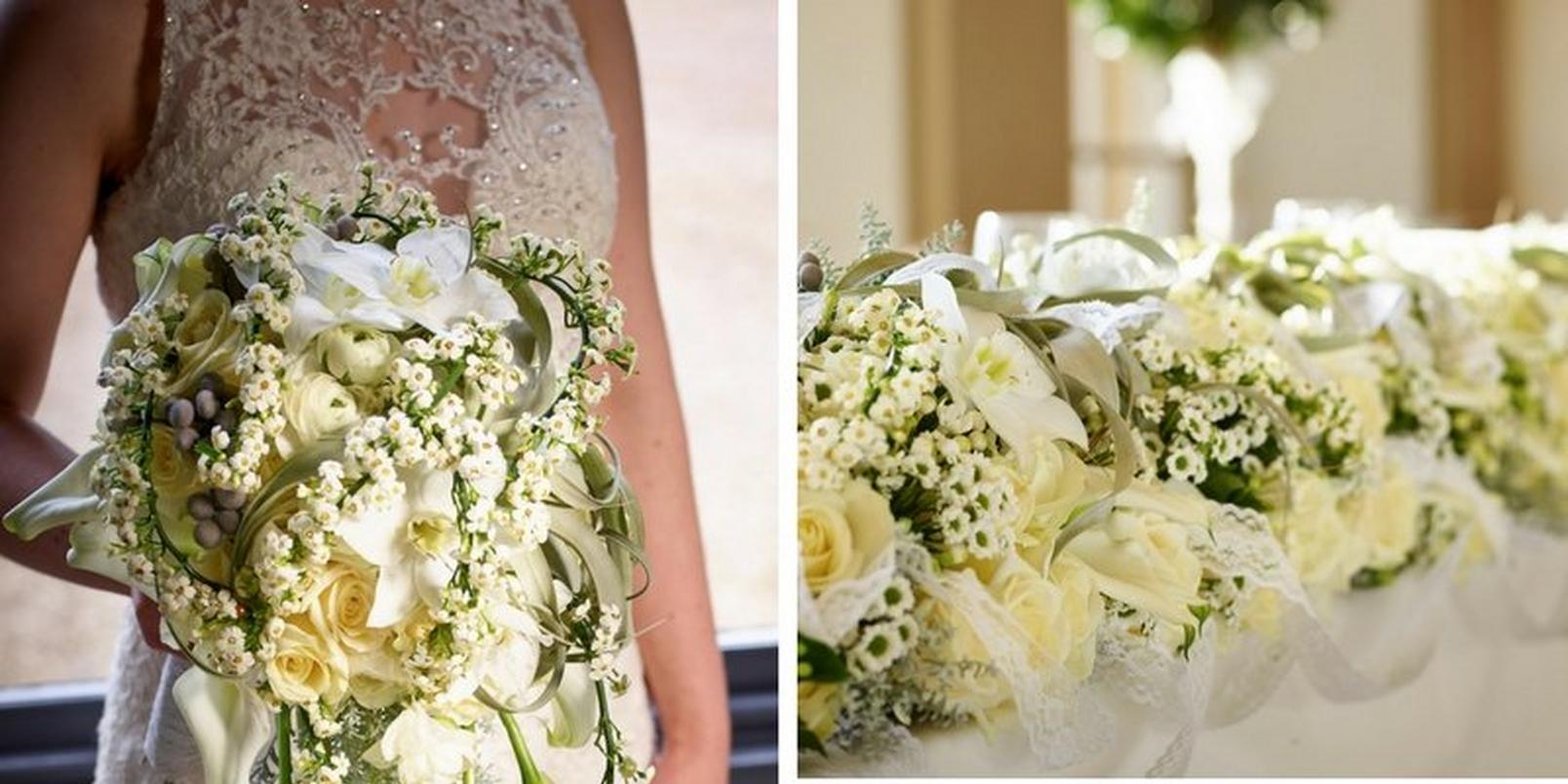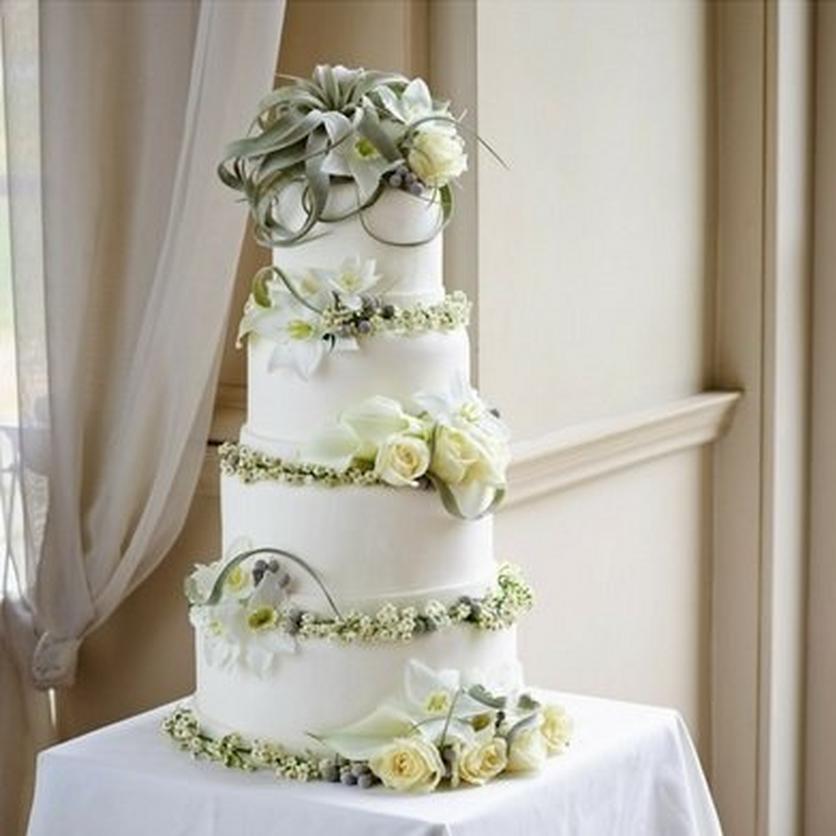 For brides looking for an alternative
to the traditional autumnal colour palette of tawny orange and russet reds, muted colours are definite favourites of the season. White, green, and grey is a colour scheme which is coming through as key for the time of year.
Steve Betts, Florist
Ask the Experts
Here's some of our top tips for helping you choose flowers for your autumn wedding
I'm getting married at the end of October and would like to give a subtle nod to Halloween without anything looking scary! Which flowers are in season and how should I display them?
Autumn is all about colour. Warm reds, russets and yellows of changing leaves, the bright orange of pumpkins and deep browns of conkers all make for a beautiful warm wedding theme.
A subtle hint of Halloween can be created with the addition of grevillea painted black, giving a perfect Halloween feel when mixed with other autumn colours.
Mini squashes can also be used in the arrangements themselves, providing a suggestion of harvest-time and you could consider using candles to create a warm, Halloween atmosphere.
For a nod to autumn and Halloween I would suggest flowers like dahlias, rudbekia and physallis, with cordyline, miscanthus and oak leaves. Berries and fruit will also work well, and of course pumpkins, squashes and willow branches will add an extra bit of drama.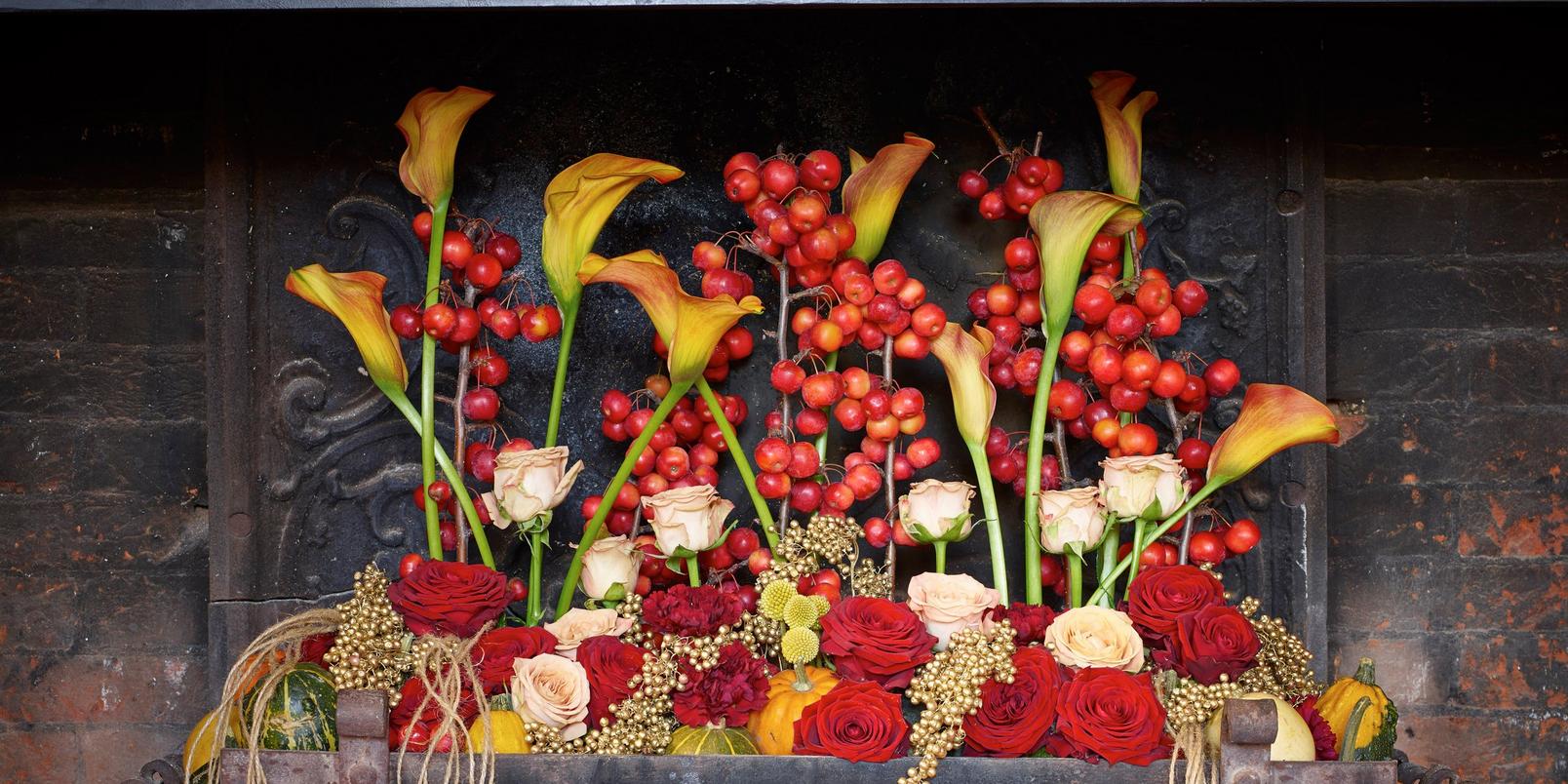 We're tying the knot in a barn in mid-September - what flowers/colours should I go for that will complement the venue and reflect the time of year?
The autumnal colour palette is so rich and vibrant, it's a joy for a florist to work with for weddings.
The scale of the barn will allow you to go big and bold with your flower choices, so I would suggest plenty of hydrangeas in burgundy and pink, mango calla lilies, and dark red and peach dahlias.
There are also some beautiful varieties of rose that will complement an autumnal theme and would be perfect for your bouquet - I particularly love Miss Piggy and Vuvuzela with their two-tone orange and pink shades.
You can go big on foliage too, with larger leaves and willow creating height and shape perfect for a barn venue.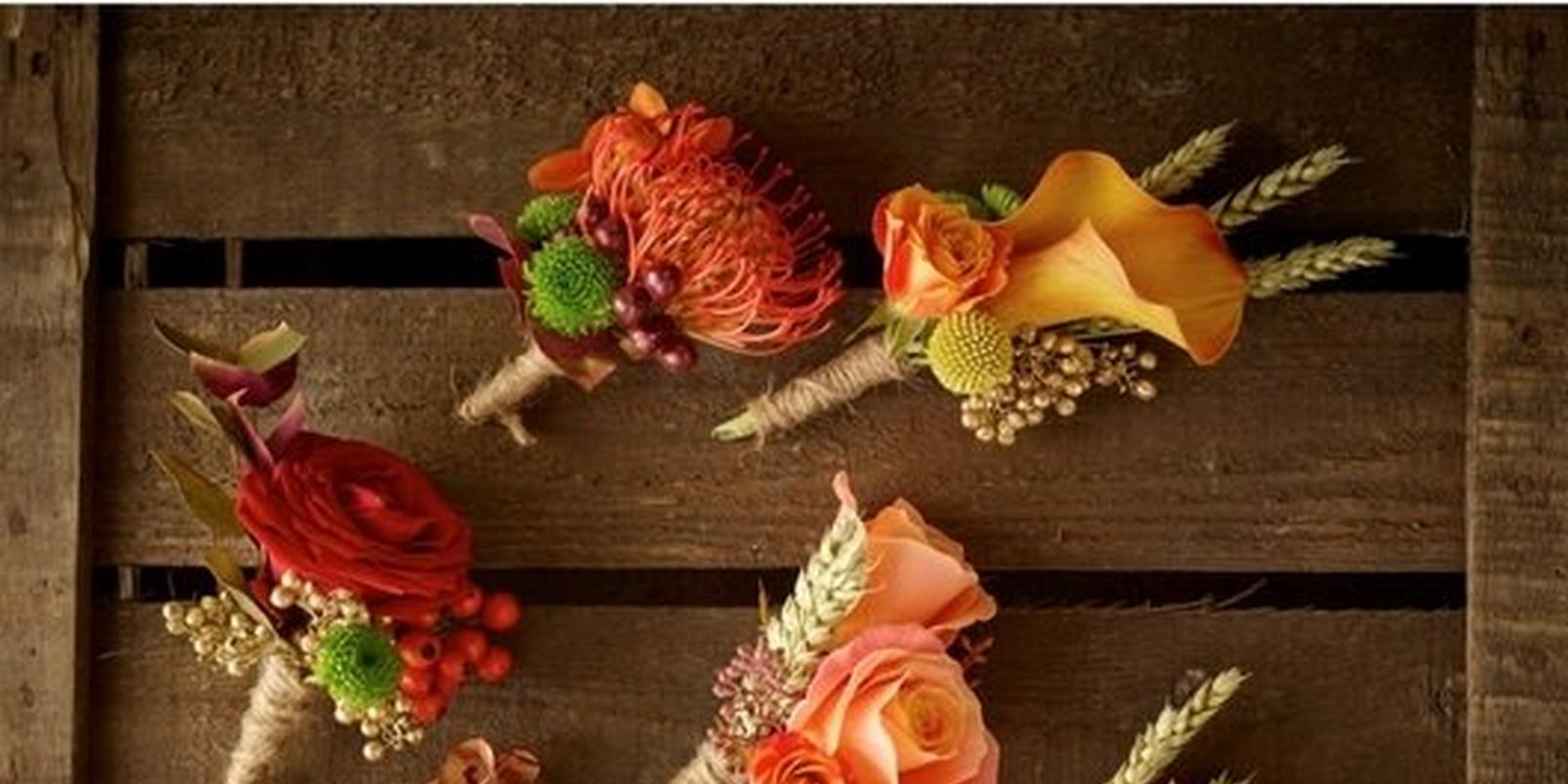 Can I incorporate fruit into my wedding bouquet at this time of year?
Absolutely! Berries in particular look great in autumnal bouquets.
Your florist will be able to make suggestions based on your overall colour theme and the style and shape of your bouquet.
If you're worried about using fresh fruit, there are some fabulous faux berries and dried fruits that will really look the part and when mixed with fresh flowers and foliages will look just as good as the real thing.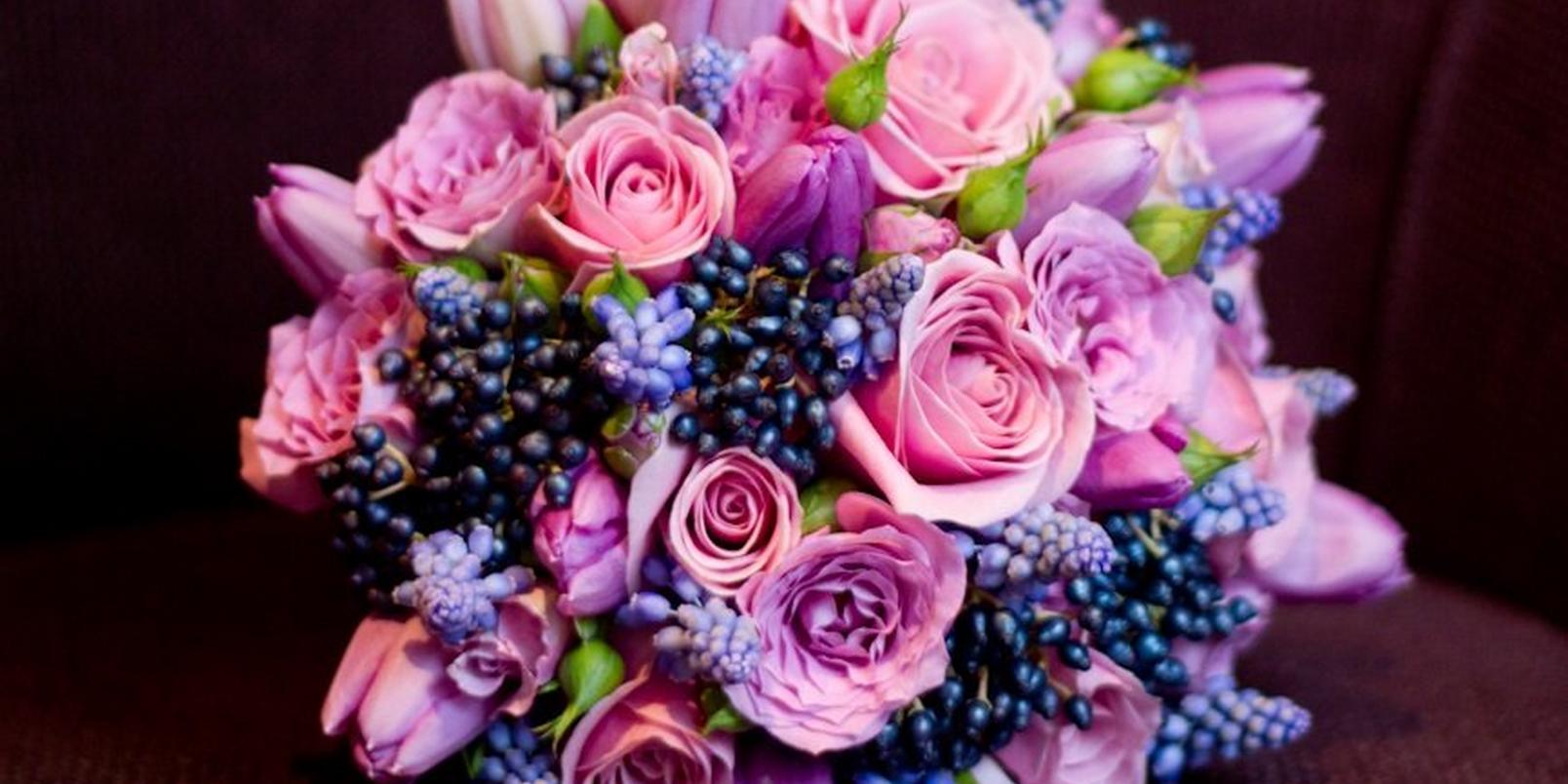 I would like a floral crown for my early September wedding - What flowers should I use? I have a neutral colour scheme.
It depends on how big or small you would like your flower crown to be and how you are having your hair styled for your big day.
Your florist will help you decide on something perfect, but I particularly love a mixture of anemones, astilbe, freesias, spray roses and astrantia in whites and ivories, with green hypericum berries and eucalyptus.
So pretty and delicate.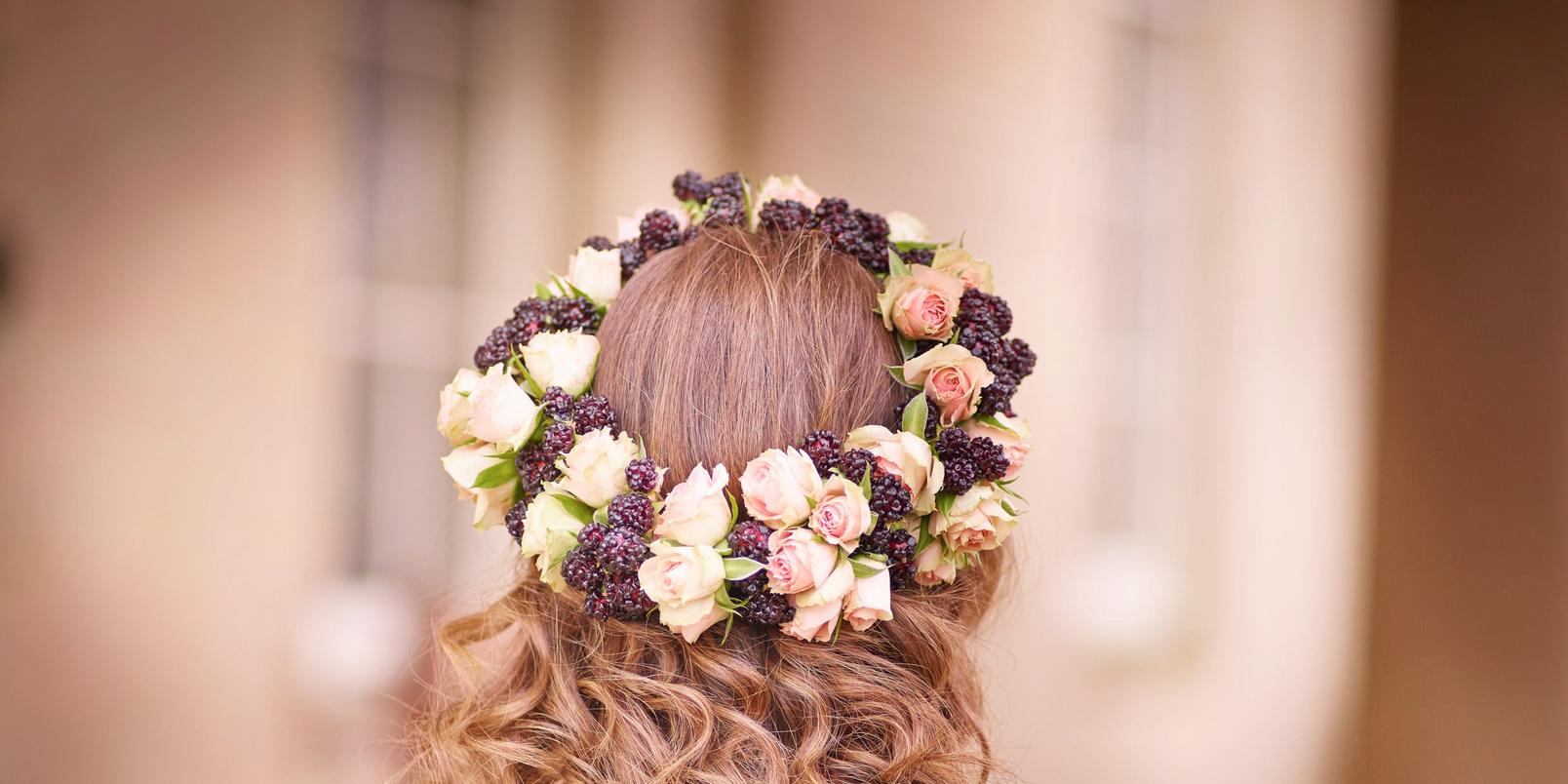 I'd like to decorate the aisle in my church a little differently, but don't know where to start. Help!
At every other pew arrange tall willow branches into large terracotta pots and attach autumnal leaves such as oak to the branches to create a tree-like design.
Large hydrangeas in autumnal shades at the base of the branches in the pots will create maximum impact.
Add autumnal coloured rose petals down either side of the aisle and various sizes of pumpkins with LED candles inside for a grand entrance and a wonderful atmospheric feel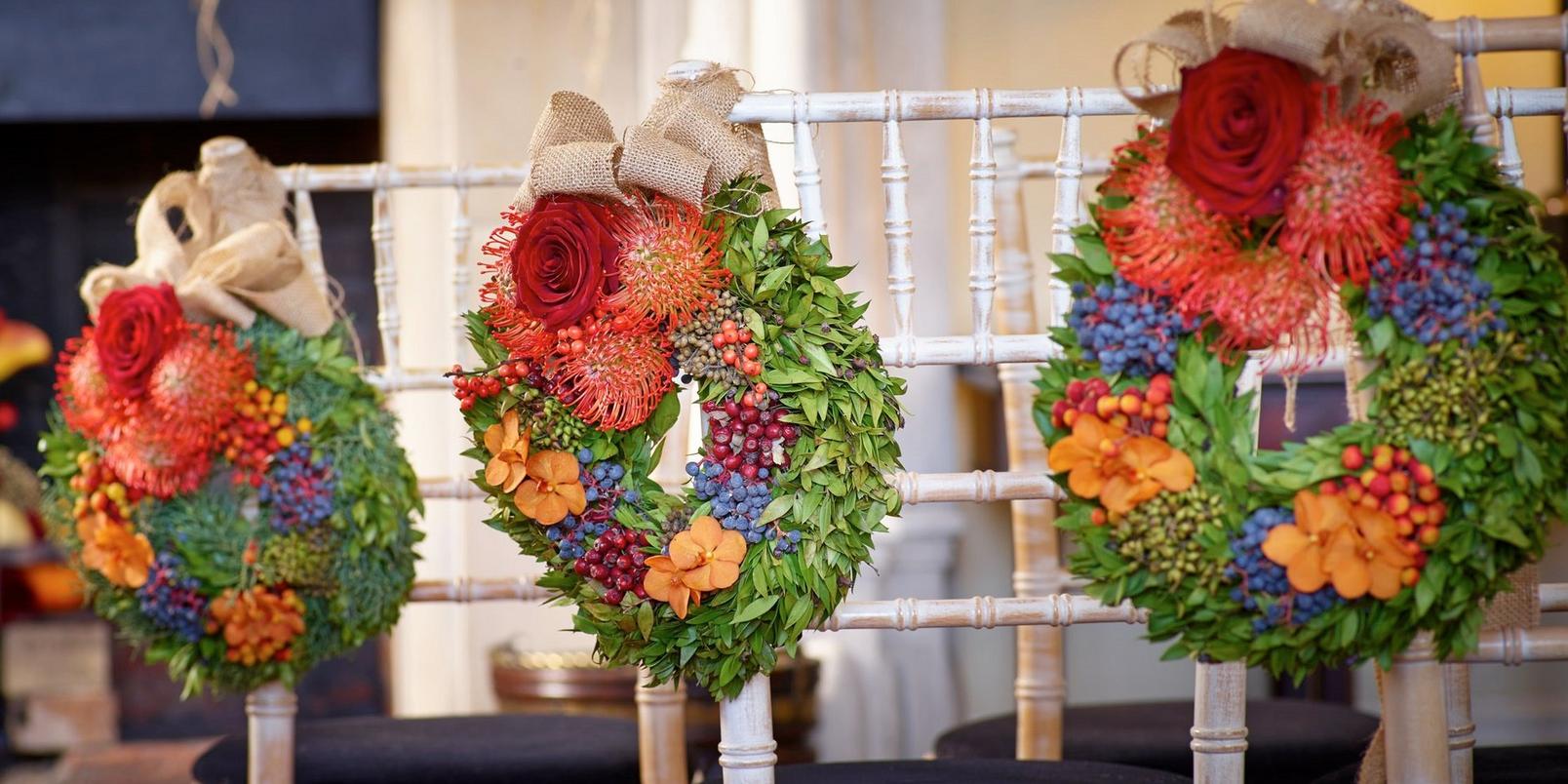 Types of Autumn Wedding Flowers