How to make a Christmas centrepiece
7th December, 2023
Hopefully you've already watched our video on how to make your very own Christmas Wreath and hung it pride of place.
Now it's time to create a Christmas Table Centrepiece and you've absolutely come to the right place to find out how.
Our 'How to make a Christmas Table Centrepiece' guide will have your Christmas table looking and smelling festive in no time at all. So, stick some Christmas tunes on, invite your friends and family around and get crafty.
We've made it easy for you, just watch our video with the amazing Charlotte from Hilary's Floral Design, Abergavenny or you can read our guide below.
To make your Christmas Table Centrepiece you'll need:
Ingredients - you can source the greenery from your local florist, or your garden
A pot or vase – clear pot tape/cello tape - Conifer – Eucalyptus – Rose hip berries - Red skimmia – Lisianthus – Dried Lotus – Carnations – Wax flowers
You can choose colours like Charlottes design, or you can match you own décor with colours that suit.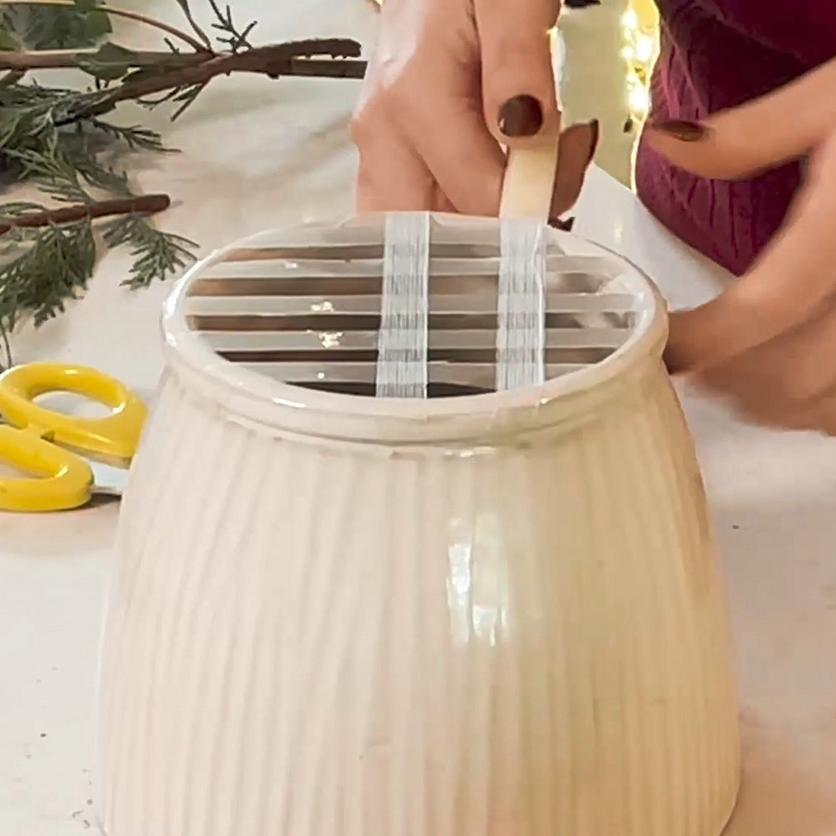 STEP ONE
creating a grid on your vase/pot
Refer to the video for a more in-depth guide
In the past we would normally have used floral foam to stand your flowers and foliage tall and proud, however, we love being as eco friendly as possible so, for this centrepiece we are using a tape and grid technique that means the foam is redundant.
Before you tape the top of your pot, you'll need to fill it with water ready for your flowers to enjoy a drink.
Now you are ready to start forming a grid across the top of the pot. You can use a clear pot tape or cello tape for this step.
Starting in the middle run your tape across the top of the pot, sticking it to either side. Make sure you don't go to far down each side otherwise you'll be able to see it, just over the edge of the lip is fine. Then continue to work your way out either side leaving about a finger's width between each piece of tape.
Once you have completed one direction, start in the middle again for you cross hatch, however this time you can leave larger gaps between the tape. Now you've created a chequered design you have holes ready to insert your foliage and flowers.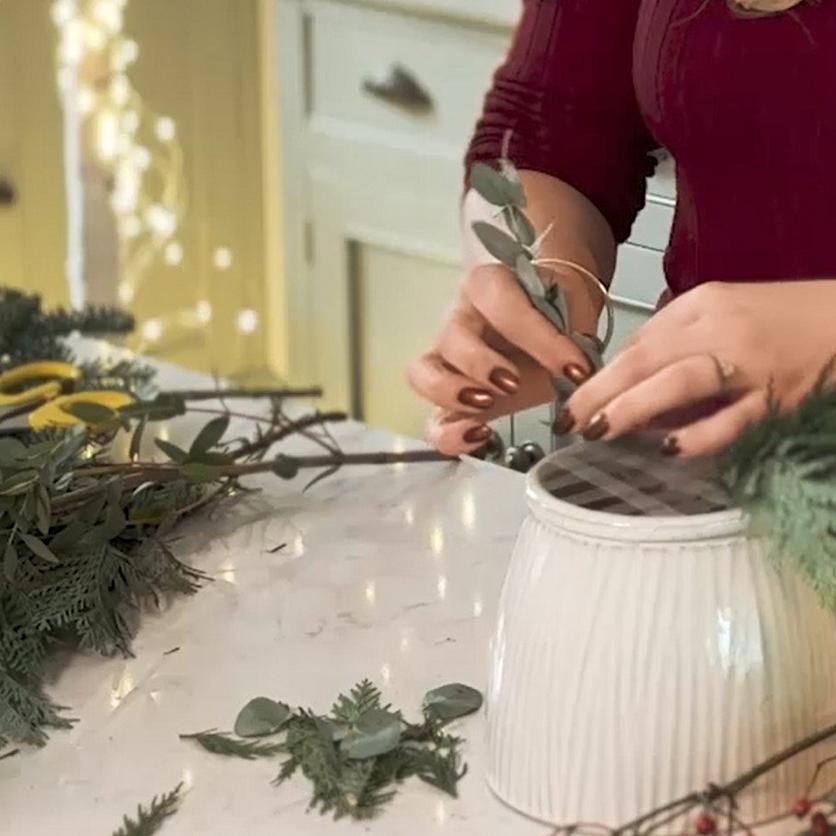 STEP TWO
adding the foliage
This is the fun part!
Remember when creating your centrepiece that it's not too tall, otherwise people across the table won't be able to see each other and chat.
Start with the foliage, your eucalypt and conifer, cutting the stems at an angle before you place them in the pot. Cutting the stems allows for a greater surface area so the stem can take up more water. Take off the bottom section of the leaves, so, you have a nice clear stem. This has two purposes, firstly it helps you get the stem into the grid work and secondly it reduces the introduction of bacteria into the water.
Cut and strip the foliage as you go, placing the stems in the grid where they look good to you, there's no right or wrong way to do this. Initially your stems will be a little wobbly but as you continue, they will start to tighten up. Continue his process until your happy with how it looks.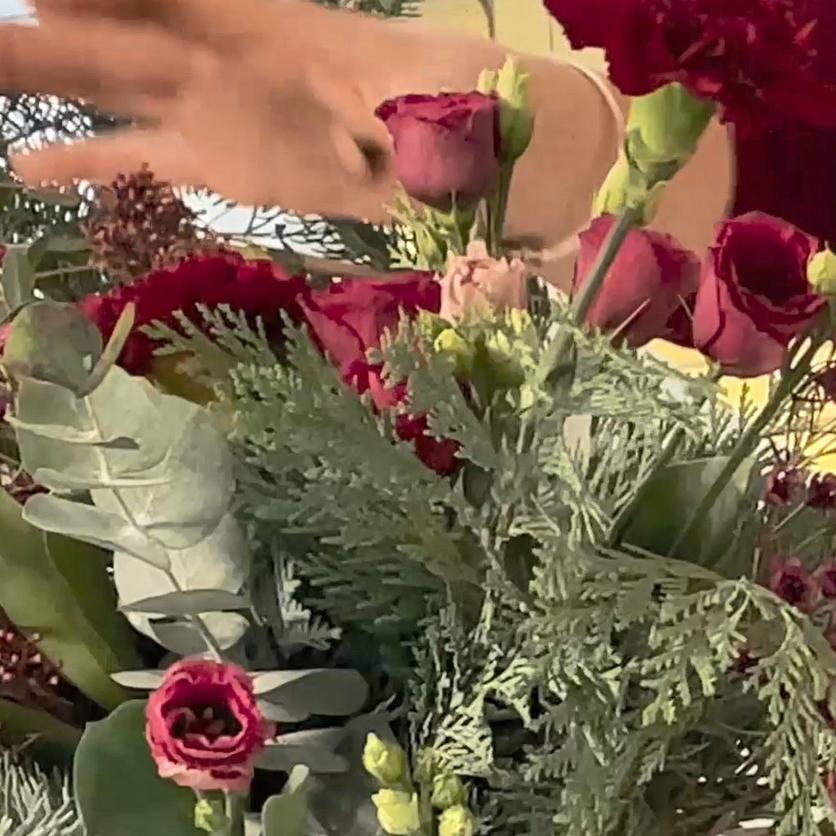 STEP THREE
adding the flowers
Now you can start to add some skimmia, wax flower and Lisianthus. Cut these slightly taller than your foliage and give each their own space so they can shine. Your Lisianthus will go a long way, you can get up to 6 pieces from one stem. Step back and take a look to make sure everyone will have a flower or two to look at or if there are any gaps fill them with some foliage.
Next add two or three carnations. Cut these slightly taller again allowing your layers to separate nicely. One carnation taller than the other gives a more modern look to your Christmas table centrepiece.
Almost done!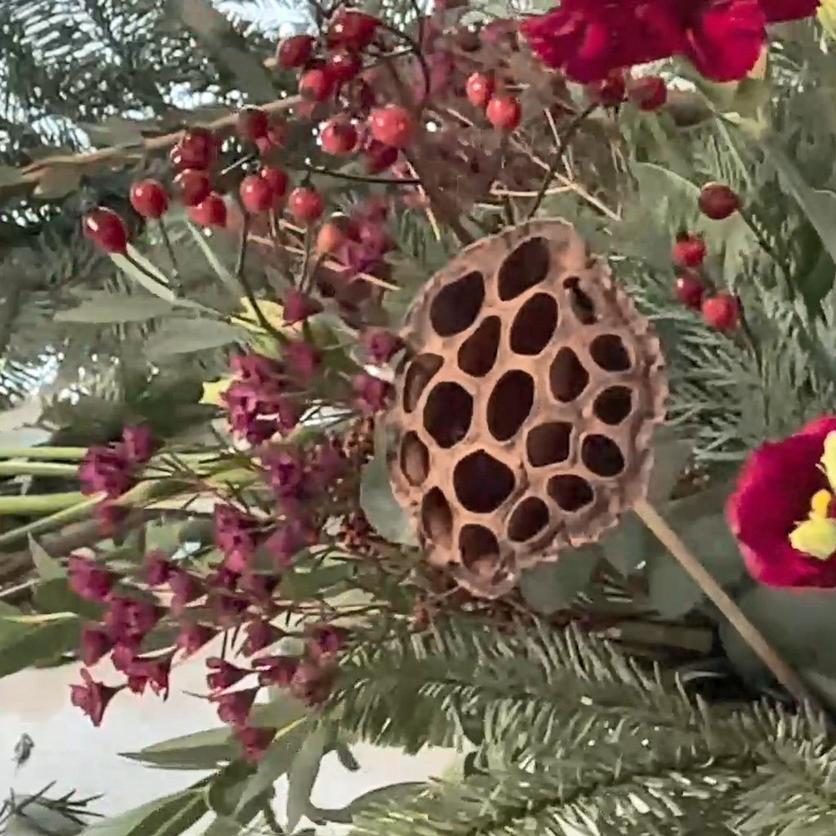 The final additions.
Take your rose hip berry stem, remove any thorns, and place it to one side of the pot slightly off centre.
Finally…. your dried lotus heads. Cut the stick to the length you need and place it in the pot either side. If you can still see the stick, cut it down again until you are happy with how it looks, all you want to see is the lotus head.
Turn you pot around to make sure there is something for everyone to have a look at and Tada!
You're all done. Step back, take a pic and share your work. #ChristmasDoneBeautifully
DIY festive inspiration
You've crafted a gorgeous garland, why not try your hand at some other festive DIY projects? Check out these guides for advice and inspiration.

We know not everyone is crafty or has the time, so, if you'd rather leave it to the experts remember our talented community of local florists would love to help. Check out our gorgeous, handcrafted wreaths. And if you really want to deck the halls we've got all sorts of festive flowers, even Christmas plants.