How to Make a Vibrant Christmas Centrepiece
15th December, 2018
The dining table brings together friends and family over the festive period as you gather around it to enjoy Christmas dinner or raise a toast to the New Year. Impress your guests by decorating yours with a DIY Christmas centrepiece. Whether in a stylish candle arrangement or on their own, a beautiful bouquet of Christmas flowers will always give a warm and personal addition to your table. Our expert florists show you how!
You will need
Floral foam
Ceramic pot
3 coloured, tapered candles
A selection of Christmas foliage including sprunge and holly
Red cordyline
Green hypericum berries
Cerise mini gerberas
Orange carnations
Green pine cone picks
Dried oranges
Florist's wire, scissors, skewers and stapler
Step 1
Cut the floral foam to size so that it fits snuggly inside a ceramic pot of your choice but protrudes from the top by a good inch and a half.
Step 2
Immense the foam in water until completely soaked and return to the container ready to begin.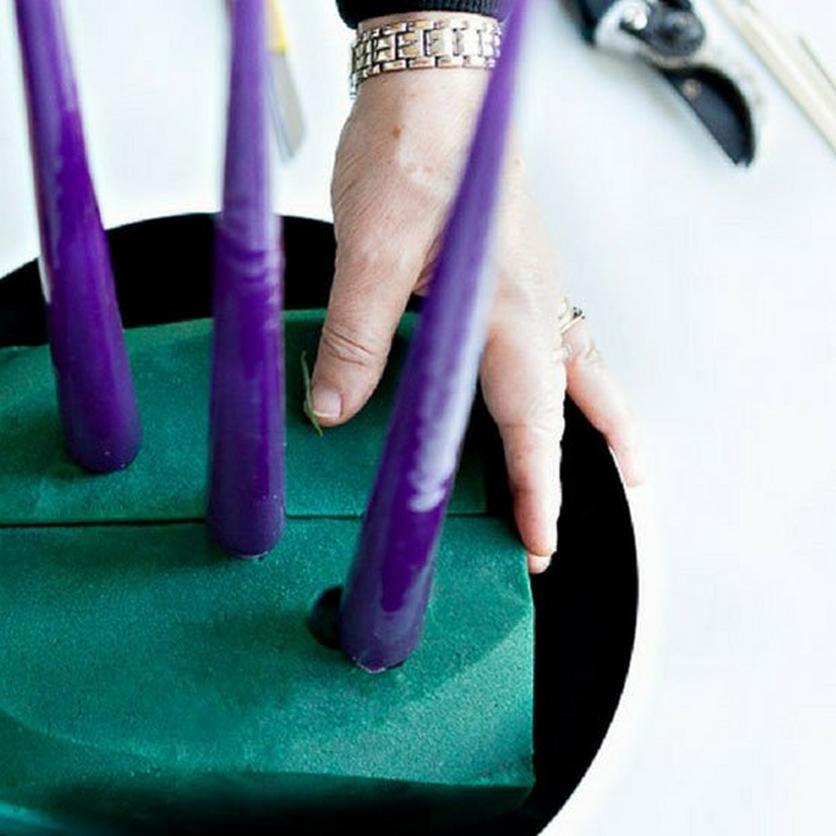 Step 3
Position the candles where you want them and secure them in place by firmly pushing them into the foam.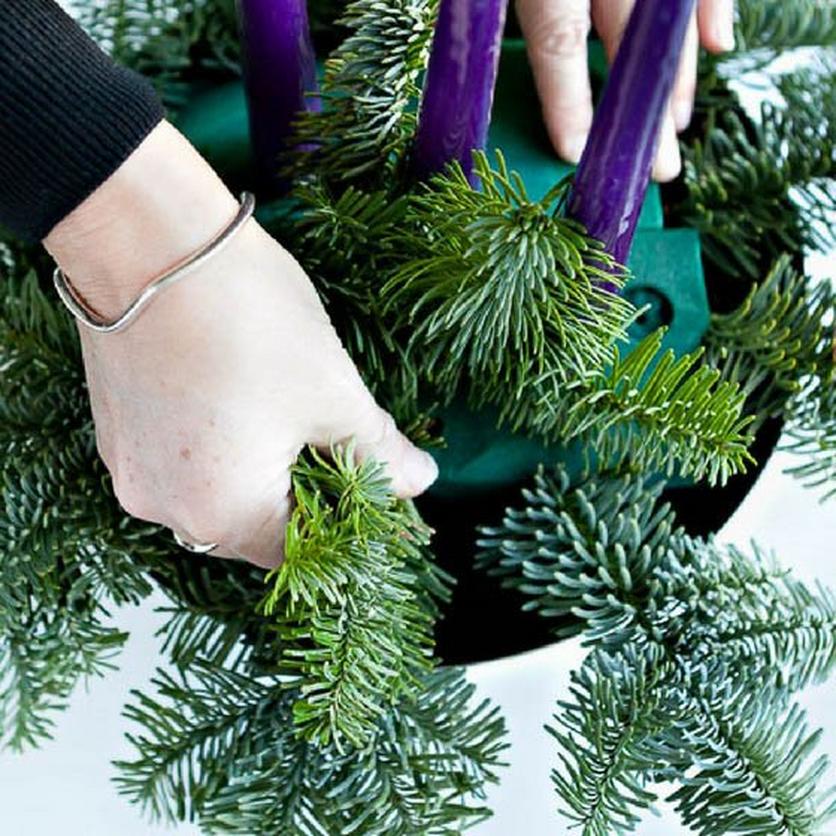 Step 4
Using a pair of sharp scissors, cut off sprigs of spruce approximately 6 inches in length and insert into the foam at an angle to create a collar of greenery around the edge of the container. We recommend removing at least an inch of pine needles at the stem so that you can push the spruce easily into the foam.
Step 5
Repeat with the holly until the surface of the foam is well covered and there are no gaps visible.
EXPERT TIP: To reduce the cost of making your own Christmas decorations, why not use seasonal foliage from your own garden?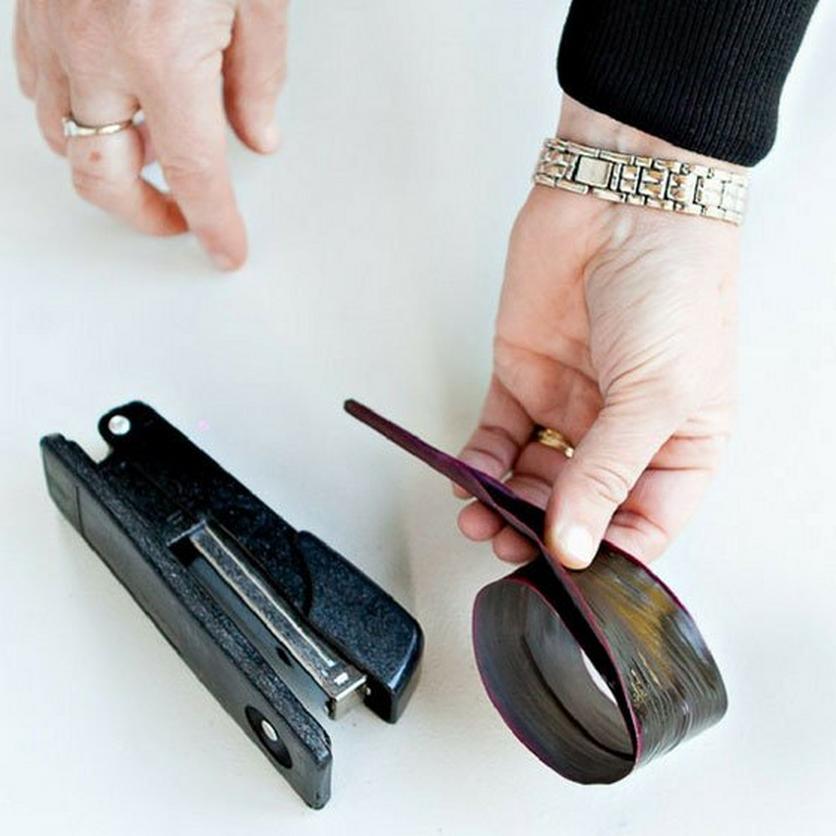 Step 6
Next, loop the cordyline leaves in your hands, secure with a staple and push into the foam.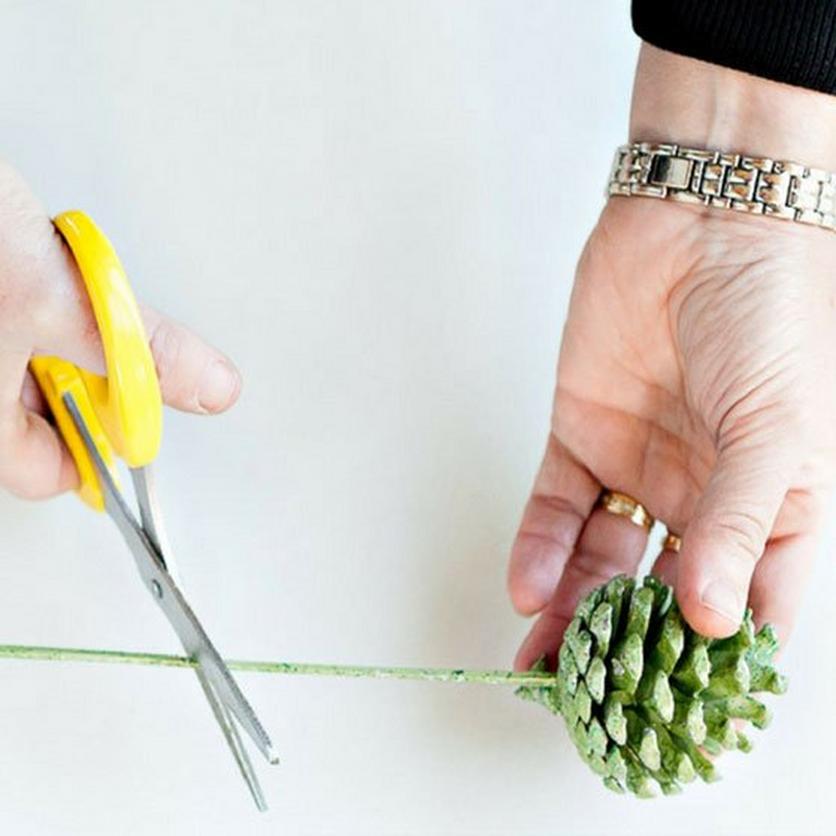 Step 7
Cut the pine cone picks short and insert them into the arrangement.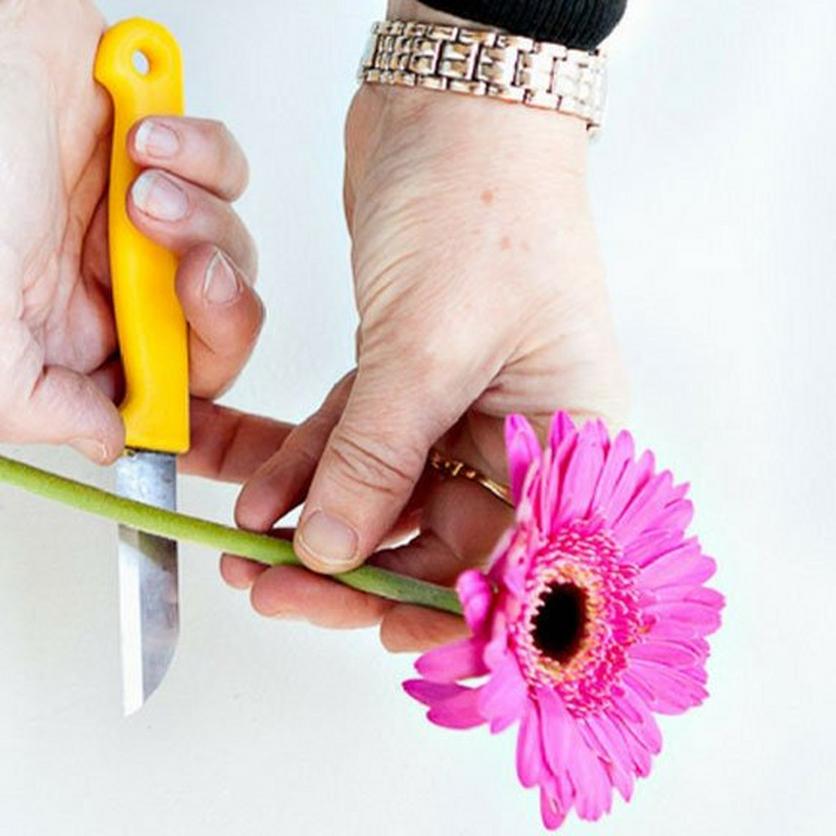 Step 8
Now, cut the gerbera and carnation stems at an angle and insert into the design. Try grouping clusters of two or three flowers together for visual impact.
EXPERT TIP: Both of these flower varieties are available in a spectrum of colours so why not be daring and go for shades of lime green, hot pink and zesty orange.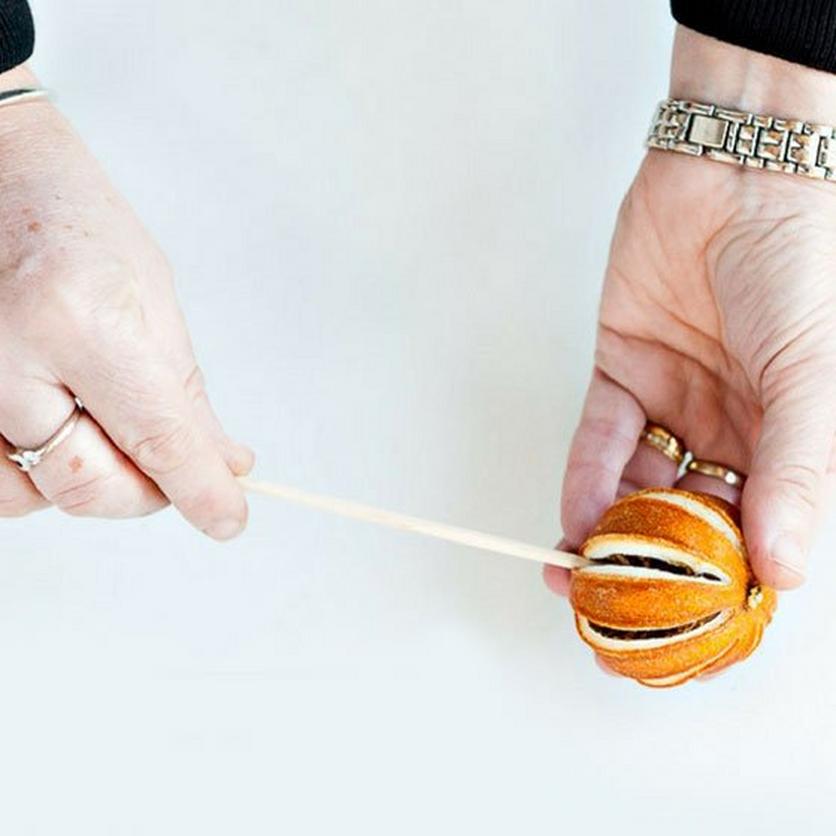 Step 9
Next, using skewers add the dried oranges.
EXPERT TIP: Pine cone picks are readily available at most Interflora florists shops at this time of year however if you want to make your own, why not gather fallen cones from the garden, spray paint them your favourite colour and secure them into place using florists wire?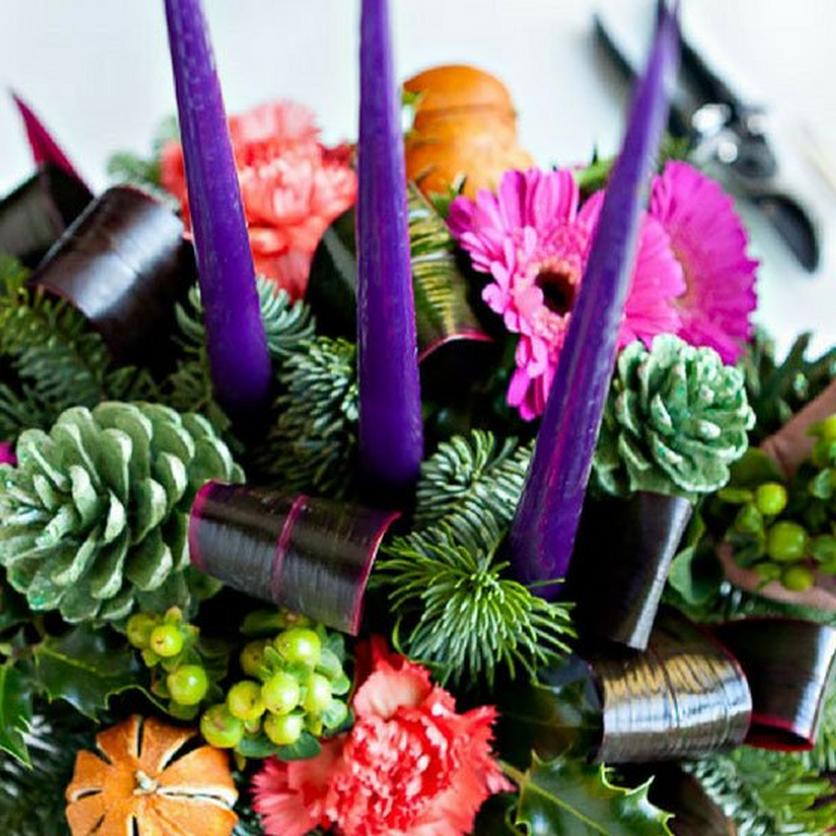 Step 10
Finally, plug any gaps with the green hypericum berries and add some steel grass into your design for a contemporary edge.
EXPERT TIP: Keep your arrangement looking fresh by regularly misting it with water. If kept in the right conditions the flowers and foliage should be long-lasting however, you can always replace any as they get past their best.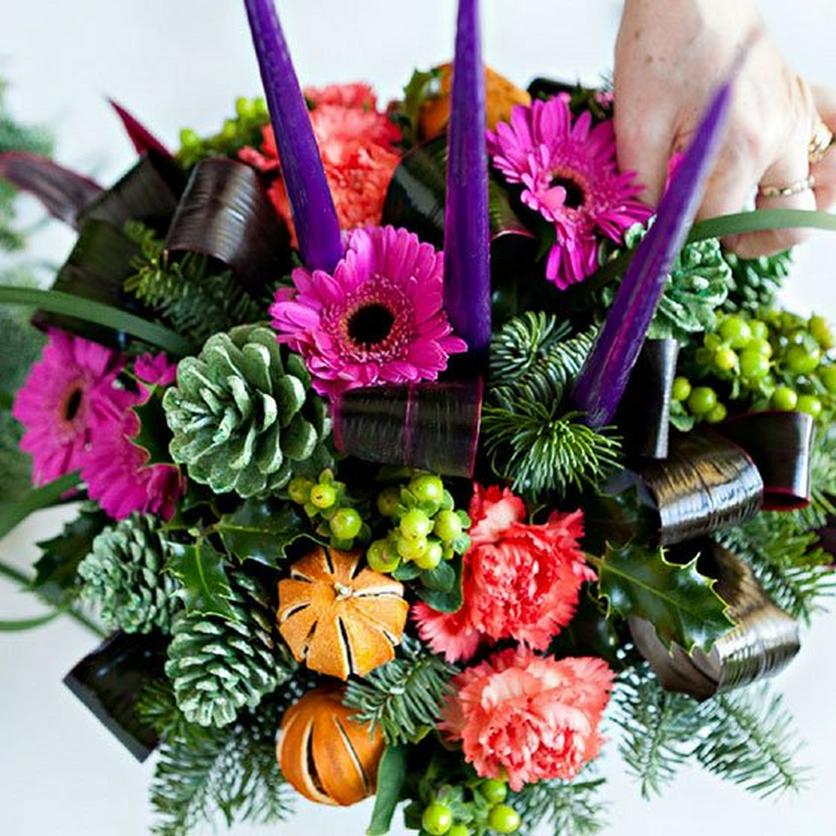 The finished centre piece