A Complete Guide to Pink Roses
Bold, beautiful and instantly recognisable, roses have been among the world's favourite flowers throughout history. Available in a wide range of shapes and sizes, sporting distinctive petals and boasting a raft of symbolic meanings, roses are a stunning addition to any bouquet or centrepiece. The pink rose is a particularly charming variant, able to brighten up any home with its blush of petals.
From hidden meanings to pink rose bouquet styling tips, discover everything you need to know about the delicate pink rose in this guide.
What do pink roses mean?
Pink roses typically symbolise admiration, happiness, and love. More subtle than the traditional bold red rose, pink roses are often used to signify a strong friendship or the love between family members. Pink roses can also represent admiration and respect towards someone close to you. This can make them a great gift for birthdays, or to just let someone know you're thinking of them.
While pink roses originated in Asia, but today they're grown all over the world, and have many unique meanings in different cultures. In China, for example, pink roses are often used to symbolise thanks and congratulations, while they are known to represent grace, elegance, and purity elsewhere.
The number of pink roses used in an arrangement also has its own unique meaning. A bunch of just three pink roses, for example, says 'I love you', while a traditional arrangement of 12 roses is seen as a sign of gratitude and commitment.
Types of pink rose
There are many stunning variations and colours of pink roses to choose from, from bold pinks to soft, subtle pastel shades. Here are some of our favourites: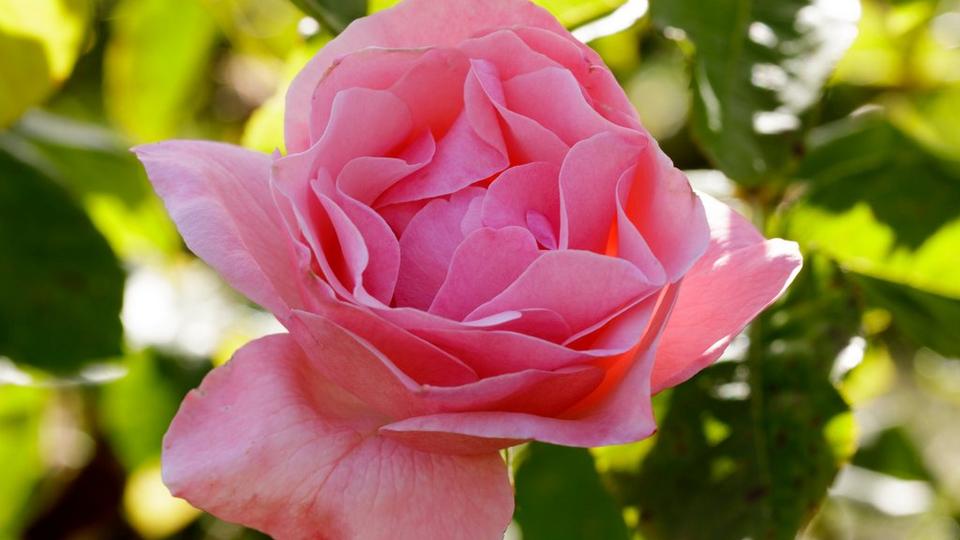 Cherry-O
This flamboyant rose comes in a hot pink colour and makes the perfect gift for someone who loves all things pink. Featuring a classic petal formation and large flower head, this pink rose is ideal for an eye catching all-rose bouquet.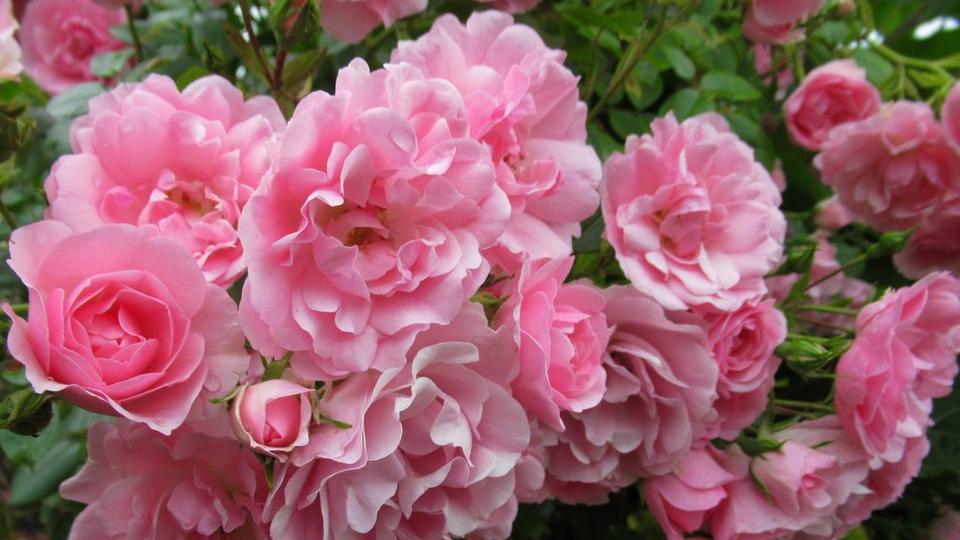 Miranda
The Miranda is a classic English garden rose, featuring show-stopping ruffle-shaped petals. Their petals are white around the edges, growing into a light pink hue towards the centre, giving them a unique look that'll grab the attention in any arrangement.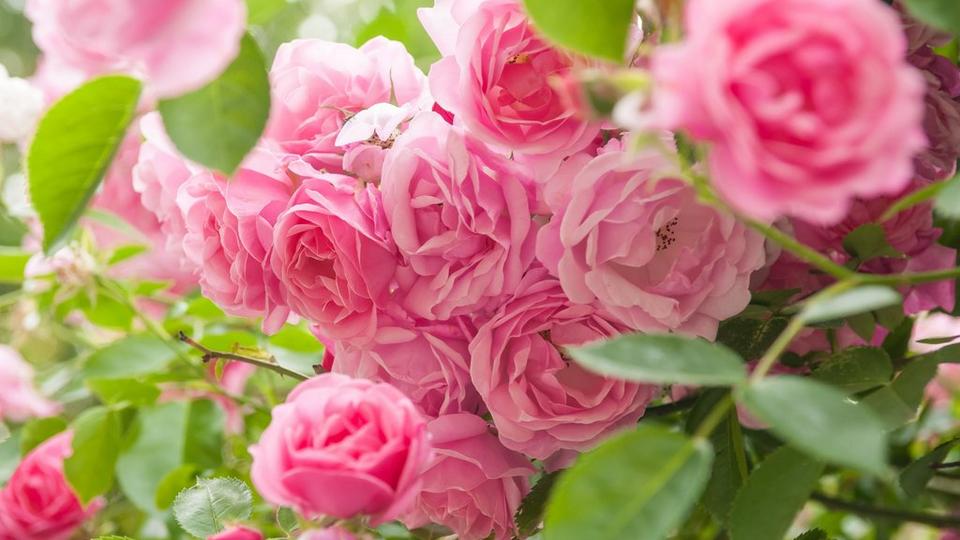 Floribunda
The Floribunda rose is a hybrid flower that is commonly seen in English gardens. They come in a range of colours, from pale pink to deep red, and are also one of the longest blooming roses.
How to care for pink roses
Properly caring for your pink roses will help them stay fresh and let you enjoy their beautiful blooms for longer. Follow our top tips for caring for your pink roses so you can make the most of your beautiful rosy bouquet.
If you receive a bouquet of cut pink roses, cut the stems at an angle before placing them in a vase of water.
Remove any leaves that may grow below the water line in the vase to avoid bacteria growing and damaging the flower.
Place them in a clean vase filled with lukewarm fresh water. Any contaminants from older flowers could damage your roses.
Replace the water in the vase every two days or so, and remove any foliage from the water to keep the roses fresh.
You don't need to put your roses in direct sunlight for them to stay fresh. Instead, keep your vase away from very warm places to stop them from wilting.
Using pink roses to decorate
No matter the occasion, pink roses make excellent decorations. Tie them into your party theme to add some colour to any event, or place them around your home for your next garden party or get together. You might even want to pair them with greenery or other colours of rose for a bouquet or centrepiece that really pops.
Bright pink roses don't need to be in a large bouquet to showcase their beauty. Place just one or two pink roses in an elegant vase as a table centrepiece, or scatter their colourful petals on top of a white tablecloth to make a statement. Why not get creative and re-purpose any leftover household jars or containers to create a fun and sustainable display?
If you're decorating your home with pink roses, you might want to create a simple rose wreath for your front door to give your house a beautiful floral flair. You could even go one step further and create some paper flowers to top off the decorations.

Crafting a pink rose bouquet
Looking to craft your own pink rose bouquet? There are lots of ways to create the perfect pink rose bouquet for any occasion. Pink roses can work well alongside lots of different types of flowers and colours, from white and pink funeral sprays to multicoloured birthday arrangements.
Pink roses also look great on their own and could make an impactful all-rose bouquet. They pair beautifully with other pastel-colours, such as purples, creams and soft yellows too. To accentuate the colour of your pink roses, add in some striking white flowers to contrast against the warm pink hues.
If you're creating an all-rose bouquet, layer different shades of pinks and reds together for a loving monochromatic arrangement. A rose delivery like this is sure to make a friend or family member feel special.
Here are some of our top tips when crafting a pink rose bouquet:
Use greenery
All roses have signature green leaves along the stem and around the head of the flower (known as sepals). Use them to your advantage to create a wild and natural bouquet. You could even add in some additional foliage like eucalyptus or myrtle to give the bouquet a more rustic finish that really showcases the pink rose's beauty.
Get the right vase
If you're placing your bouquet in a vase, choosing the right size can really make your flowers come to life. When placing lots of stems into one bouquet, make sure your vase is wide enough to comfortably fit all the flowers in without them looking cramped.
Mix heights
Some roses have fairly long stems. If you're pairing your pink roses with other flowers, make sure they're close in height so they can be tied together or placed next to each other easily. Having some flowers slightly higher or lower than the rest is another fun way to create a beautiful bouquet that will catch the eye.
Large and small
Mix up your bouquet with different sized flowers heads. Miniature light pink roses look lovely dotted alongside some larger and bolder pink roses. This difference in scale adds depth and interest to your pink rose bouquet.