10 Ways to Decorate Your Wedding Venue
5th January, 2019
Pom poms and bunting may be the 'in' thing but flowers are still the best way to decorate your wedding venue. Not only do they create a sense of occasion, flowers help to carry your wedding theme and can be used to decorate everything from your pew ends to your wedding cake. If you're looking for ways to decorate your wedding venue, be inspired by these ideas from our expert florists.
#1 Flowers for the church
Decorating the church entrance will create a magical atmosphere for everyone stepping through the door and make a lasting first impression of your big day. Floral arches are very much in vogue and look simply stunning as a backdrop for photographs. You could also line the church with tall, lavish floral arrangements to make your walk down the aisle all the more enchanting.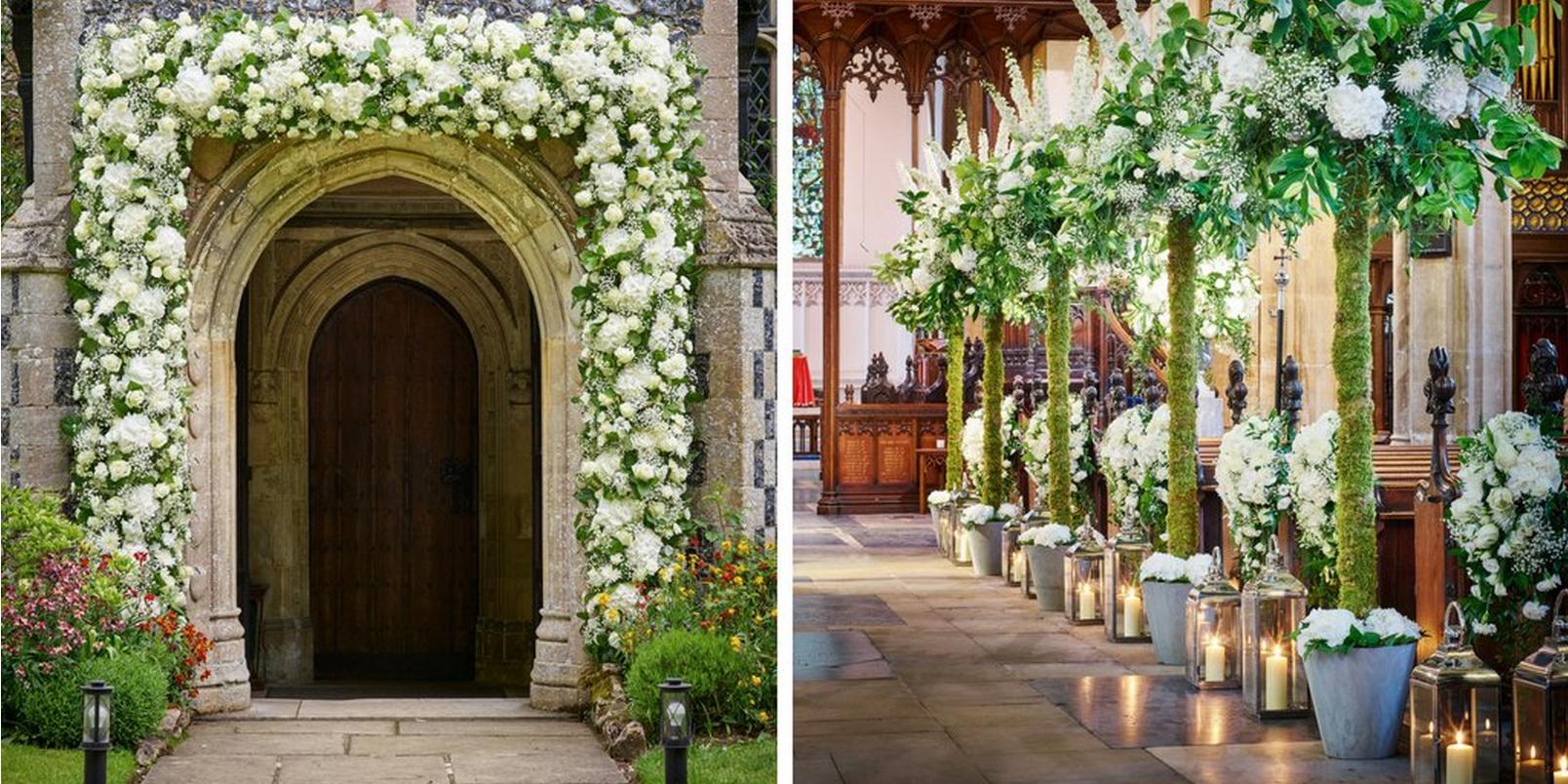 #2 Pew end flowers
Beautiful blooms can wow your guests on arrival and ensure that the ceremony is even more memorable. Pretty floral decorations on church pews or on the back of the chairs will add a simple but elegant touch, leaving your friends and family in awe as they take their seats for the service.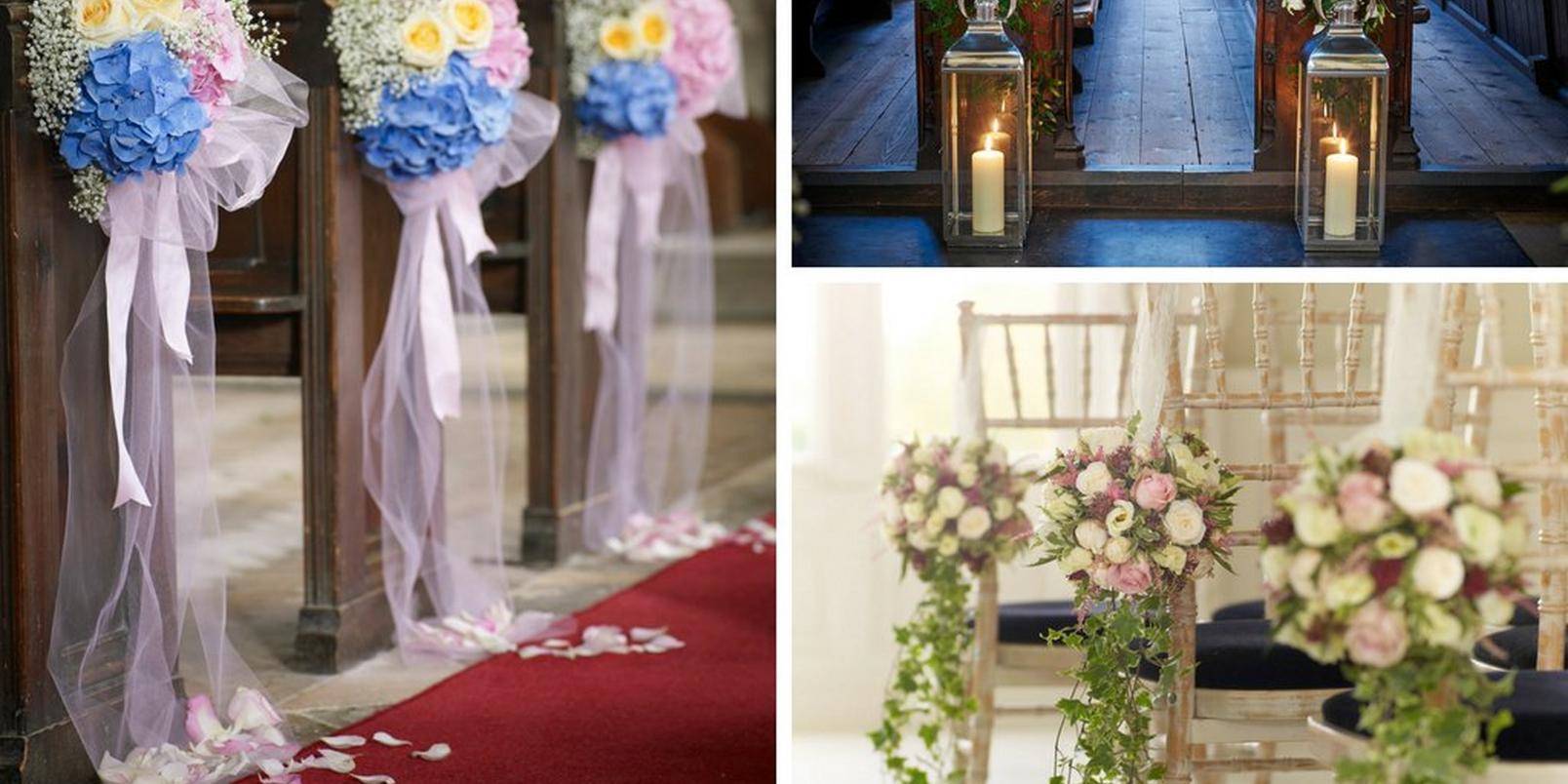 #3 Floral wedding arch
If you're getting married in an outdoor space, why not stand under a stunning flower arch to say your vows? An elegantly decorated arch makes a great focal point and will provide a picturesque scene for your wedding photos.
#4 The signing of the register
Delicate flowers draped across the signing table will create a stunning impact when the newlyweds sign the marriage register, making that important moment even more picture-perfect.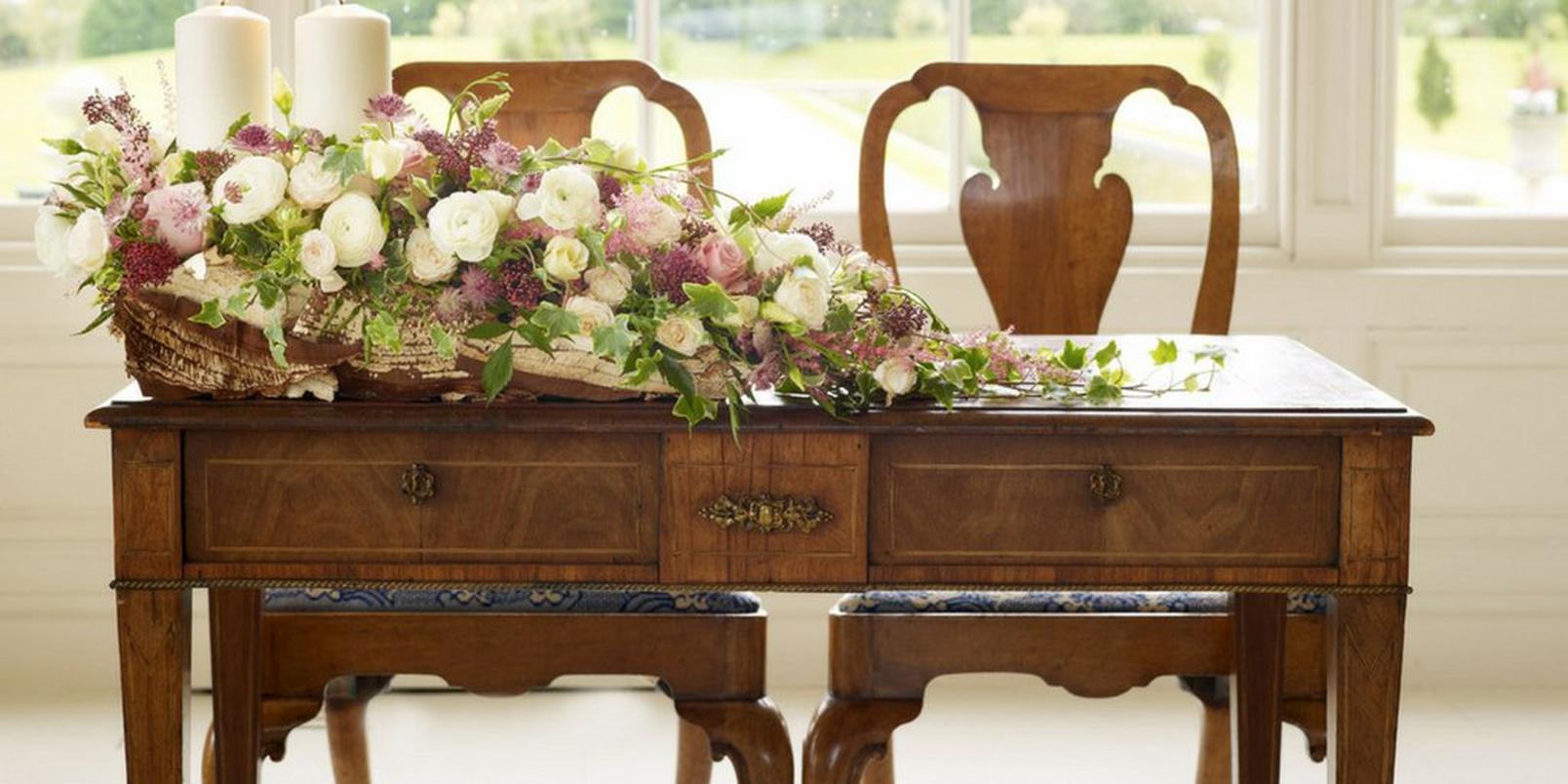 #5 Take a seat
A beautifully decorated seating plan is perfect for greeting your loved ones on arrival to the reception. Co-ordinate it with your colour scheme and theme so it provides a gorgeous little taster of what is to come.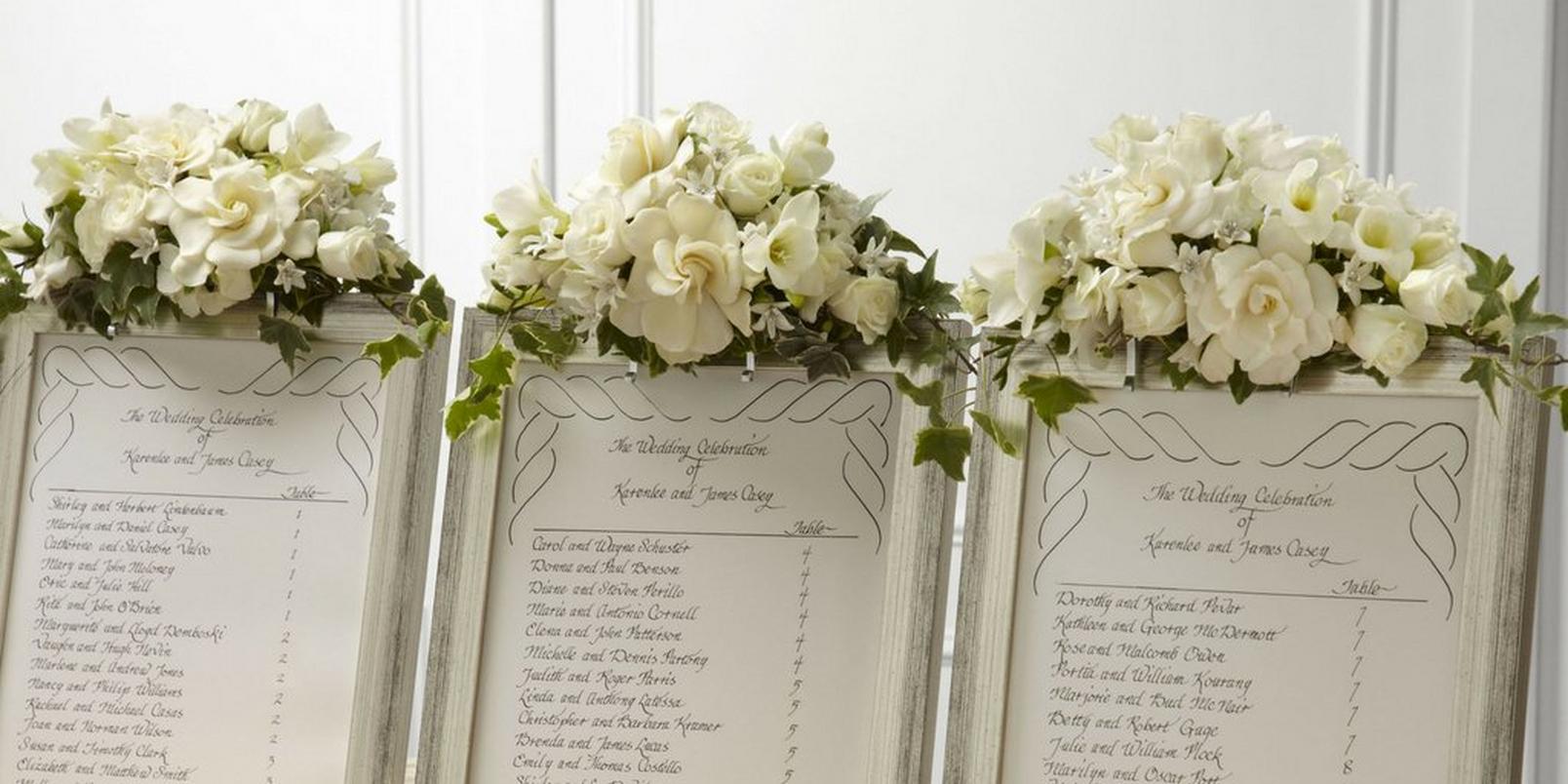 #6 Wedding table centrepieces
Table decorations are often the main focal point at dinner, with every guest faced towards the stunning florals. Consider the size of decorations carefully to make sure guests are able to see and talk to each other. Added accessories will help incorporate chosen themes, while mirrors will add a hint of sparkle to the table. If you're on a smaller budget, fresh blooms arranged with foliage in old bottles or jars trimmed with ribbon can create just as big an impact, without breaking the bank!
#7 Let them eat cake first
After dinner, the traditional cutting of the cake can be made even more spectacular with the addition of fresh flowers. If you're wedding budget is modest even a few blooms on top of the cake can be enough to transform it from the 'so-so' to the 'oh-so fabulous'. Want to go all out? Ask your wedding florist to design a cascade of flowers flowing from one tier to the next. Whatever your vision, your florist will be able to create something bespoke to the size and shape of your cake and to tie in with the rest of your floral theme.
#8 Smile, you're on camera
It has become increasingly popular for wedding parties to enjoy a special photo booth in the evening. A fun floral photo frame is a unique and stylish way to capture those memories and provide photos to cherish.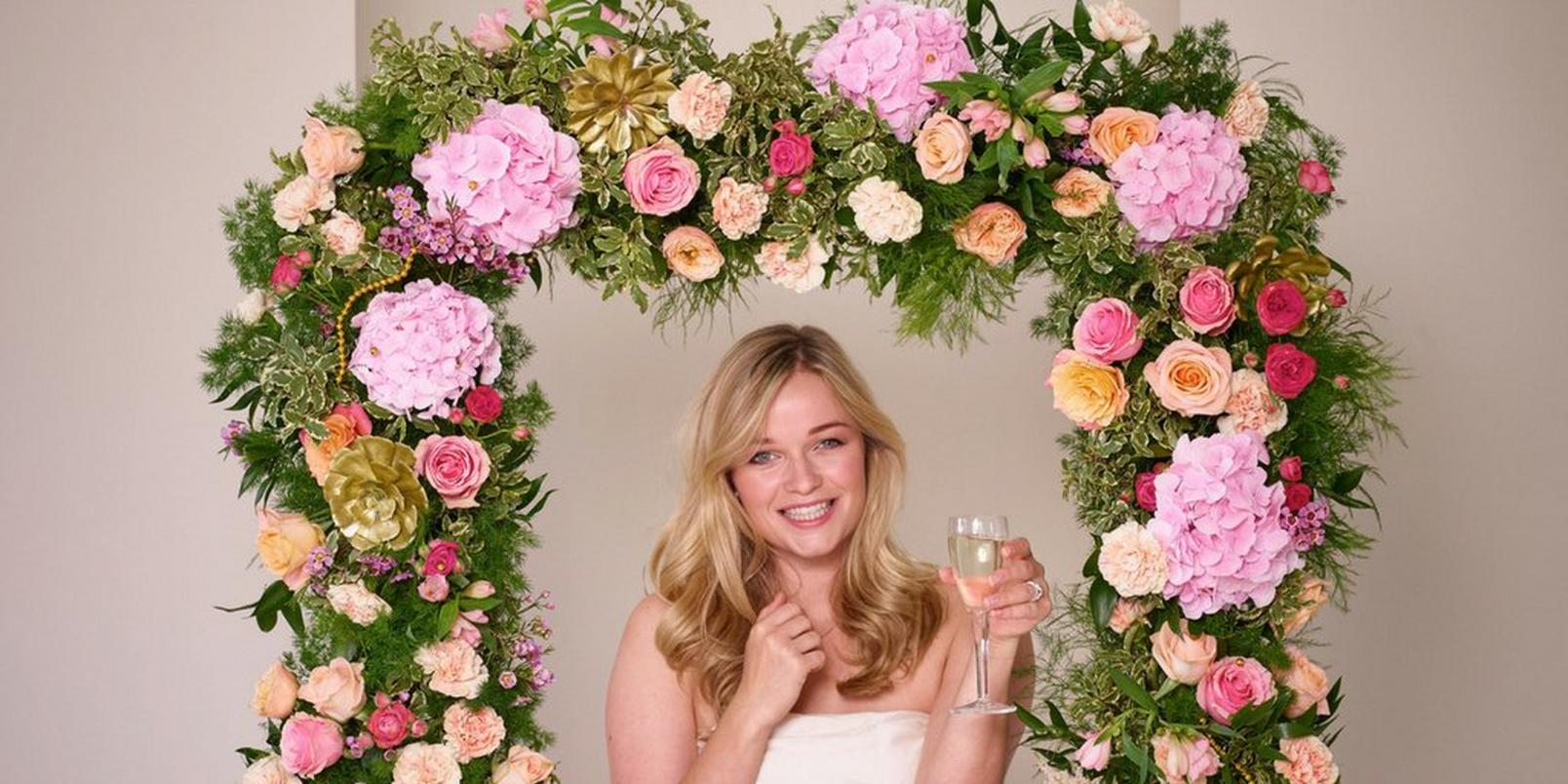 #9 Special features
When it comes to decorating your wedding venue with beautiful fresh flowers, the sky is the limit! Make the most of any distinctive features your venue has; large fireplaces or outdoor spaces can be enhanced with beautiful blooms. You could also add a personal touch with decorations that have meaning. Why not ask your florist to create the initials of you and your husband-to-be in flowers to have on display, or a gorgeous heart wreath to hang?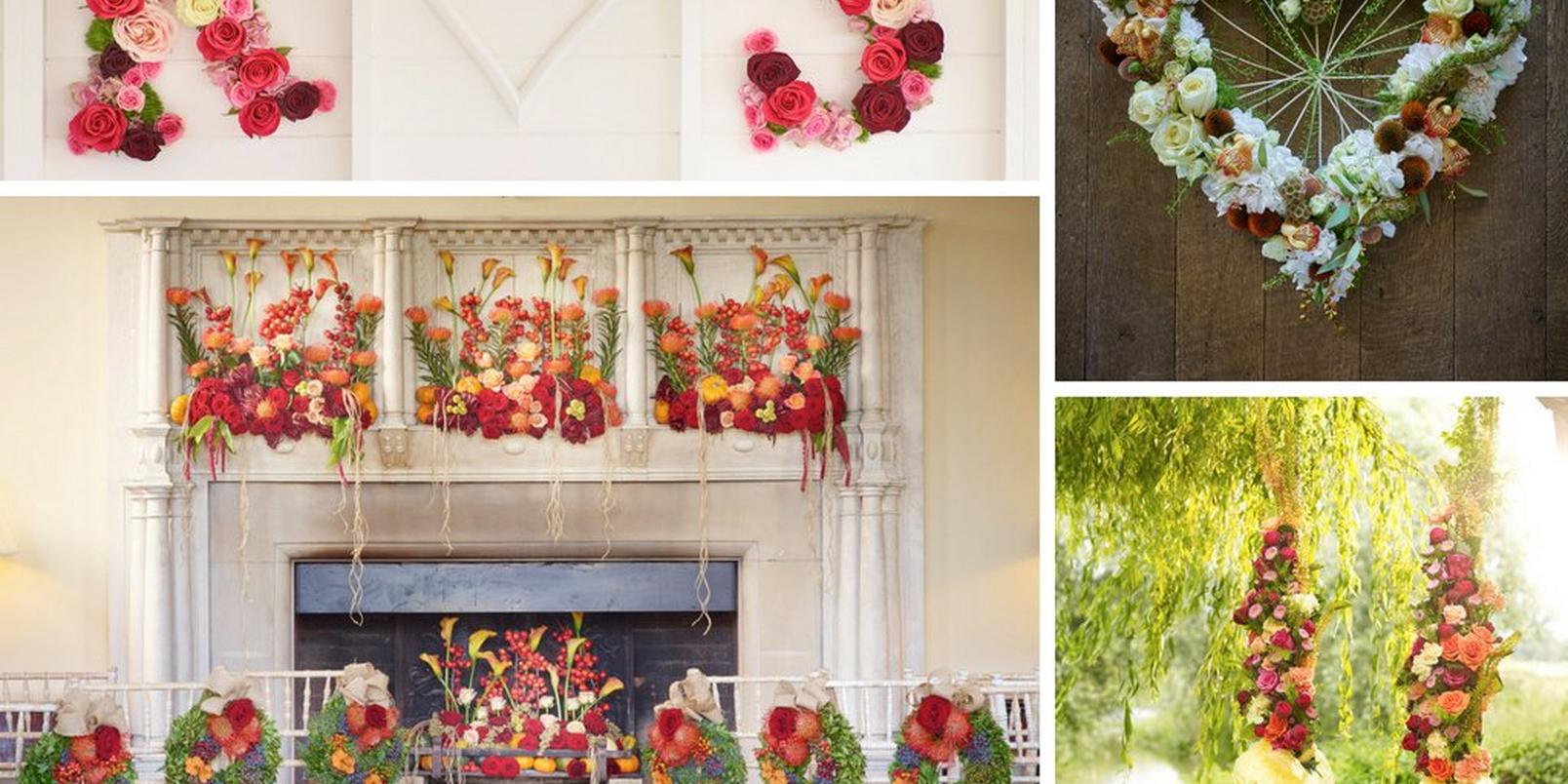 #10 Wedding flower wall
Create an impact with a stunning flower wall – the perfect backdrop for photos with your wedding guests, or to embellish the cake and gift tables. Bright and colourful living walls are bang on trend this year or channel Kim Kardashian and opt for an all-white version.