8 Beautiful Bridesmaid Bouquets
6th July, 2018
Looking for inspiration for your bridesmaids' bouquets? Want to hunt down the best blooms for your gorgeous gals? Look no further. We've got beautiful bridesmaid bouquet ideas to suit every wedding theme, colour scheme and budget.
Bridesmaid bouquet inspiration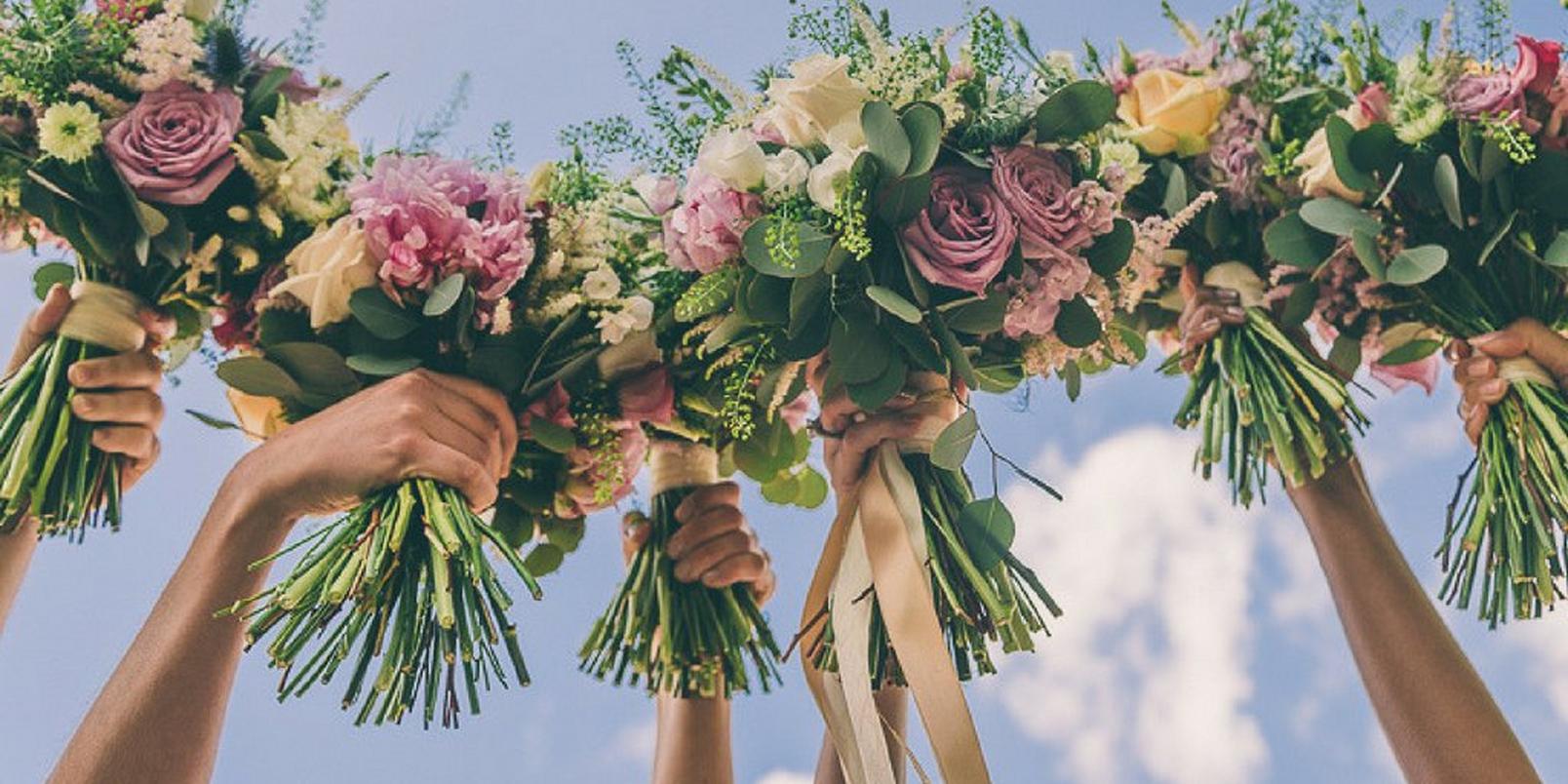 Image credit: Tara @ Style Rawr
These pink bridesmaid bouquets are so pretty, your girls will just adore them. Created in the likeness of the bride's own bouquet, they're slightly smaller in size but brimming with just as many beautiful flower varieties. The mix of peonies, garden roses and delicate astilbe, gives these bouquets that fashionable just-picked look - perfect for a relaxed summer wedding. We love how the bride has given her own bouquet extra stand out by tying trailing ribbons to the stems.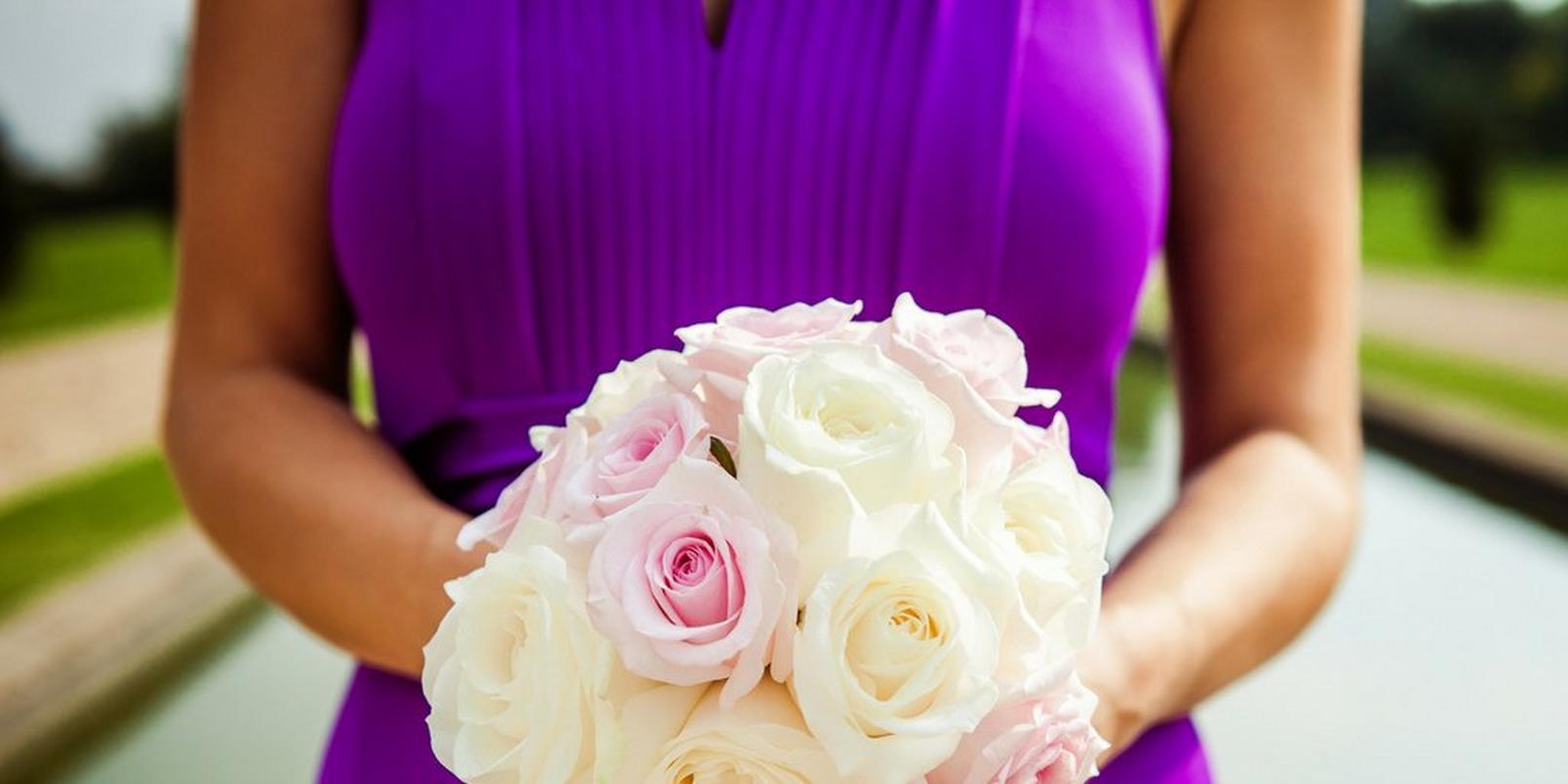 There's something really chic about just using one flower variety in your bridesmaid bouquets and showcasing it to perfection. Roses are the ideal choice and bring a real sense of romance to the occasion. Choose a single colour for a striking monochrome look or combine similar shades for added depth. Other flowers that work particularly well when arranged en masse include peonies, hydrangea and gypsophilia.
A wedding is a cause for real celebration and nothing sets the tone better than brightly coloured blooms. This gorgeous bridesmaid bouquet is full of bold, clashing colours from lovely lilac to baby pink and blush peach. The addition of dainty buttons gives it a real cutesy feel.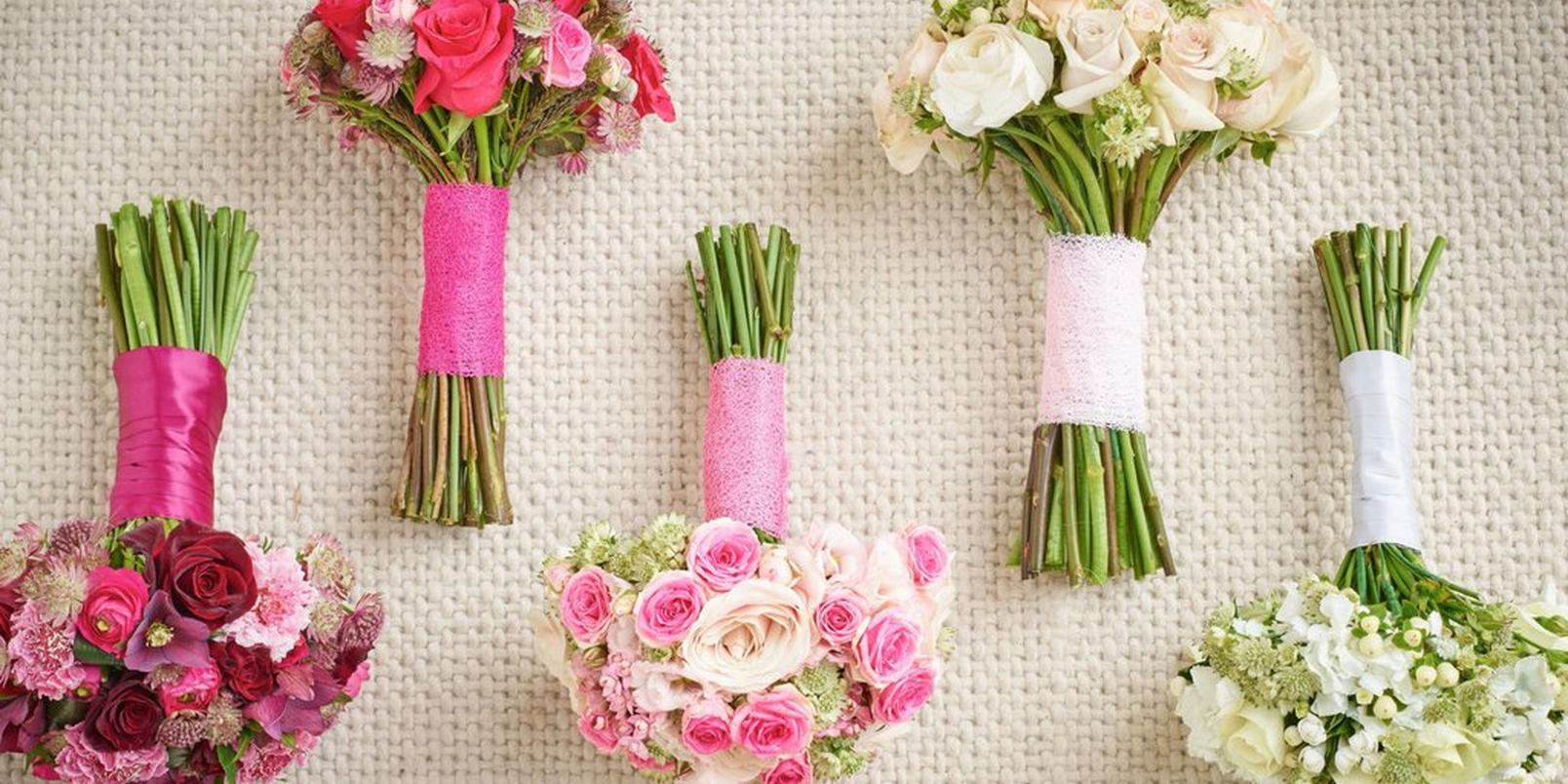 The trend for mismatched bridesmaid dresses is showing no signs of slowing down but have you thought about giving your 'maids mismatched bouquets to carry down the aisle? It's a great way to celebrate the individually of each bridesmaid – especially if they're wearing the same dress – and you could even base the design on their favourite flower. Choose colours that tone together for a beautifully blended look, or, if you're feeling bold, give each girl a different colour of the rainbow.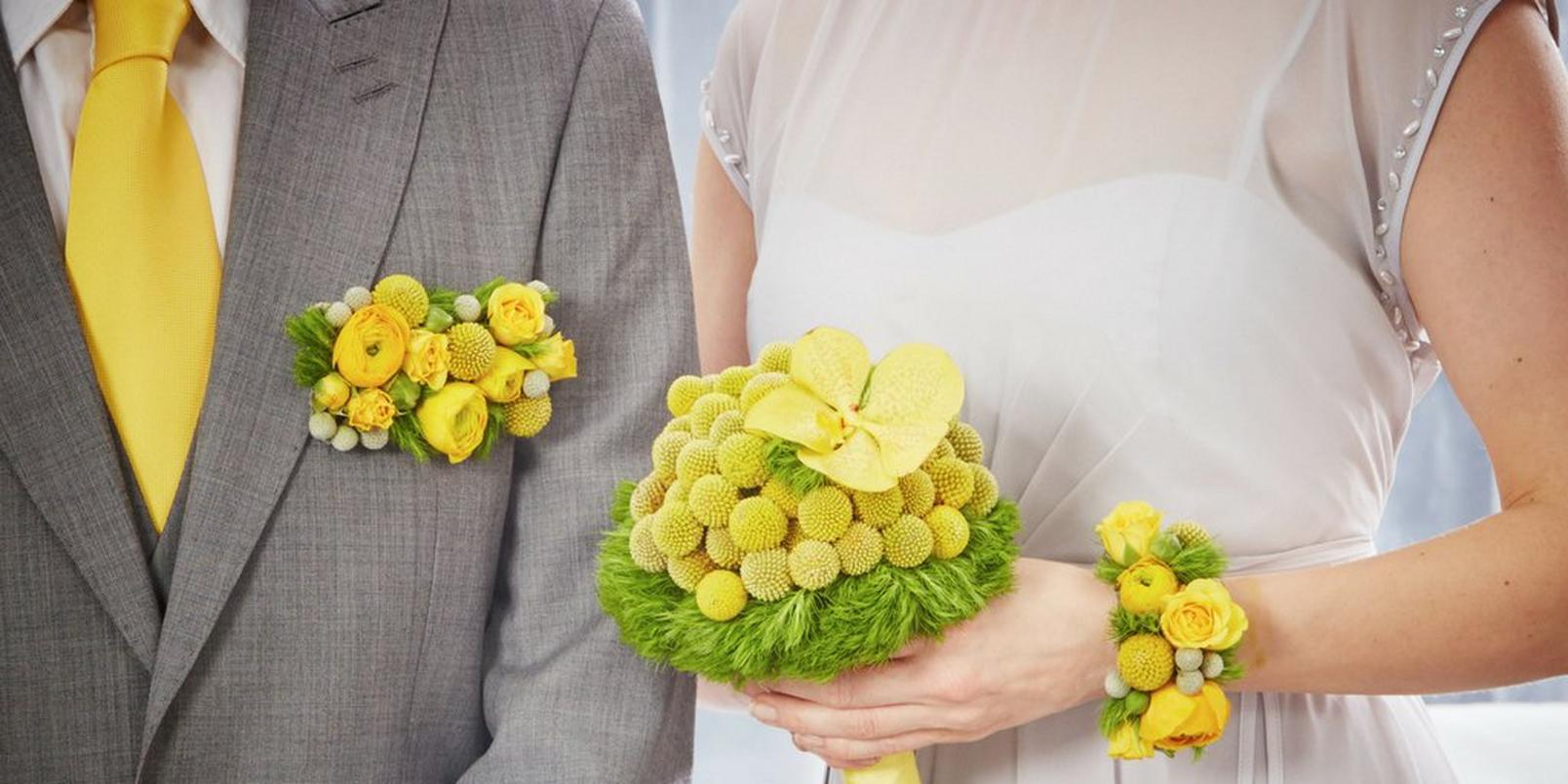 Here's a distinctive bouquet idea for the bride who dares to be different. This compact posy of yellow craspedia flowers is topped with a beautiful Vanda orchid and framed with a collar of 'Green Trick' dianthus. It's full of zingy colour and texture and the addition of a co-ordinating wrist cuff really completes the look.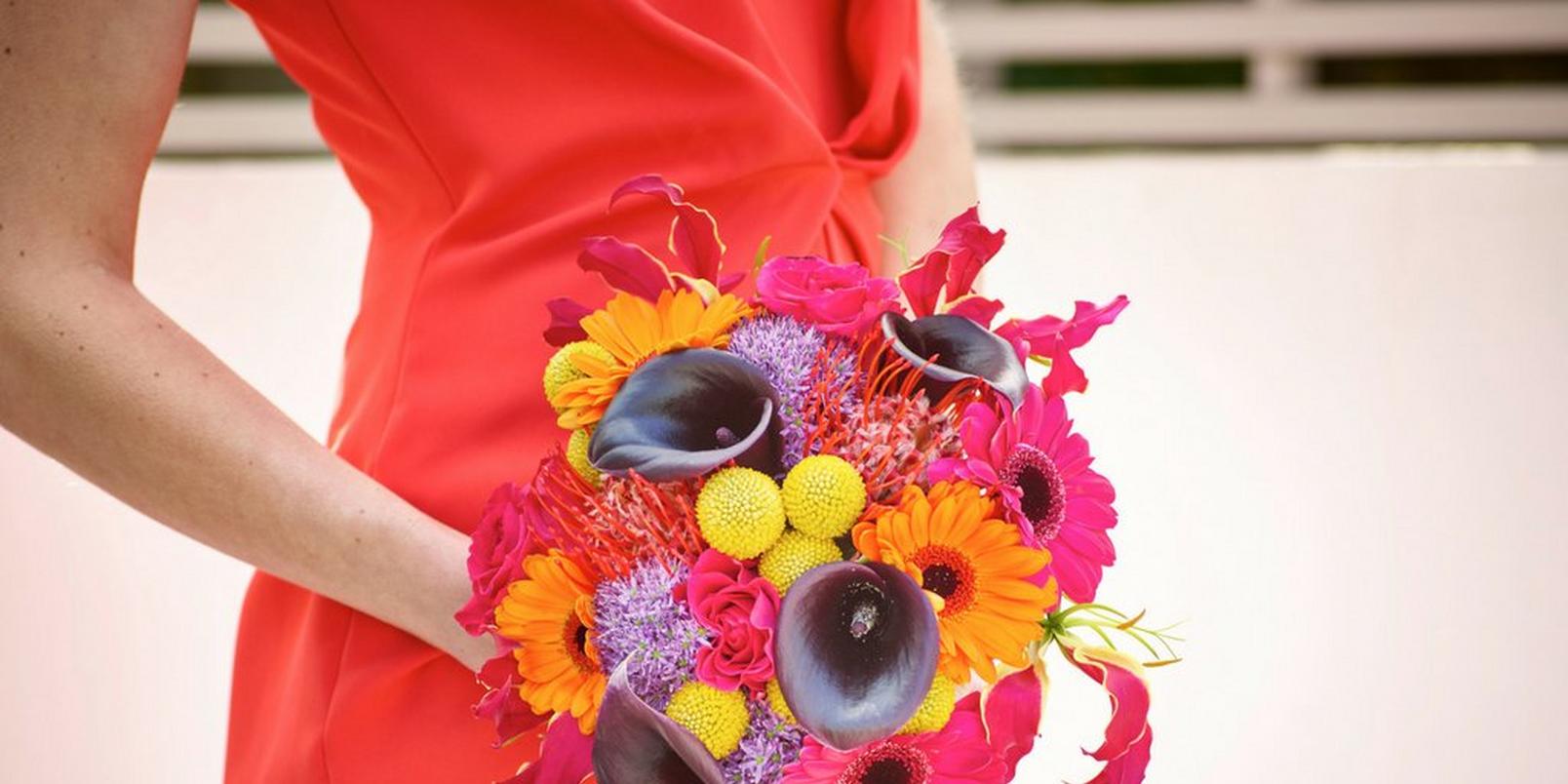 This tropical bridesmaid bouquet would be prefect for a beach or exotic wedding. The flamboyant flower choices include Calla lilies, nerine and leucospermum with a selection of brightly coloured gerbera for good measure. It's a bold and beautiful look – ideal for the bridal party that wants to be remembered.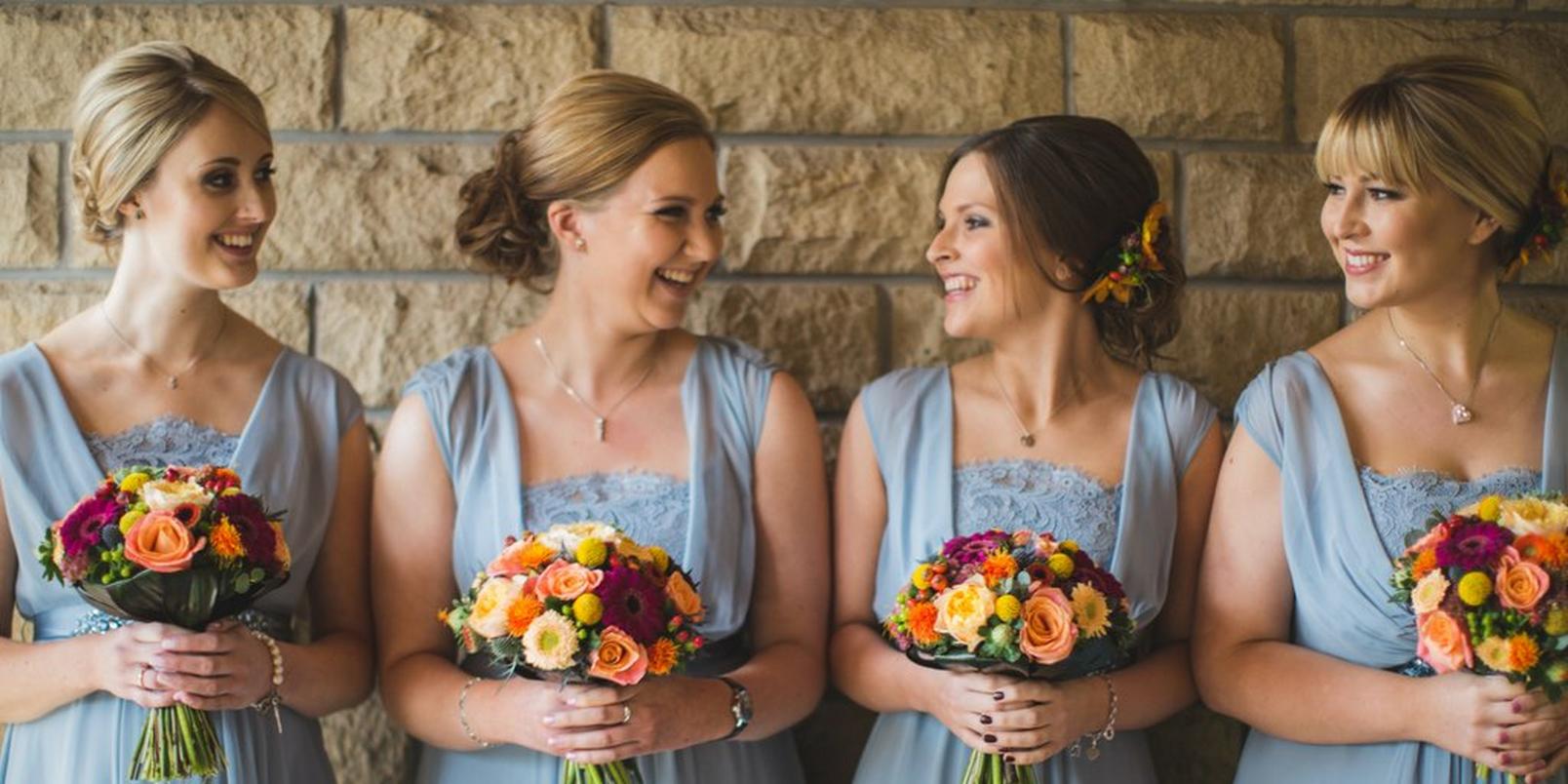 Image credit: Will Fisher Wedding Photography
Grey bridesmaid dresses not only transcend the seasons, they also provide a neutral backdrop that will show off your wedding flowers to stunning effect. Dusky pinks have a wonderful vintage quality when teamed with grey but more vibrant hues work just as well, particularly for an autumn wedding. Note, here how the bride has also chosen to highlight her Maid of Honour, by giving her matching flowers to wear in her hair. It's little details like these that make your 'maids feel extra special and your wedding photos insta-worthy!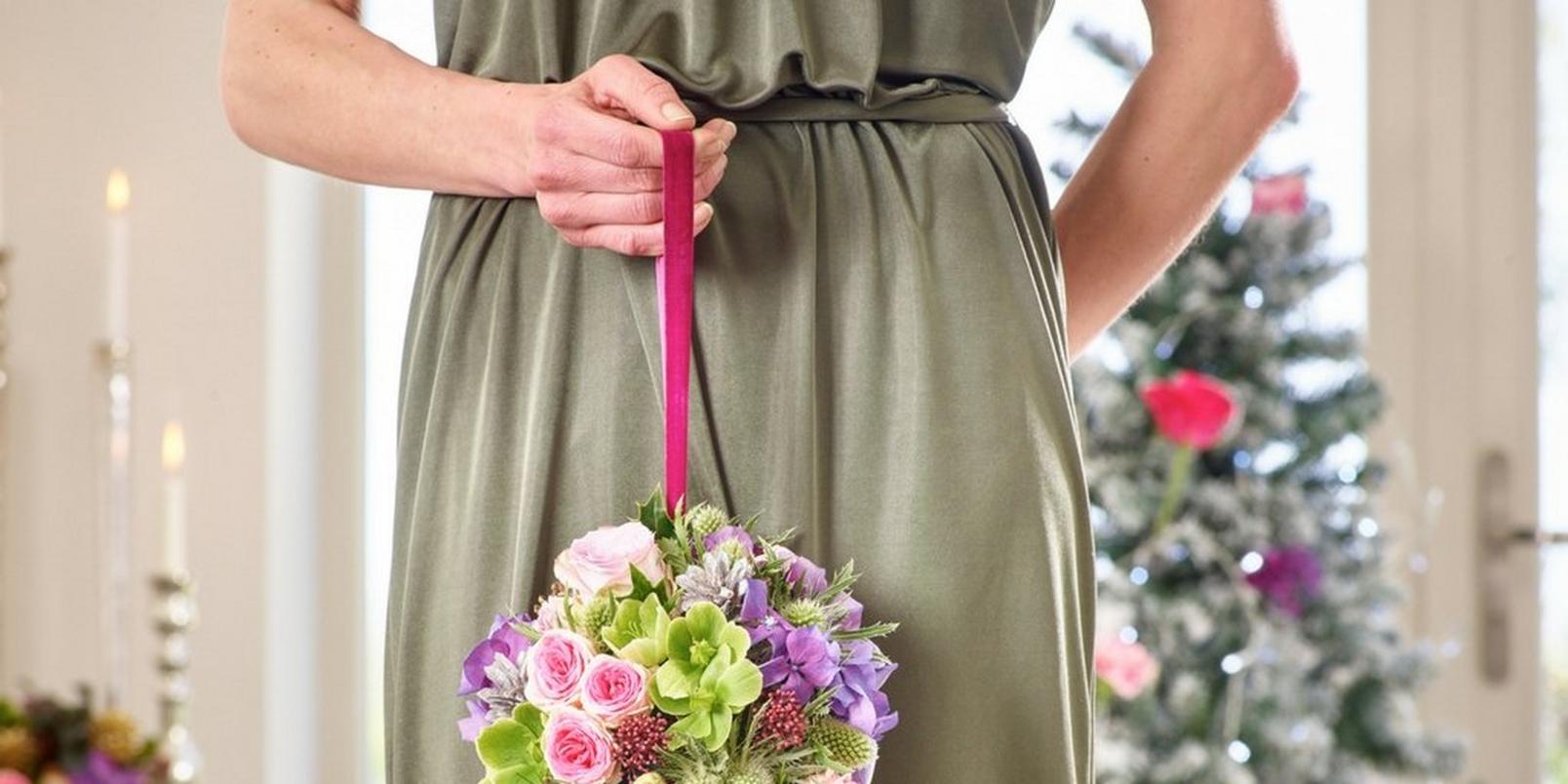 Looking for an alternative to the traditional posy bridesmaid bouquet? A pomander could be the answer! A ball of flowers, arranged in floral foam and suspended from a decorative ribbon, wedding pomanders are a popular choice for younger bridesmaids and flower girls but there's no reason why your grown-up maids wouldn't love them too.
Top tips for bridesmaid bouquets
Need help choosing bouquets for your bridesmaids? Here are some top tips and things to consider when choosing bridesmaid bouquets.
It's much easier to choose bouquets for your bridesmaids once you've decided on your own, as they often take their cue from the bride's bouquet.
Take inspiration from your own bouquet and decide if you want to make smaller versions of it for your 'maids, or whether you'd like them to have a contrasting colour or variety of flower.
If you're on a budget, reserve the more expensive flower varieties for your own bouquet and ask your florist to create completing designs using cheaper flowers for your 'maids. Given a little creative license, you'll be surprised how good this can look!
If you want your bridesmaids to have the same flower content as you, ask your florist to make their bouquets slightly smaller – after all, it's your day and it's important you stand out.
More bridesmaids equals more blooms so if you only have a limited budget, look for clever ways to save money on your wedding flowers. Cut down on costs by giving bridesmaids a gorgeous floral hairpiece or wrist corsage to wear in lieu of bouquets. If you'd prefer not to break with tradition then give your 'maids a single stem to carry down the aisle. Orchids and Calla lilies are perfect for this purpose and can really make a statement.