Irish flowers: The Ultimate Guide
When you think of Ireland, the first thing that springs to mind is its rolling green countryside and endless sprawls of natural beauty. Its nickname, the Emerald Isle, reflects the majesty of that natural landscape and its importance to Ireland. But there's more than just the brilliance of greenery to this fantastic part of the world. Beyond the forests and shamrocks, you'll find a wealth of native Irish flowers that offer a burst of colour to any bouquet or flower-based decoration.
In this guide, we delve into Ireland's floral offering and explore some of its most beautiful flowers, their meaning and top ideas for making Irish flowers the hero of bouquets, gifts and floral arrangements.
Our favourite Irish flowers
From the ubiquitous shamrock to less well-known but no less elegant wild Irish flowers, such as primrose, bog rosemary or sea aster, Ireland is awash with blooms in a spectrum of colours, each of which can nurture your inspiration for creating Irish-inspired beauty. Find out more about Irish flowers, their meaning and their uses as gifts and bouquets.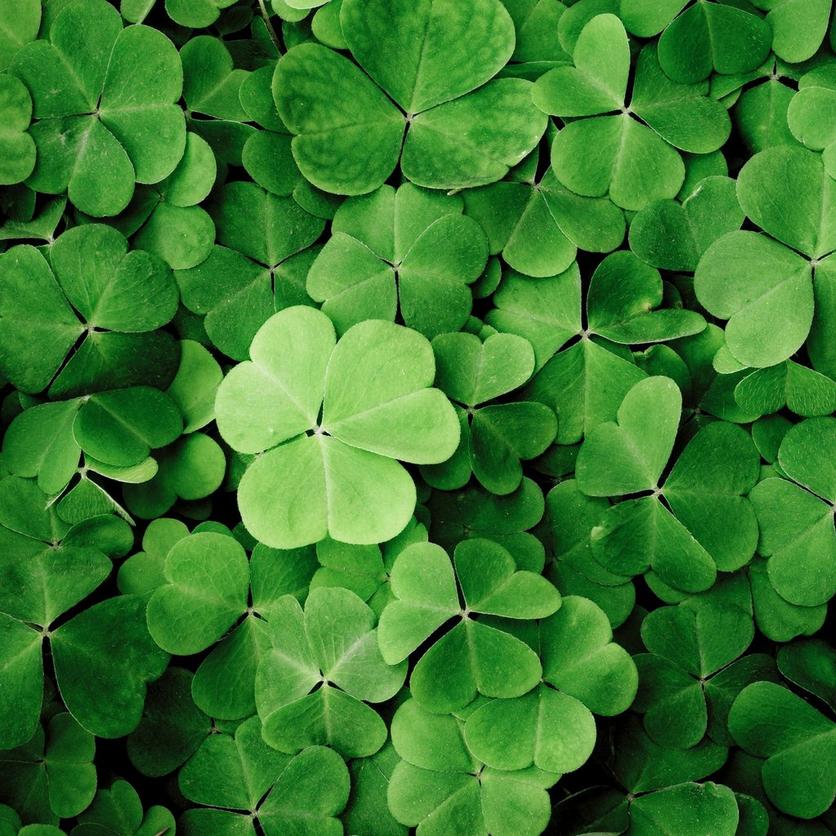 Shamrock
When it comes to Irish plants and flowers, the shamrock can't be overlooked. Although it's technically more sprig than flower, the shamrock has a longstanding association with Ireland and is omnipresent in popular culture as a result. It's most commonly seen as a symbol of St. Patrick's Day, celebrated on the 17th of March.
Shamrock colours and variants
Strangely, there's no real consensus among botanists about which plant is the "true shamrock". The word itself means "little clover" in Gaelic, so there are a few types of similar-looking plants that are most often thrown under the shamrock banner. These include Trifolium repens (white clover), Trifolium pratense (red clover), Medicago Lupulina (black medick) and Oxalis acetosella (wood sorrel), all of which are native to Ireland.
Shamrock meaning and symbolism
Shamrocks have long been associated with good luck and are eternally woven throughout Irish culture. Legend has it that St. Patrick, the patron saint of Ireland, used the three-leaf plant to illustrate the idea of the Holy Trinity to early Christians.
Shamrock seasonality
Shamrock is a spring plant, so its leaves and flowers are at their best around March and April. Just in time for making some of the different stunning varieties of shamrock the centrepiece for your St. Patrick's Day display or bouquet. Pair them with muted shades of pink and purple.
Shamrock uses and occasions
Shamrocks can be incorporated into a wide range of Irish-themed floral arrangements and bouquets. Whether you fancy a nice centrepiece for your St. Patrick's Day celebration or a Celtic-style wedding bouquet with a difference, the shamrock is a fantastic stand-out addition.
How to make a bouquet with shamrock
Shamrocks are small and delicate in their aesthetic, which means they go well with wildflowers and herbs in a rustic bouquet. They work well as part of a bunch with flowers such as primroses and daisies, and can also be used as part of wedding bouquets and bridal wreaths for those looking to sprinkle a little Celtic flavour over their big day.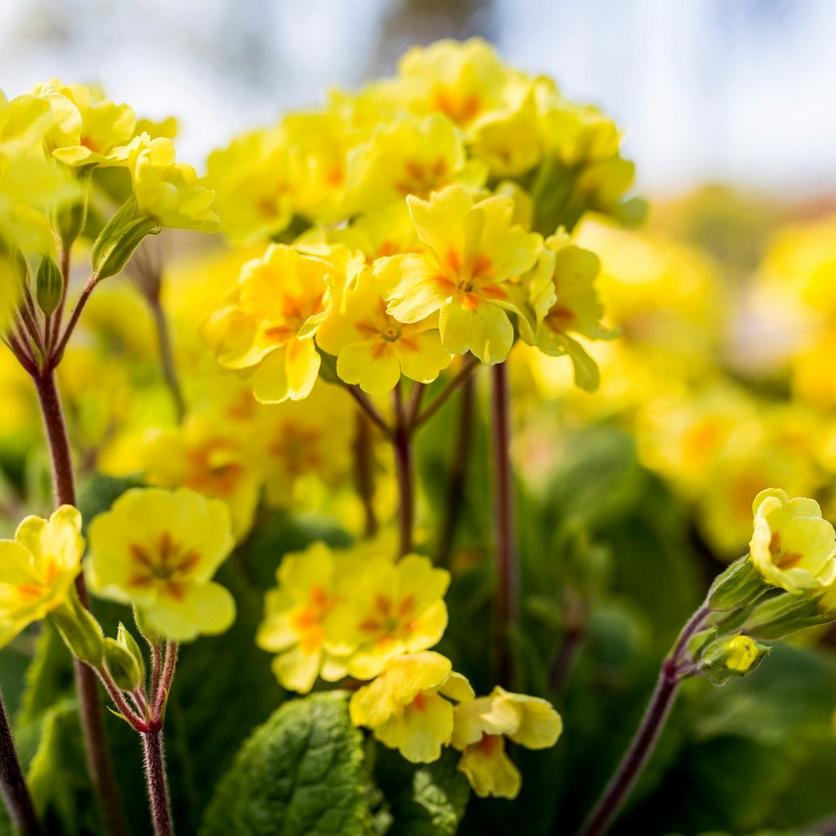 Primrose
Primrose, also known as Primula vulgaris, is often called English primrose, but it's also one of the most beautiful Irish flowers. These delicate little blossoms look great in any garden and give a flash of colour no matter where you choose to plant them.
Primrose colours and variants
What they lack in size, primroses more than make up for in vibrancy. These blooms come in a huge range of colours, all the way from a muted white hue, through to yellows, light pinks and purples. Pale yellow variants of the plant can be found growing wild across Ireland.
Primrose meaning and symbolism
Primroses have long been a favourite flower across the UK and Ireland. All the way back to the Victorian era, they've been symbolic of young love, new starts and optimism. Across Ireland, it was also often believed that leaving primroses on the doorstep of your house would serve as a signal to fairies to keep your home safe from harm.
Primrose seasonality
Primrose flowers are most commonly found growing in Irish forests and gardens in early spring. As a symbol of new beginnings, they're often some of the first flowers that bloom in the wild after winter.
Primrose uses and occasions
Primroses make the perfect gift for anyone and any occasion, thanks to their cheerful colours and stunning scent – a pleasure for all the senses. Primrose blossoms signify the start of a new season, so a gift containing primroses can be great for wishing someone luck in a new home or a new job.
How to make a bouquet with primrose
Primrose flowers are quite small and fragile, so you need to be extra careful when putting together a flower arrangement using them. Gentle yellow variants will look fantastic among other native Irish wildflowers.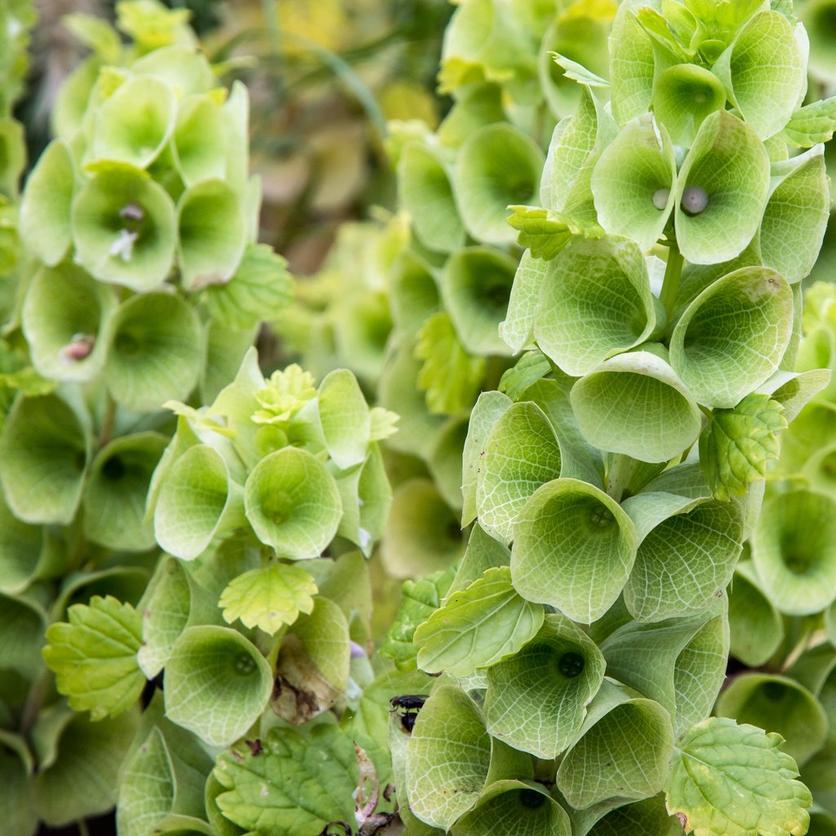 Bells of Ireland
Despite carrying the Emerald Isle's name, bells of Ireland flowers are actually from western Asia originally. However, they are often used in arrangements to add some Irish spirit to bouquets and designs, as well as weaving a little luck into a look.
Bells of Ireland colours and variants
Bells of Ireland belongs to the mint family, so it has a gorgeous scent, no matter the variant you choose. The bell-shaped flowers of this beautiful plant come in several colours, including bright greens and pale blue greens.
Bells of Ireland meaning and symbolism
Despite not being a native Irish flower, bells of Ireland shares symbolism surrounding luck with the Emerald Isle. These vibrant flowers are all about looking to the future and good fortune, so they make great gifts for someone who is facing a big event like an exam or a new job.
Bells of Ireland seasonality
These lively green bells with small white flowers inside appear later in the year than many other Irish flowers, most commonly blooming in the late summer months.
Bells of Ireland uses and occasions
Bells of Ireland's fresh greenery will bring to life any bouquet or flower arrangement. Whether you're looking for a surprise gift for a loved one or an elegant centrepiece for a dinner party, bells of Ireland can add a little sprinkle of luck and fortune to any design. How to make a bouquet with bells of Ireland
How to make a bouquet with bells of Ireland
Bells of Ireland has a sturdy long stem, so the flowers go well with gladiolus, stocks and other similar blooms. Consider pairing bells of Ireland with delicate pink and purple flowers to allow them to be the hero of any stunning bunch.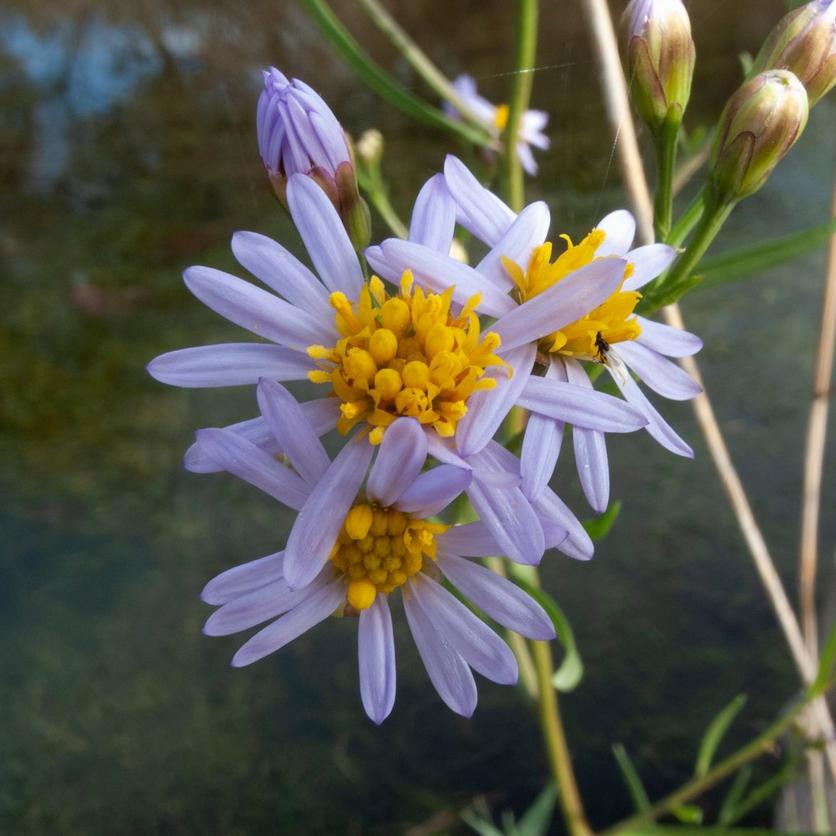 Sea Aster
Sea aster is the true star of native Irish flowers – quite literally. Its name means star in Latin. A popular flower in modern bouquets, these stunning wildflowers are most commonly seen hugging the Irish coastline, as well as growing in salt marshes and estuaries across the country.
Sea aster colours and variants
Sea aster flowers most commonly resemble one of the world's most favourite flowers – the daisy - in their shape, but they come in much more vibrant hues. Asters tend to have a yellow centre, surrounded by petals ranging from pale lilacs to vibrant purples. These are flowers that really know how to stand out.
Sea aster meaning and symbolism
A symbol of serenity and quiet in their natural habitat, sea asters typically represent daintiness and patience, which makes them the perfect peaceful gift to help cheer up someone who may have been going through a difficult period.
Sea aster seasonality
This wildflower blooms from June to September, bringing a pop of vibrant purple to the Irish coast and landscape throughout the bright summer months. It's also a perennial flower, which means it'll return to its true glory the next year too.
Sea aster uses and occasions
The sea aster is a symbol of patience and endurance, so they make a great gift as a good luck or congratulatory message to someone dealing with exams or a career change. With their subtle colours, lilac sea asters can also make a lovely addition to a sympathy bouquet.
How to make a bouquet with sea aster
Sea aster flowers generally grow in clusters that branch off from a single stem. That makes them perfect for incorporating into many modern bouquet styles. Pair them with thistles and other wildflowers for a rustic look that brings a touch of nature and modernity to any setting.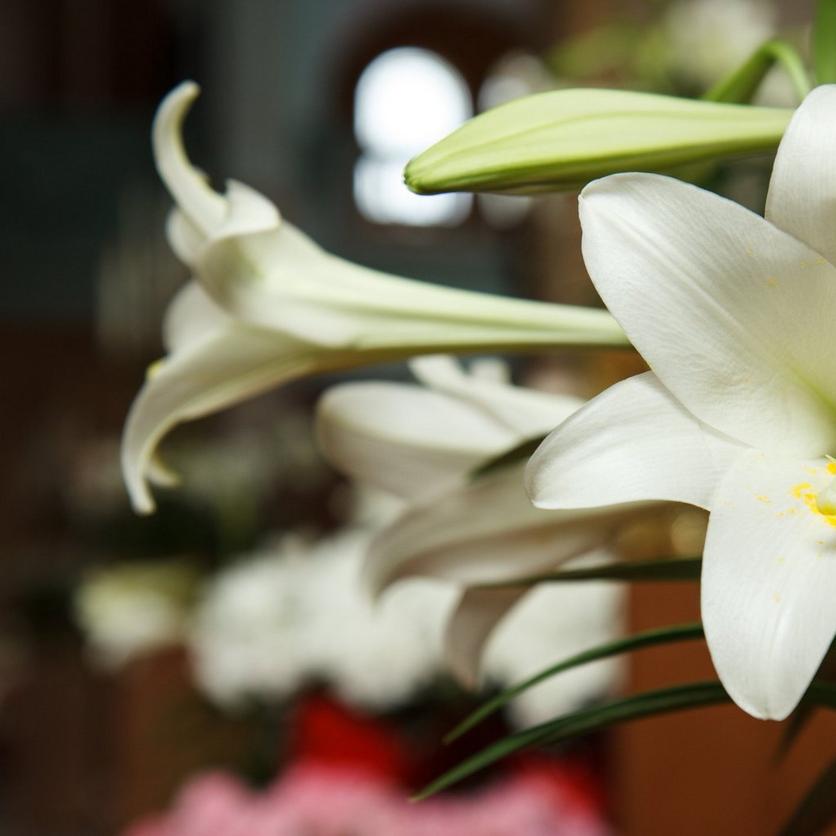 Easter Lily
These lilies have large, trumpet-shaped white flowers with a sweet fragrance and are commonly used in religious ceremonies and as decorative plants during the Easter season. Though easter lilies are not native to Ireland, these stunning flowers have an incredibly important place in the heart of the people here.
Easter lily colours and variants
Easter lily is another name for the calla lily flower – a statement white trumpet-shaped flower wrapped around a yellow or orange spadix that stands out in any setting or can be the hero of any bouquet thanks to its unique shape and bright colour palettes.
Easter lily meaning and symbolism
Easter lily badges are worn during the Easter season by Irish people as a symbol of remembrance. Its colours are also reminiscent of the flag of the Republic of Ireland – white, orange and green. Originally meaning purity and rebirth, the flower has come to symbolise peace and unity.
Easter lily seasonality
Easter lily, or Zantedeschia aethiopica, commonly known as calla lily, is native to southern Africa and usually blossoms in late spring and throughout the summer months.
Easter lily uses and occasions
White lilies are most commonly used for bouquets and centrepieces at big life events. Lilies often have a big part to play in wedding bouquets, as well as sympathy flowers and funeral arrangements. As their name suggests, they're also often used for decorations around Easter.
How to make a bouquet with easter lily
Featuring long, sturdy stems, easter lilies are great in bouquets alongside many types of flowers. These versatile blooms will go wonderfully with roses, peonies and irises in a range of colours to give you a bouquet that pops. They also make great potted plants on their own.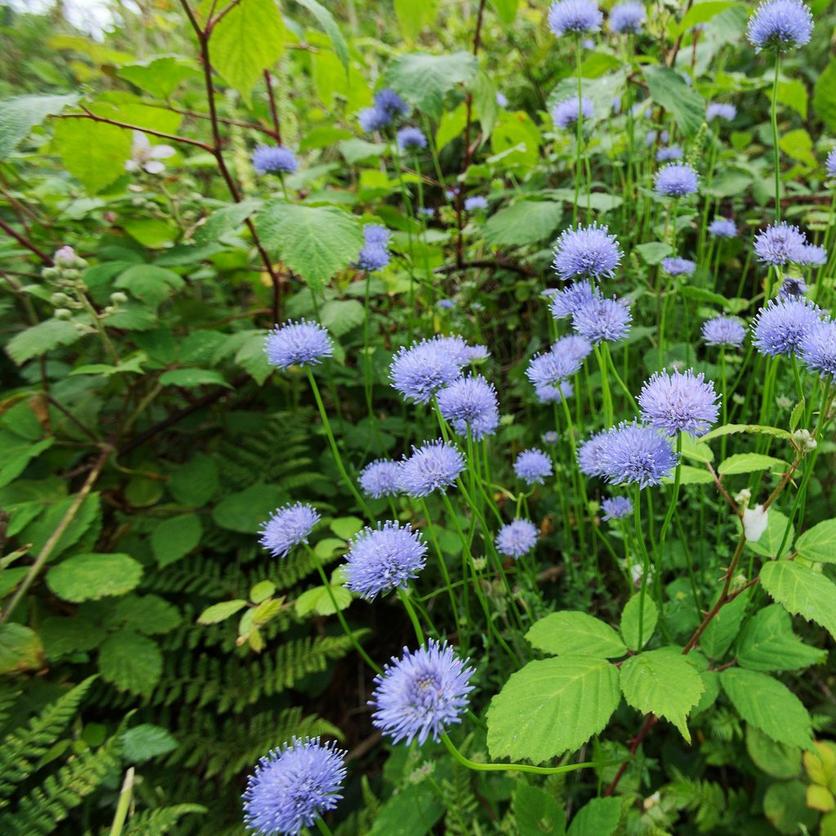 Sheeps-Bit
Also known as Jasione montana, is a small, blue-flowered plant that is native to Europe and western Asia. It grows in rocky areas, meadows, and open woodlands, and can often be found in mountainous regions. Its flowers bloom in clusters at the top of the stem.
Sheeps-bit colours and variants
The most common colour of sheep's bit flowers is a vibrant shade of blue, which can range from pale blue to deep violet-blue. However, there are also some varieties that produce pink or white flowers, although these are less common.
Sheeps-bit meaning and symbolism
One of the most common interpretations of the flower is that of love and affection, particularly in the language of flowers. The blue colour of the flowers is also thought to represent peace and tranquility, while the clustered arrangement of the blooms symbolizes unity and togetherness.
Sheeps-bit seasonality
Blooming in the summer, typically from June to August in the Northern Hemisphere. The exact timing varies based on location and climate. The plant is hardy and can tolerate a range of conditions.
Sheeps-bit uses and occasions
The flower's symbolism of love, peace, and unity may make it a suitable choice for weddings, anniversaries, or other romantic occasions. Overall, sheep's bit flowers are a versatile and attractive addition to any garden or floral arrangement.
How to make a bouquet with Sheeps-bit
Sheep's bit flowers can be a lovely addition to a bouquet, adding pops of vibrant blue colour and delicate texture. As a filler flower, it can be used to add texture and depth to a bouquet. Pairing with other blue flowers such as delphiniums or blue hydrangeas to make a harmonious blue bouquet.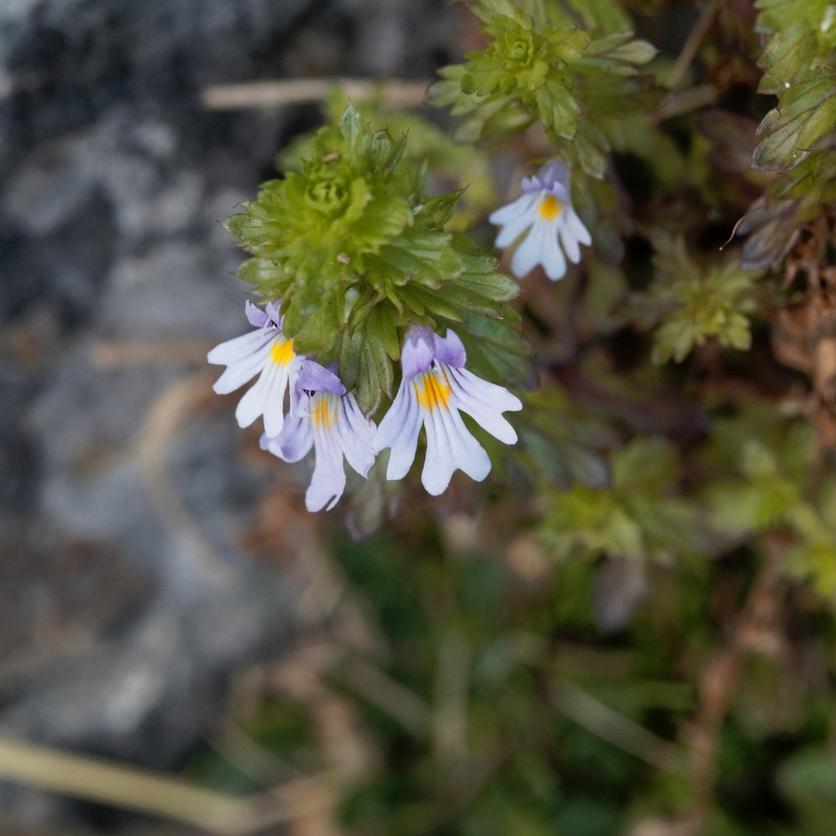 Irish Eyebright
Irish Eyebright is a small flowering plant found in meadows and grasslands in Europe and Asia. It has been used in traditional medicine to treat eye problems due to its anti-inflammatory and antiseptic properties.
Irish Eyebright colours and variants
Whilst these flowers are usually white or pale lilac with yellow markings, there can be variations in the intensity of these colours depending on the plant's growing conditions. Some plants may have darker purple or blue markings instead of yellow, while others may have more intense shades of white or lilac.
Irish Eyebright meaning and symbolism
Irish Eyebright is not widely associated with specific meanings or symbolisms. However, in some folklore, eyebright was believed to have magical properties and was used in spells and rituals related to divination and clairvoyance. This may have contributed to the belief that the plant has a mystical or spiritual quality.
Irish Eyebright seasonality
Typically blooming from June to September, though this may vary depending on the plant's growing conditions, such as temperature and sunlight. However, in general, Irish Eyebright is a summer-blooming plant that produces delicate white or lilac flowers with yellow markings during this time of year.
Irish Eyebright uses and occasions
Whilst Irish eyebright is not commonly used in bouquets, it's small size and subtle colouring could make it a charming addition to any wildflower-inspired or rustic bouquets, with its use in medicine, it'd be a thoughtful addition to a get-well bouquet.
How to make a bouquet with Irish Eyebright
it would be best to include it during this time when the plant is in bloom. The delicate and small size of the flower makes it ideal for use in small, wildflower-inspired bouquets or as a filler in larger arrangements.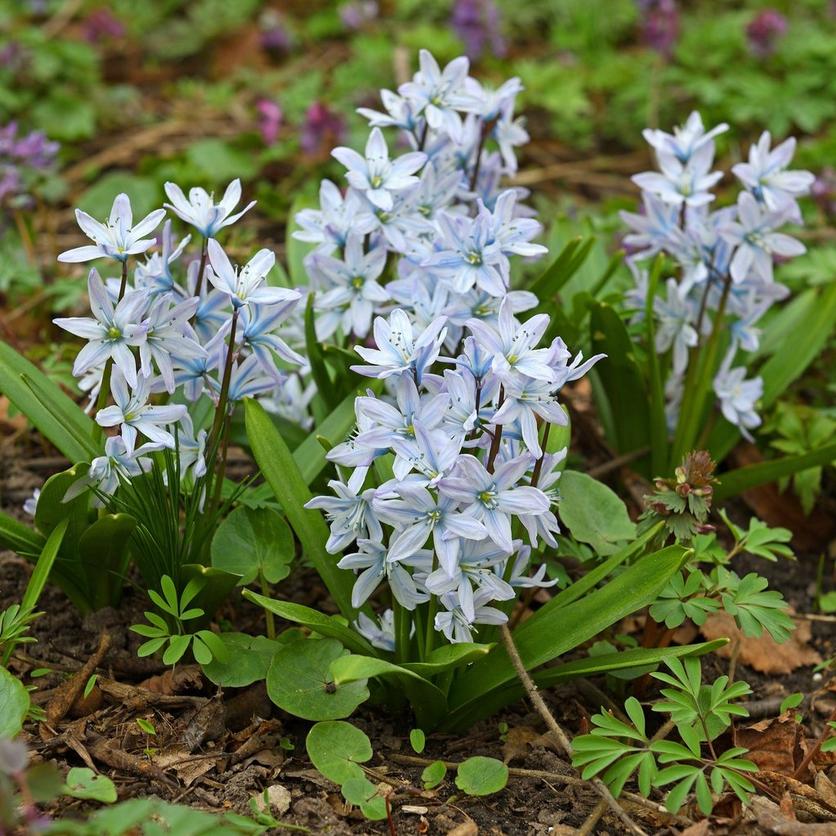 Spring Squill
Spring squill are a small perennial flowering plant native to Europe. They produce clusters of small, star-shaped flowers that are usually blue, but can also be white or pink. The flowers grow on leafless stems that rise above a basal rosette of narrow, grass-like leaves. Spring squill is often found growing in rocky, coastal habitats, but can also be grown in gardens or used in wildflower arrangements.
Spring squill colours and variants
The most common colour of Spring squill flowers is blue, but they can also be found in white or pink varieties. The blue flowers are usually a soft or pale shade of blue. The flowers have six petals that radiate outward from a central point, creating a star shape. While there may be some variation in the intensity of the blue or other colours, there are no major variants of Spring squill flowers.
Spring squill meaning and symbolism
These delicate and early-blooming flowers can be seen as a symbol of the arrival of spring and new beginnings. The flower's star shape and blue colour may also be associated with notions of hope and inspiration.
Spring squill seasonality
As its name suggests, Spring squill typically blooms in early spring, usually from March to May, depending on the climate and location, though this can vary from year to year, but it is generally considered a spring-blooming plant.
Spring squill uses and occasions
Spring squill is a versatile and charming plant that can be used in a variety of settings and occasions, particularly those that celebrate the arrival of spring and new beginnings. Due to its timing and delicate beauty, Spring squill could be used as a charming addition to spring wedding bouquets or centerpieces.
How to make a bouquet with Spring squill
An easy way to add that extra pop of colour and texture to a bouquet, the spring squill is best when paired with other spring flowers, such as daffodils, tulips or hyacinths for a delicate spring themed bouquet.
Despite the chilly climate of the Emerald Isle, there are plenty of native flowers in Ireland that give a natural, gentle look to any setting. From shamrock sprigs to sea asters, Irish flowers can bring colour, natural beauty and modernity to any occasion or gift.
If you fancy a flower arrangement for St. Patrick's Day in the Irish national colour – green – read more about our Top 10 Green Flowers.