Steal Stacey Solomon & Joe Swash's Wedding Flower Style
26th March, 2023
The wedding so many were waiting for has finally happened! The lovely Stacey Solomon and Joe Swash tied the knot on Sunday 25th July. They married at home at Pickle Cottage (cutest name for a house ever?), in an intimate Jewish ceremony.
In true Stacey style, she's been treating her social media fans to snapshots of the big day preparations – including a sneak peek at the flowers. Being a pro DIY-er, it seems that Stacey designed and created much of the floral décor herself, and whilst we suspect many of the stems were faux, we've gathered some top tips for recreating her magical look with beautiful fresh flowers.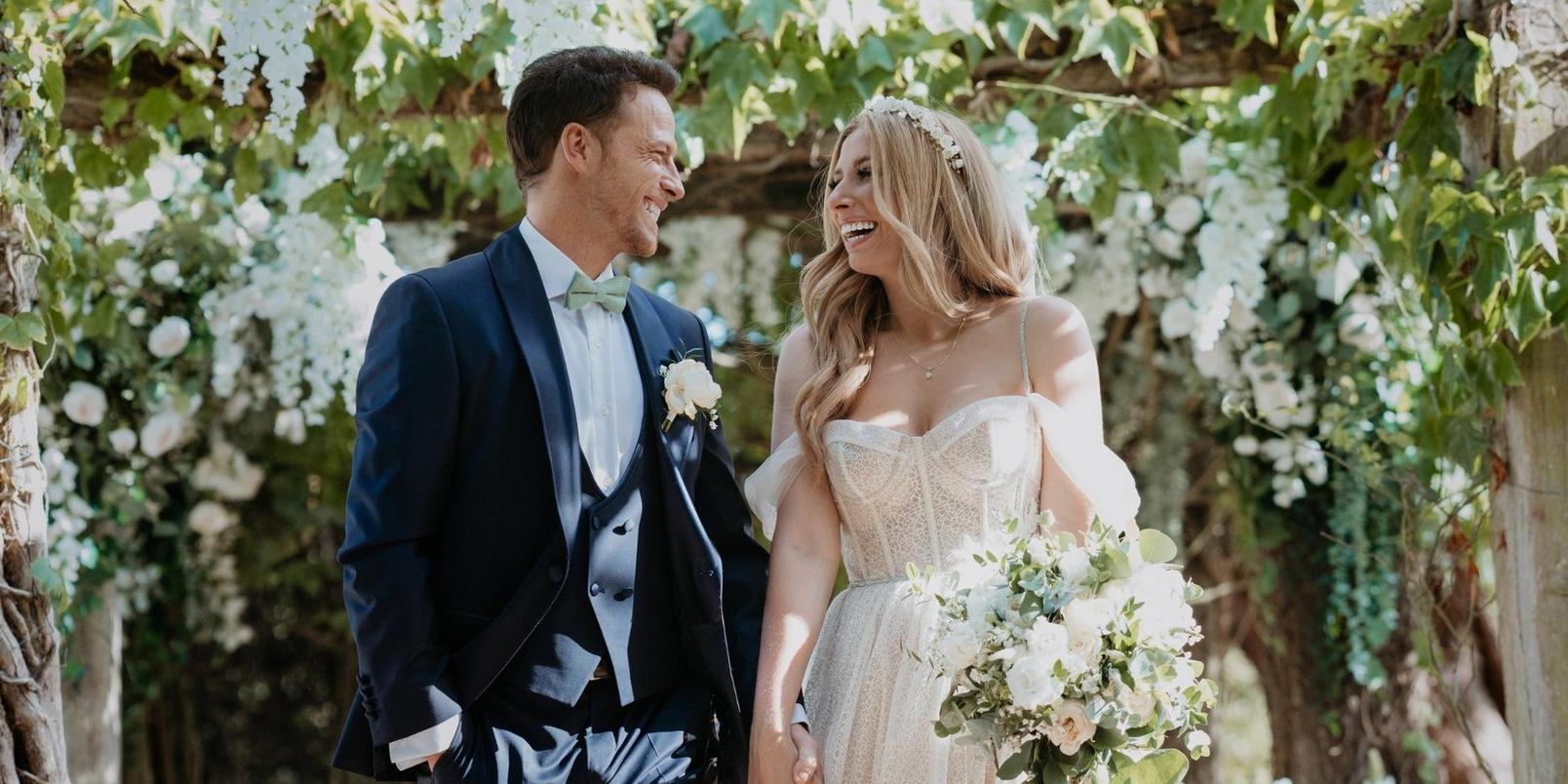 Which flowers were in Stacey Solomon's wedding bouquet?
The celebrity bride opted for an all-white flower theme with hints of green and grey-green foliage for her bridal bouquet. The standout stems were undoubtedly the fully blown garden roses which were hand-tied together with hydrangeas (a cottage garden classic!), delicate spray roses, a sprinkling of gypsophila and lots and lots of eucalyptus. There may well have been a peony or two hiding in there too!
The loose style of bouquet is very on trend for 2022 brides, with the textured foliage adding to the romantic feel of Stacey's flowers.
How to recreate Stacey & Joe's flowers
1. Go all-white
There's a reason why white is loved by celebrity brides: it never goes out of style.
Charlotte Davies, at Hilary's Floral Design in Abergavenny told us "Using one colour also creates intensity and impact while emphasising the beauty of the individual flower." If you want to emulate Stacey Solomon's wedding flowers, ask your wedding florist for an all-white theme punctuated with lush green foliage. You'll certainly be spoiled for choice when it comes to flower content. From hydrangeas to roses and peonies and orchids, there are so many beautiful varieties of white flowers to bring your vision to life.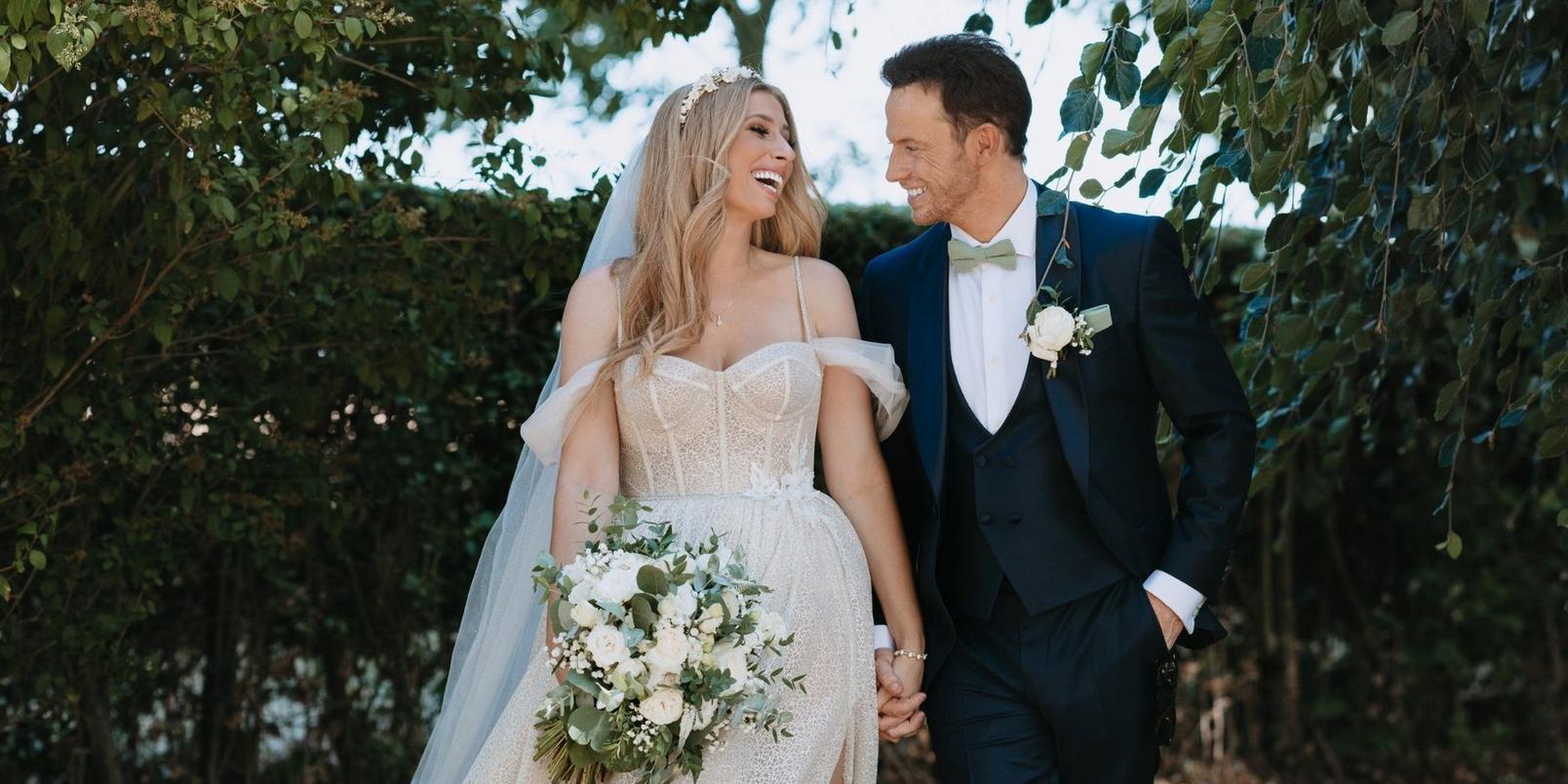 2. Go wild
There are many different styles of wedding bouquet. But to emulate Stacey's style, ask your florist for a wide, oversized design that's loosely constructed. It'll give that relaxed but romantic look the couple are so well known for.
3. Dress the venue to impress
How fabulous did Stacey's wedding door and floral chandeliers look? Both designs are a firm favourite for weddings at the moment. Arches look particularly beautiful over a church door (the perfect way to frame your photographs) whilst floating chandeliers add a touch of glamour to the after party.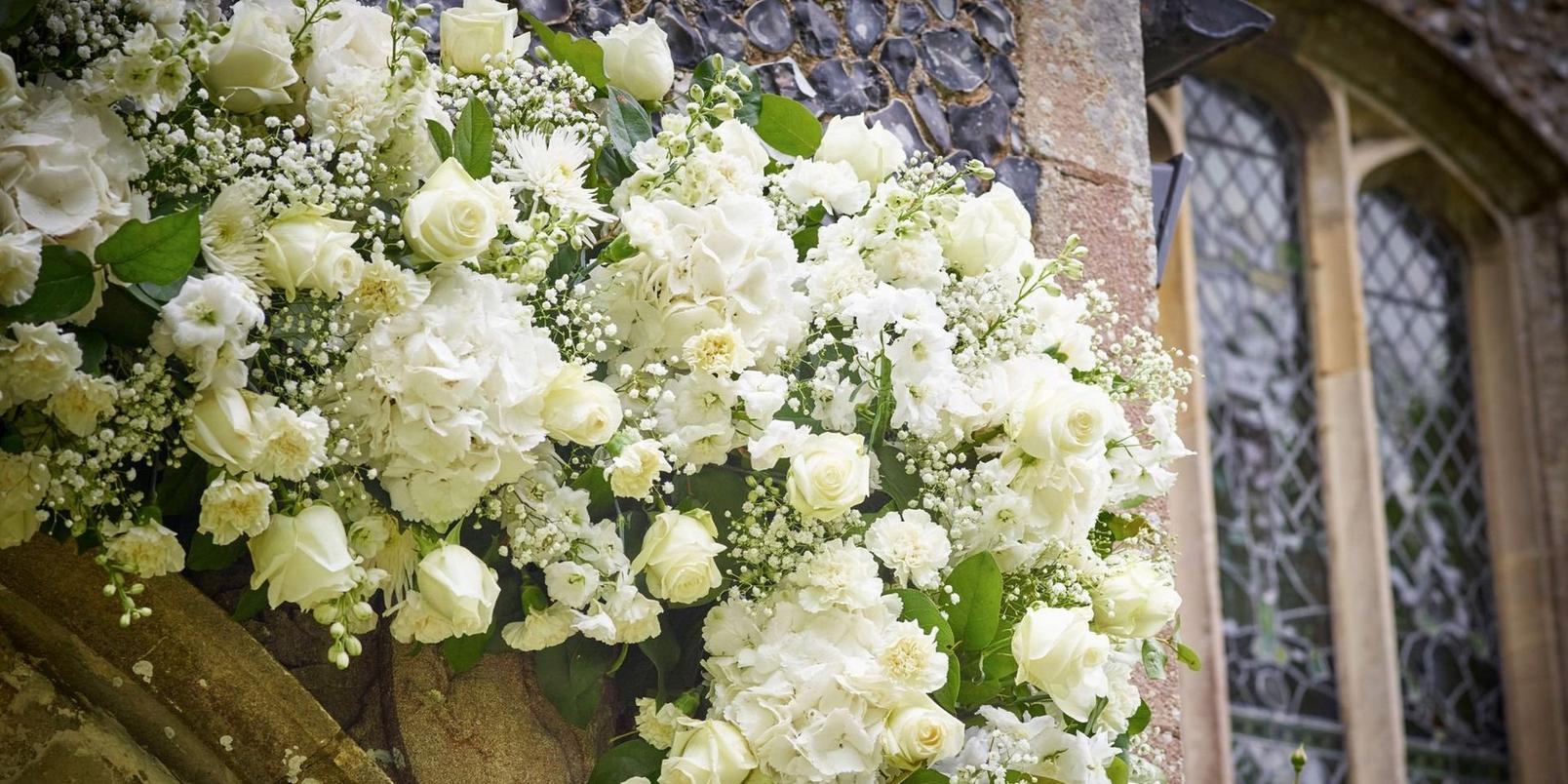 4. Spell out your love using the language of flowers
Did you know every flower symbolises something slightly different? Over the years flowers pick up all sorts of cultural meanings and we refer to that as 'floriography' or the language of flowers. The white flowers the happy couple picked signify purity, innocence, loyalty and romance (just perfect then for a wedding day!).
We also noticed Stacey and Joe featured roses really prominently, of course they're a classic symbol of romance but they could also be a tribute to the couple's daughter Rose.
If you want to make sure your wedding blooms are full of meaning, it's easy for you to do the same, all you need to do is learn the lingo. Good thing we've got some handy guides to help you tell your love story in flowers.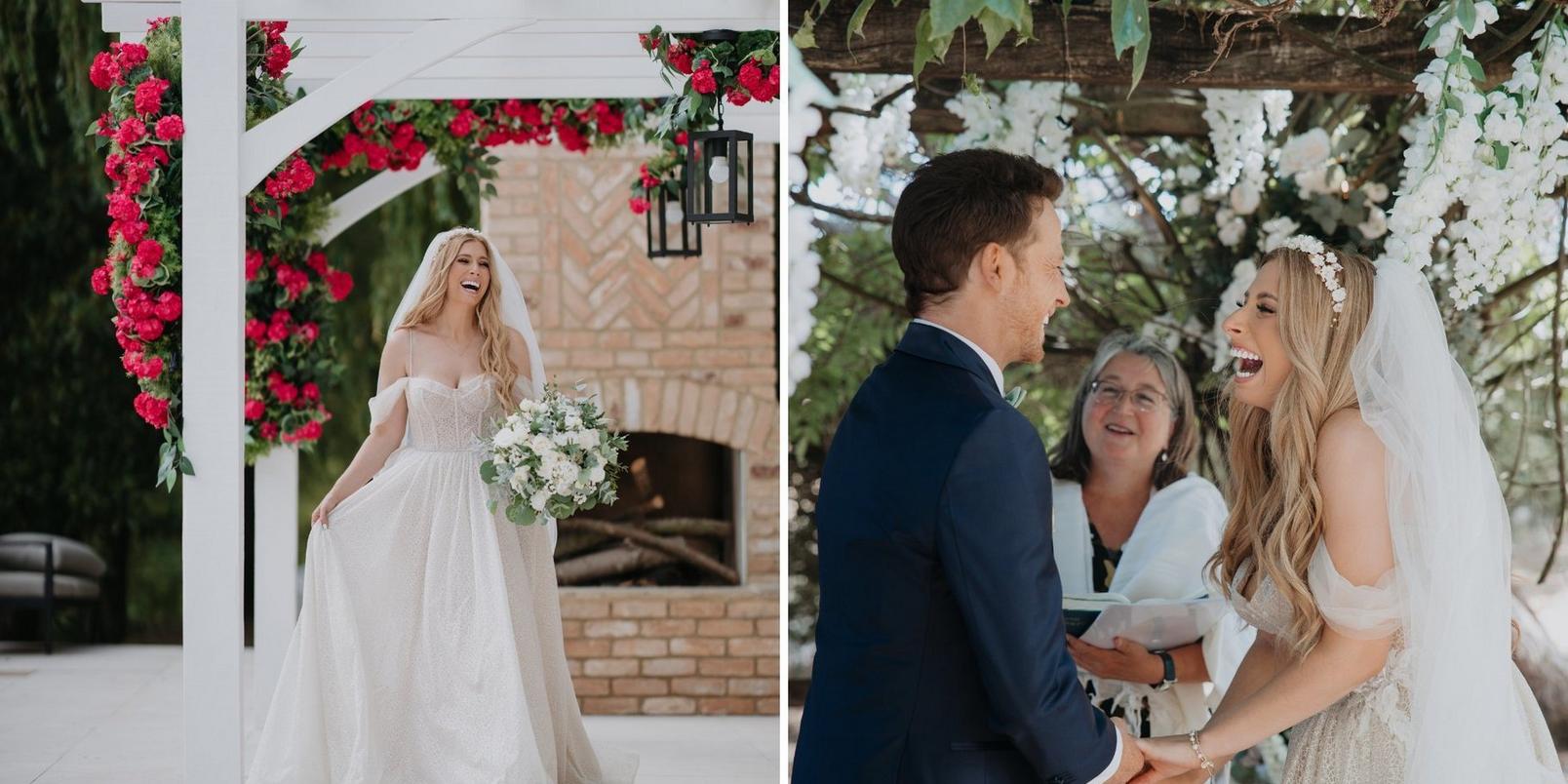 5. Make your day glow
Take your cue from Stacey and fill your wedding with candlelight. Is there anything more romantic? (It's also a lot like having your own Instagram filter in real life – bonus for the photographs!) From elaborate candelabras to candle lanterns surrounded by rose petals your florist will help you find the perfect way to combine florals with flickers.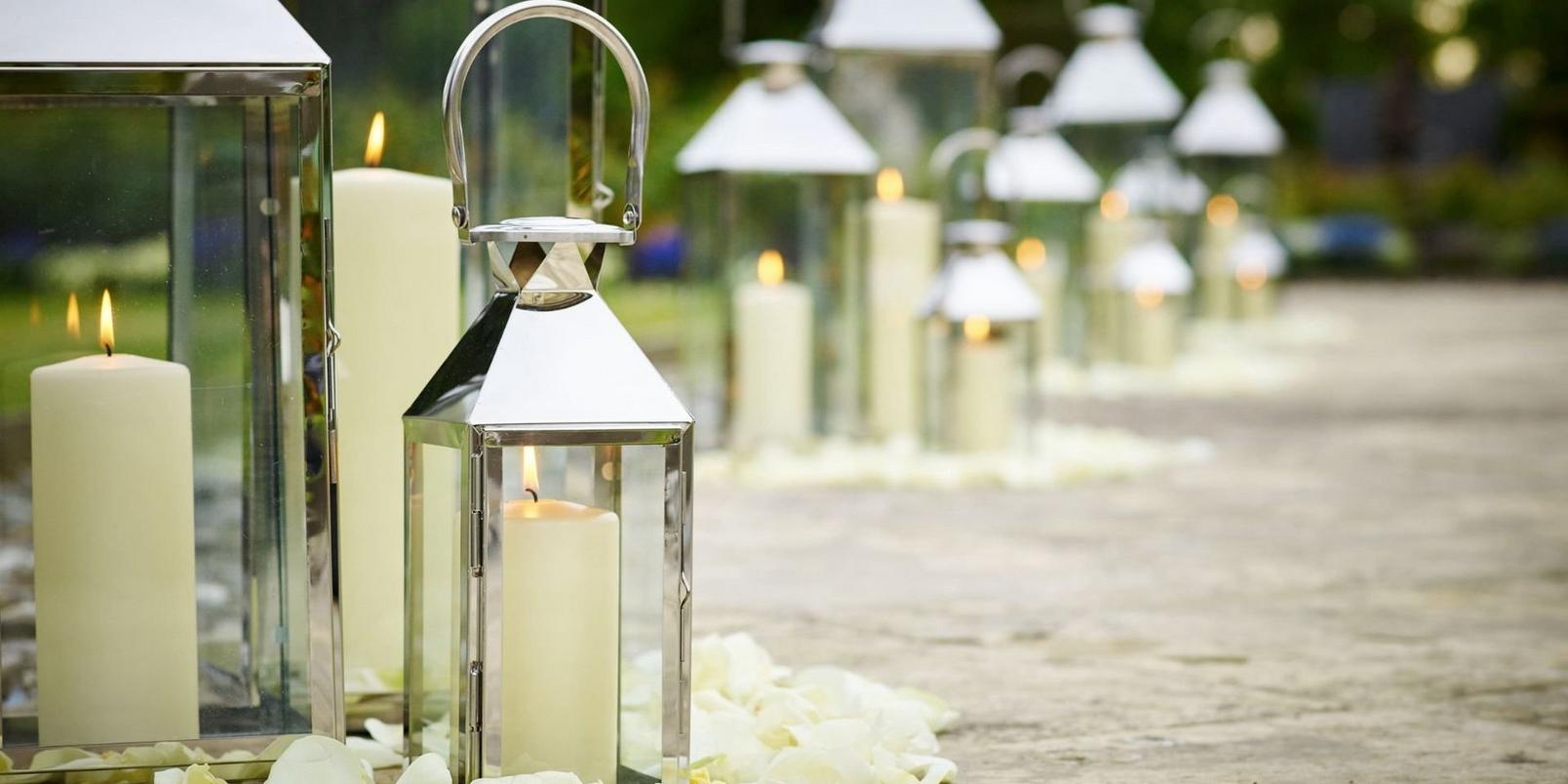 Did our predictions come true?
If you tuned into our Great British Bloom Off last summer, you'll remember that our florists were tasked with crafting a beautiful bridal bouquet for the then hotly anticipated wedding of this lovely pair. Could they capture the beautiful bride's charm and bright personality in blooms? Were their predictions right? Let's go back and review.
Jo, from The Daisy Chain, Shepperton, took cues from the couple's Australian engagement. Making use of striking grevillea, a flower native to Australia, and adding on-trend pampas grass to create a beachy feel.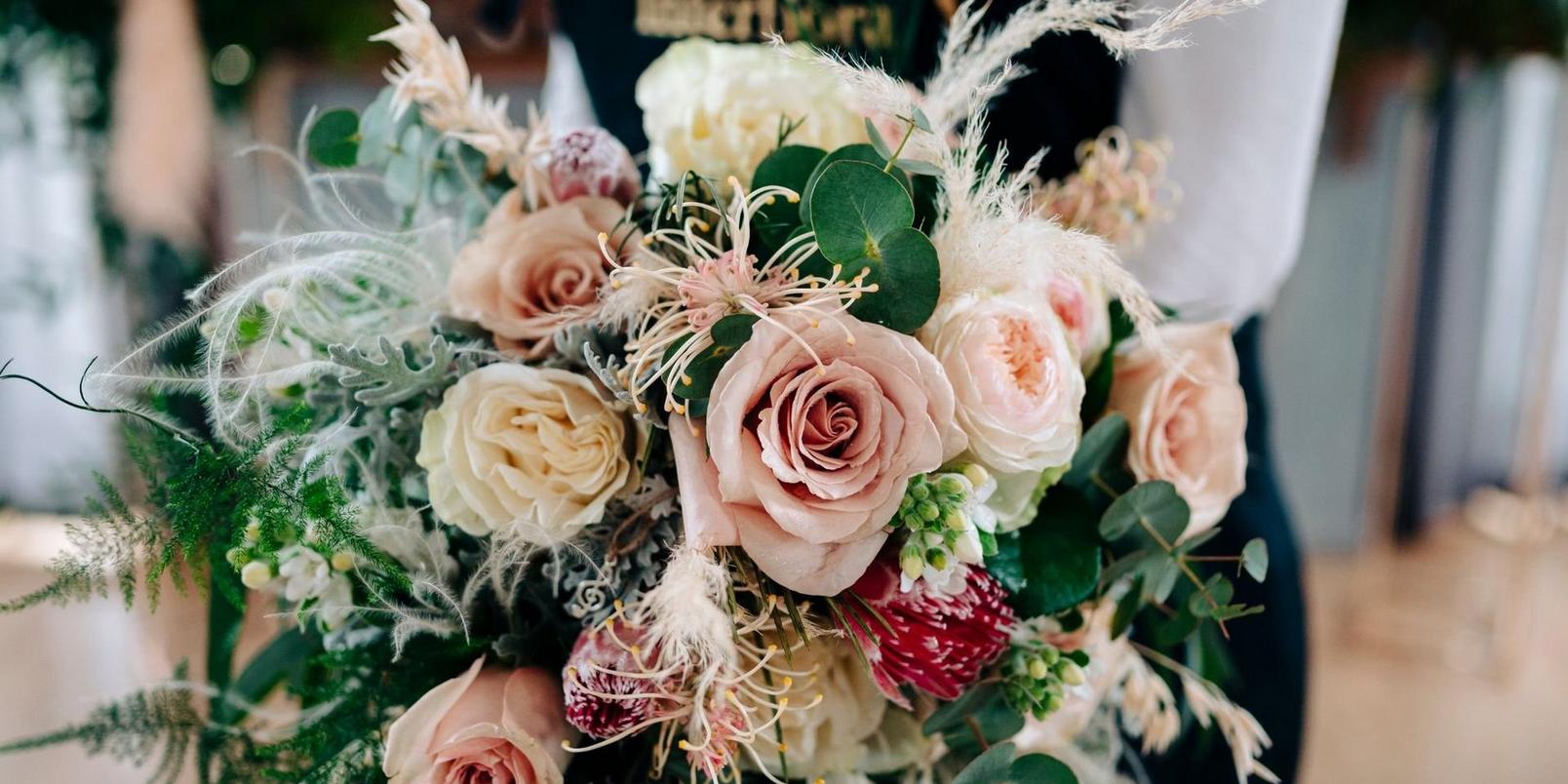 Mike, from The Herbarium, Albridge took inspiration from photos on Stacey's Instagram of her garden, which features beautiful rose bushes. He wanted his design to reflect that country garden style but also Stacey's engagement ring (an Aussie opal) by including delicate shells that he hand glued onto the bouquet.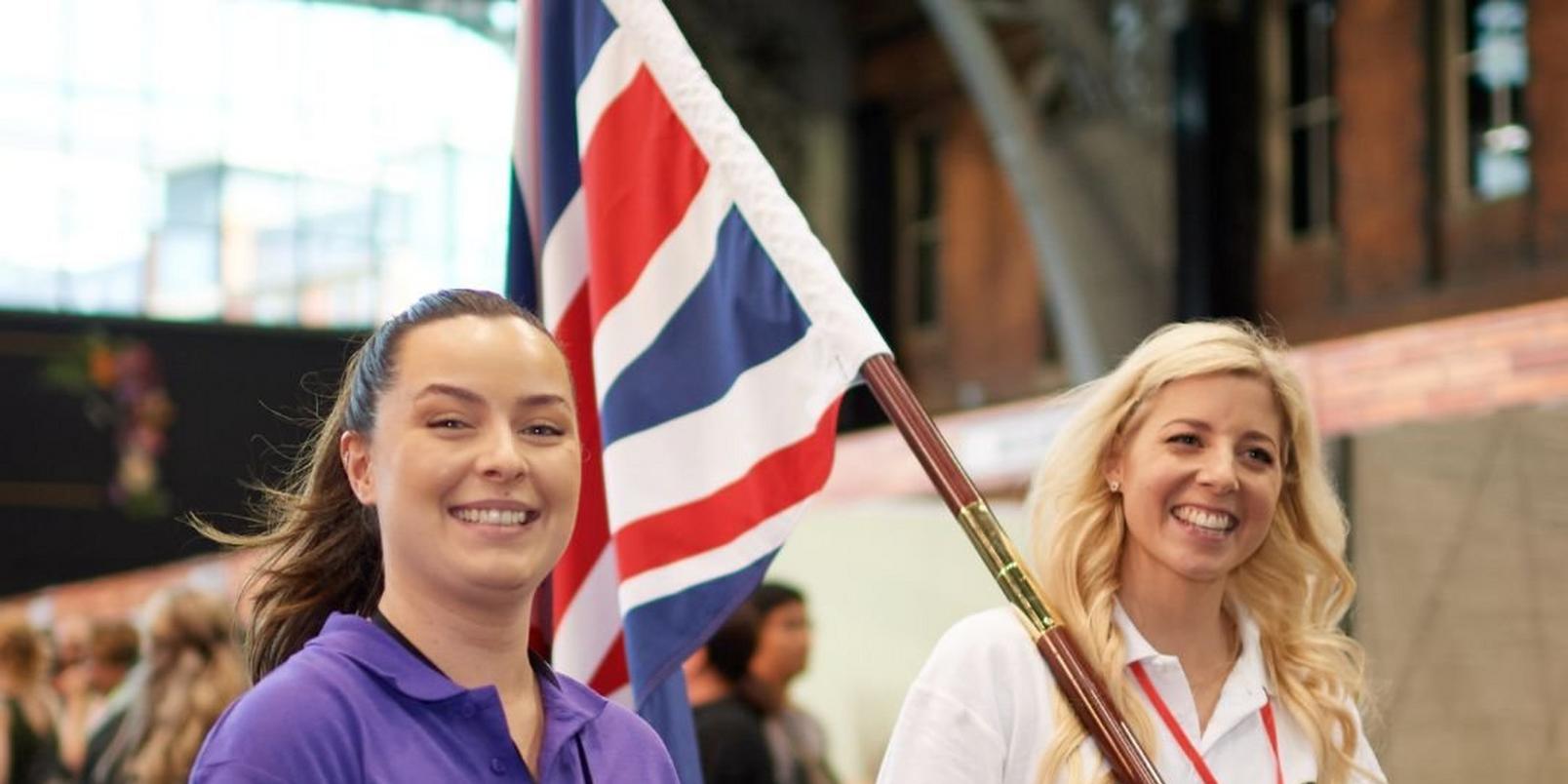 Erica, from Bleujen Florist, Bude, crafted a shower design (a type of bouquet that should look as if it is flowing elegantly from the bride's hands) using trailing jasmine with glued-on orchids. She said she hoped the muted tones and natural foliage in her bouquet would suit Stacey's style. Bursting with textures, thanks to her use of dried plants and unusual bleached peacock feathers, the judges praised her "wonderful array of tonal plant material".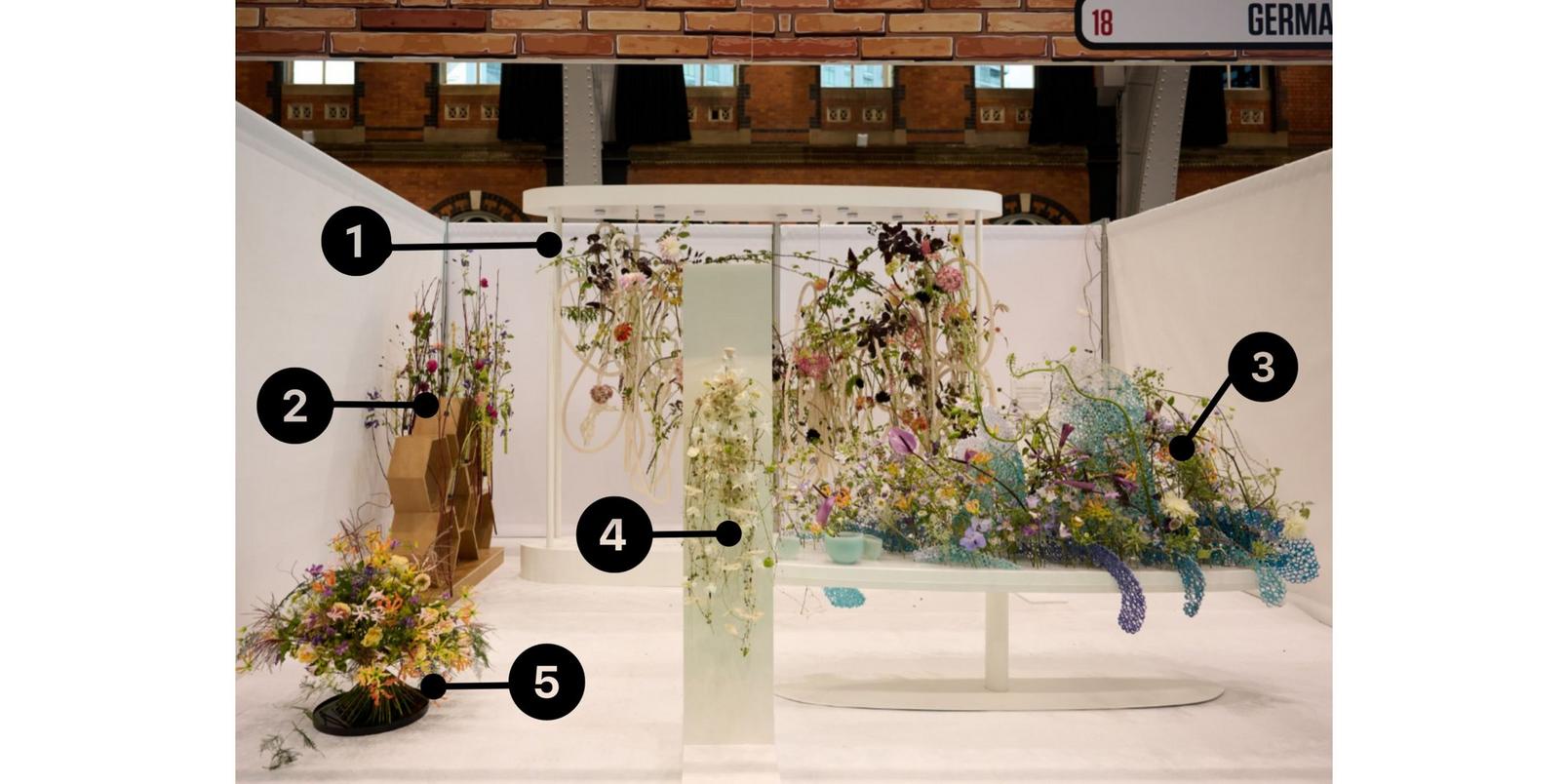 Charlotte, from Hilary's Floral Design, Abergavenny, put a modern spin on the classic bridal bouquet, combining white flowers, including peonies and David Austin roses, with eucalyptus (an Australian foliage, a nod to where Joe and Stacey met) to create a loose, romantic bridal bouquet.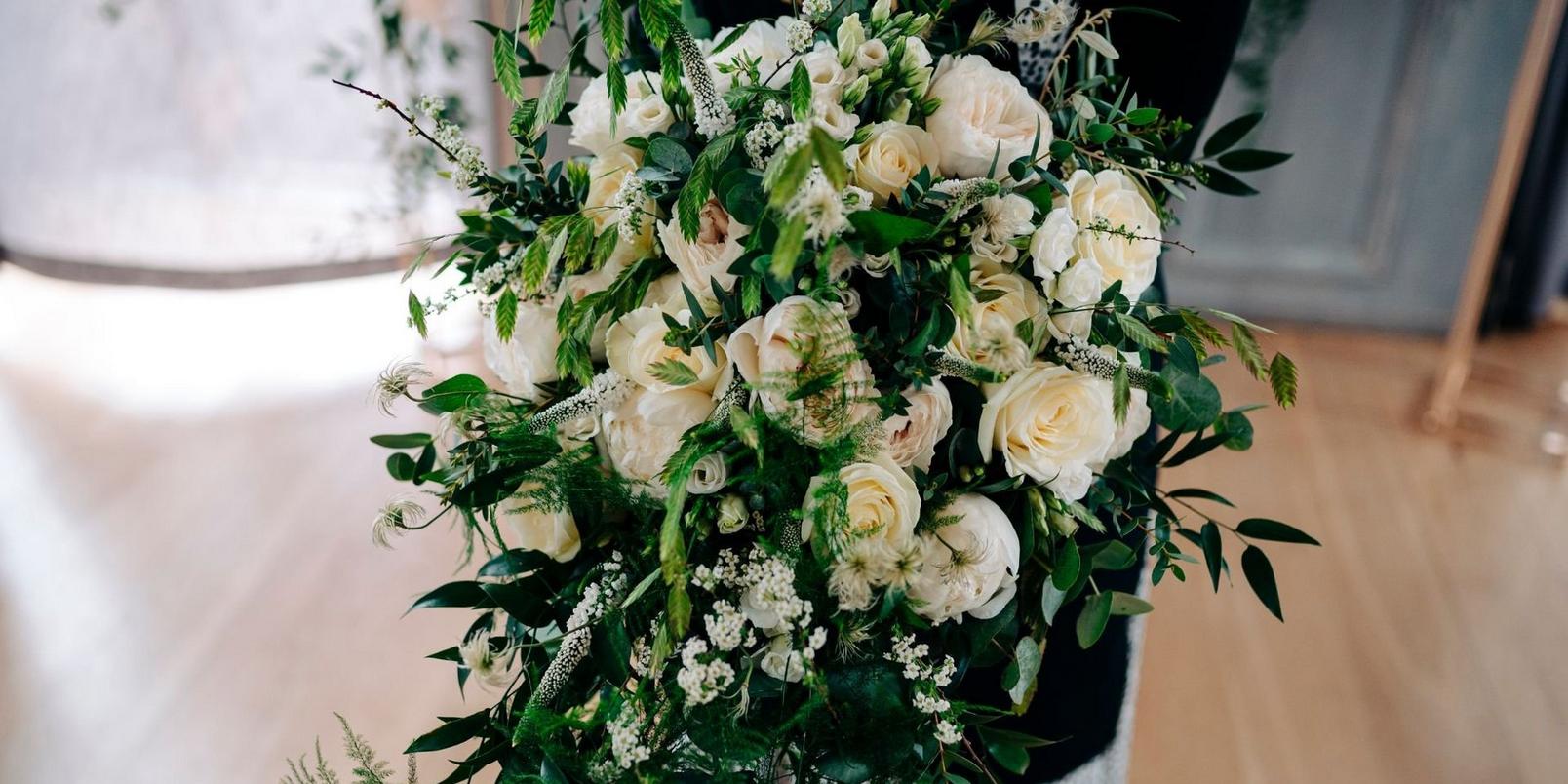 Now we've had a glimpse of Stacey's wedding bouquet, it looks like Charlotte's prediction wasn't far off! What do you think? Which florist's design do you think is closest to the real deal?
Of course Charlotte was our overall Bloom Off winner and more recently the runner up in the Interflora Florist of the Year competition.